Are you looking to eat better and want a nutritionist in Wexford to guide you? We have curated the ultimate list for you with the best nutritionists in Wexford. Nutritionists can work with you to teach you more about nutrition, food and health. Working with a nutritionist may involve introducing a meal plan to improve your nutrition to gain a healthy relationship with food.
The following is the list:
1. Simple Nutrition
Address: Suite 10 Redmond Square Medical Centre, Co. Wexford, Y35 CYD2
Contact: 087 603 1297
Website: https://simplenutrition.ie/
About: Simple Nutrition has some of the best nutritionists in Wexford. They offer many services including food intolerance testing, nutrition coaching and recipes.
Reviews for Simple Nutrition:
My 17year old son wanted to eat more healthy when his blood results came back. So we would need some help with this so we contacted Antoinette at Simple Nutrition. It was action from the moment we met her. She did his daily plans with the foods he liked and added a few new ones in weekly, which was great, as he got to taste so much different foods which he enjoys. Antoinette checks in weekly to see how he is getting on, and if we get a bit lost we contact her. We highly recommend Antoinette and Simple Nutrition to everyone,she is a star. Thank you Antoinette it is being a real pleasure. – Sharon G.
2. Davina Dowling Nutrition
Address: Allied Hub, Whitemill Industrial Estate, Wexford, Y35 XR22
Contact: 086 807 6160
Website: https://davinadowlingnutrition.com/
About: Davina Dowling Nutrition is based in Wexford. They offer services such as nutritional therapy, women's health and consultations.
3. Betty O'Neill
Address: Ballynabola, Ballinaboola, Co. Wexford
Contact: 087 349 9136
Website: https://www.bettyoneillnutrition.com/
About: Betty O'Neill is a nutritionist located in Wexford. She offers many services such as food intolerance testing, consultations and nutritional therapy.
Reviews for Betty O'Neill:
I visited Betty nearly one year ago and she changed my life. I was feeling miserable and didn't know what was wrong. I visited Betty and she gave me advice on nutrition and supplements and I can honestly say that I never looked back. I am really looking forward to the Level 5 restrictions being lifted and visiting Betty again to ensure my continuing good health and happiness. – Edel W.
I recently attended betty o neill nutrition therapist,i found her absolutely amazeing,so professional and so friendly and helpful,i feel great after attending her appointment and after all her advice on nutrition and supplements,i also found the scanner brilliant help,i would highly recommend betty to anyone,your health is your wealth – Louise W.
4. NutriVive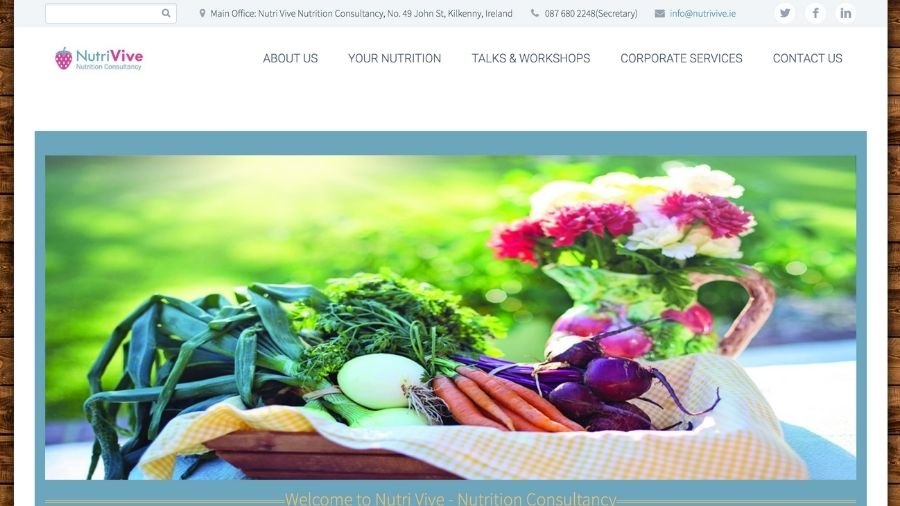 Address: Evolv Health Store No, 2 Castle St, Enniscorthy, Co. Wexford, Y21 H262
Contact: 087 680 2248
Website: https://nutrivive.ie/
About: NutriVive is located in Wexford. They offer an extensive range of services including sports nutrition, weight management, health issues and consultations. Healthy eating plans are also available.
Nutritionists in Ireland