Are you looking to eat better and want a nutritionist in Limerick to guide you? We have curated the ultimate list for you with the best nutritionists in Limerick. Nutritionists can work with you to teach you more about nutrition, food and health. Working with a nutritionist may involve introducing a meal plan to improve your nutrition to gain a healthy relationship with food.
The following is the list:
1. Elaine McGowan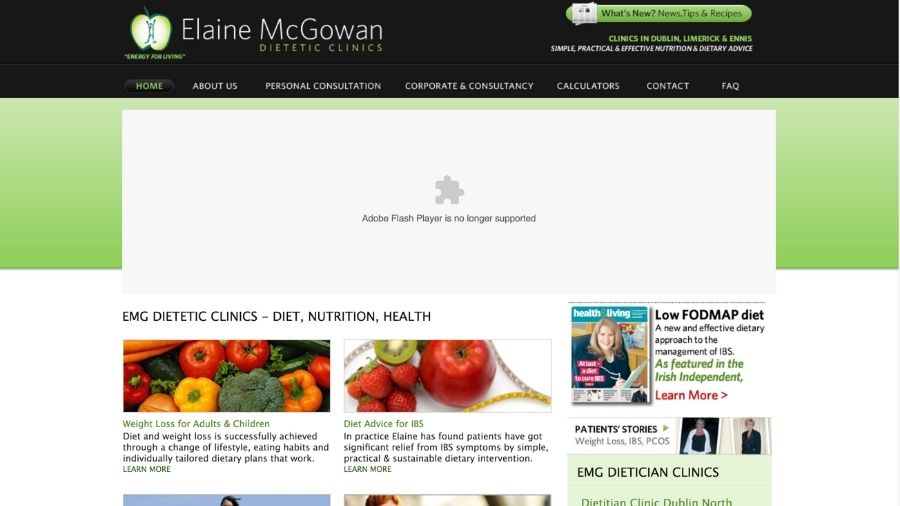 Address: 6-9 George's Quay, Limerick, V94 C4HD
Contact: (061) 490 547
Website: http://www.emgdc.ie/
About: Elaine McGowan is a dietetic based in Limerick. She offers many services including nutritional consultations, personalised diets and weight loss programmes.
2. Feel Good Nutrition
Address: 30 Bellevue Ct, Father Russell Rd, Gouldavoher, Limerick, V94 DKV5
Contact: 087 655 5554
Website: https://www.feelgoodnutrition.ie/
About: Feel Good Nutrition has some of the best nutritionists in Limerick. They offer weight loss programmes, recipes and consultations.
Reviews for Feel Good Nutrition:
I thought I was a relatively health eater until Helen suggested I keep a food diary. Turns out that all the low fat foods I thought were good for me were full of sugar which was much worse for me than fat. Helen explained the science behind how unprocessed foods can boost your metabolism and produce antioxidants. She also provided advice on anti inflammatory foods and supplements to help with a joint problem. As a result my sleep pattern has improved, and I managed to lose a few pounds just in time for a family wedding. I would highly recommend Helen's approach to nutrition which she tailor makes to suit you and your lifestyle. 5 stars from me !!! – Patricia.
I went to Helen for consultations as I needed advice around my energy levels. We had a consultation and I tracked what I was eating for a week. Helen put everything into a Nutritics system which broke everything down so we could see where I was losing or gaining in vitamins etc during each day. It turned out I was quite low on some crucial vitamins 😬 so she was able to advise me what foods to add to my diet, to increase and what I needed to decrease also. She gave me very simple tips and Helen always uses the mantra 'Eat a rainbow' – get as much variety in colour into your diet which helps me when I'm shopping. Also she is great for advice on what vitamins to take. I feel it's incredibly confusing as there's so much to choose from and unbeknownst to you, you could be taking vitamins that don't work well together or you need a vitamin to balance out another one. I had been buying a few products which weren't good quality (which I didn't realise) so I switched and feel confident I'm taking what I need and no more. It's great to be able to pop into Helen who also works at Eats of Eden, Limerick – a great health store with fabulous staff and a belief in quality products. I highly recommend meeting Helen for a few consultations, it's well worth the investment and for peace of mind that you are making the right choices for your health. – Louise L.
3. Olivia Beck Nutritional Therapy
Address: 35 Cecil St, Limerick, V94 P59X
Contact: 087 675 4557
Website: https://oliviabecknutrition.com/
About: Olivia Beck Nutritional Therapy is located in Limerick. She is a qualified nutritionist and offers many services including a free 10 minute consultation and personalised nutritional plans. Recipes are available on her website.
4. Eatwise
Address: Glenesk Office / Retail Unit Dublin Road, Castletroy, Limerick, V94 NYR0
Contact: 087 228 7543
Website: https://eatwise.ie/
About: Eatwise is located in Limerick. They offer a range of services including face to face consultations, online nutrition plans, recipes and corporate talks.
Reviews for Eatwise:
I'm a client of Anna's for SIXTEEN weeks and thanks to her there is now EIGHTEEN % less of me! Her firm but friendly professional advice has been positively life changing and I highly recommend her. If you really want to eat wiser Anna will help you. FIVE stars without a doubt – Kieran G.
Anna is so enthusiastic in her dealings with clients – she listens and adapts eating patterns to suit your lifestyle. Her recipes are so tasty yet simple to follow. I have learnt so much about nutrition from her and would recommend her services to all. – Rosie Mc G.
5. The Tummy Tamer
Address: Adare Pharmacy, Main St, Blackabbey, Adare, Co. Limerick, V94 DY93
Contact: 087 967 1000
Website: https://thetummytamer.ie/
About: The Tummy Tamer is based in Limerick. It is run by Sinead Dundon. She offers nutritional therapy.
Nutritionists in Ireland