Are you looking to eat better and want a nutritionist in Dublin to guide you? We have curated the ultimate list for you with the best nutritionists in Dublin. Nutritionists can work with you to teach you more about nutrition, food and health. Working with a nutritionist may involve introducing a meal plan to improve your nutrition to gain a healthy relationship with food.
The following is the list:
1. Dublin Nutrition Centre
Address: House, 19, Hambledon, 26 Pembroke Street Lower, Dublin
Contact: (01) 639 8852
Website: http://www.dnc.ie/
About: Dublin Nutrition Centre is based in Dublin. They have many services to offer such as weight management, sports nutrition and corporate nutrition. Consultations are available.
Reviews for Dublin Nutrition Centre:
Maeve was absolutely brilliant! She helped me get back on track with fueling for sport . She taught me how to know if I'm fueling enough and helped me learn to trust my body again after struggling with past disordered eating. She keeps it simple and has a no nonsense approach . Her warm presence makes it really easy to work with her . Honestly couldn't recommend Maeve enough! – Hope S.
Maeve provided advice that was a great mix of evidence based and practical. She really helped me understand what I needed and in what proportions as well as how to make sure I was getting the most nutrients across my meals. I would highly recommend Maeve and the Dublin Nutrition Centre – Noreen O'L.
2. Spectrum Nutrition
Address: 3 Fitzwilliam Pl, Dublin, D02 YX78
Contact: 1890 333 777
Website: https://www.spectrumnutrition.ie/
About: Spectrum Nutrition is located in Dublin. They offer services such as sports nutrition, weight loss programmes and children's nutrition. Vegetarian diets are also available.
3. Glenville Nutrition
Address: 10 Orwell Rd, Rathfarnham, Rathgar, Co. Dublin, D06 T265
Contact: (01) 402 0777
Website: https://glenvillenutrition.ie/
About: Glenville Nutrition is based in Dublin. They offer services such as nutritional consultations and weight management.
Reviews for Glenville Nutrition:
Excellent service all round. Really helped with my healing journey in getting me on my way back to good health. – Mairead H.
4. Plant Happy Girl
Address: 137 Moyville, Rathfarnham, Dublin, D16 T2P5
Contact: 087 352 3866
Website: https://planthappygirl.com/
About: Plant Happy Girl is a plant based nutritionist in Dublin. She offers nutrition coaching, weight loss programmes and 1 to 1 sessions.
Reviews for Plant Happy Girl:
When I reached out to Lenka asking for help, I was at my lowest. You name it: no energy, incredibly overweight after the pandemic, candida symptoms, excruciating period pain and PMS, mood swings, cravings, bad skin and hair. I thought I was eating pretty much healthy, maybe snacking a bit too much, but Lenka was able spot my weaknesses and guide me through my weight loss journey without going hungry, ever. So I bought the full package and didn't regret it: the results so far are amazing. I feel much more energy, my period pain is gone, I've lost weight, and I feel much more lucid and happy in general. Although I understand results can be very personal, I can't deny that Lenka's help was pivotal in my well-being journey. If in doubt, please do a favour to yourself and book Lenka's consultation today— she will also help you understand which package she offers suits your needs best. You'll learn through her guidance the power you have right now to change your life for the better. I am so grateful I decided to reach out to her and so happy for the amazing help I have received—Lenka, on top of things, is also very nice and a great listener. I cannot recommend her enough. – Antonella S.
Lenka is super professional and helpful. She motivated me without making any pressure. I loved her the fact that she gives you explanations so clearly and definitely by trying her recipes or even adapting them sometimes, I have seen great results. My body feels way better. Thanks for your support and kindness. 100% recommended if you want to start your journey into plant based eating habits – Aura P.
Lenka's one to one cooking demonstration was amazing. She gave lots of tips on batch cooking and prepared a variety of delicious meals and desserts in a 1.5 hour session. She was very helpful and informative!! – Maria E.
5. Nutrition For Women
Address: 76 Avoca Park, Carrysfort, Blackrock, Co. Dublin, A94 CV90
Contact: 087 653 7262
Website: https://www.nutritionforwomen.ie/
About: Nutrition For Women has one of the best nutritionists in Dublin. She offers many nutrition programmes such as core nutrition, weight loss plan, hormone rest for women over 40 and gut transformation programme.
6. The Queen Of Health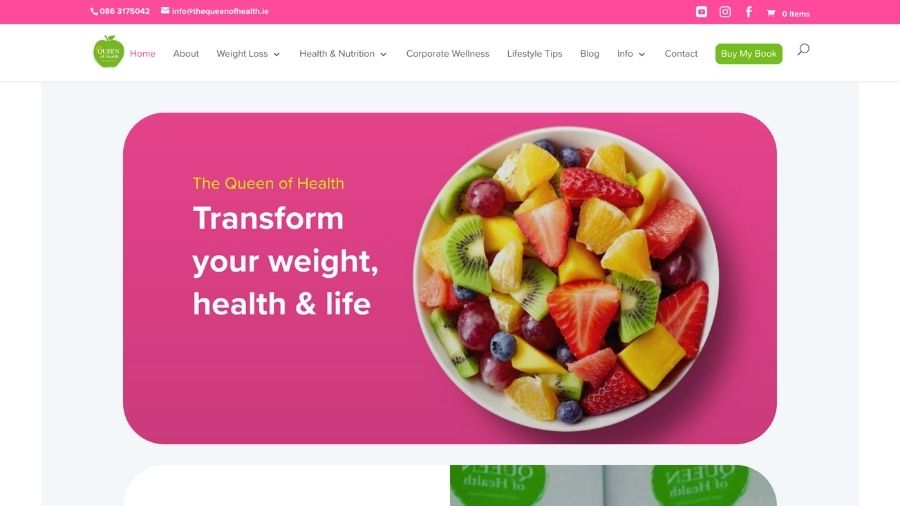 Address: Newtown Park Clinic, 7 Rockville Rd, Blackrock, Dublin, A94 RC52
Contact: 086 317 5042
Website: https://thequeenofhealth.ie/
About: The Queen Of Health is located in Dublin. She offers individual weight loss programmes and group programmes. Recipes are also available on her website.
Reviews for The Queen Of Health:
Nicola took the time not just to provide me a plan but to understand my goals and a holistic plan .
I found her sessions amazing and would recommend her to anyone looking to improve their health . – Tracyanne S.
I accepted the 10 day challenge and I must say it was superb. The programme was excellent and so easy to follow. I lost 3.5kg. Not alone did Nichola provide fabulous recipes but she was also so enthusiastic in her support. This was not at all like a diet. Her zoom/video support was exceptional as Nichola explained the values of foods and their benefits. The submission also by participants to the Queen of Health Facebook page was extremely helpful as people shared their food diaries. My relationship with food has very much improved. I cannot thank Nichola enough. – Roseanne C.
The Queen of Health is amazing, I've completed the 10 day smoothie challenge and currently 3 weeks into the summer recharge program. I've learned so much about health and nutrition over the past few weeks, Nichola is always available to answers any questions we may have and is constantly posting delicious recipes and health tips. I would highly recommend the Queen of Health – Emma S.
7. Orla Haughey Dietitian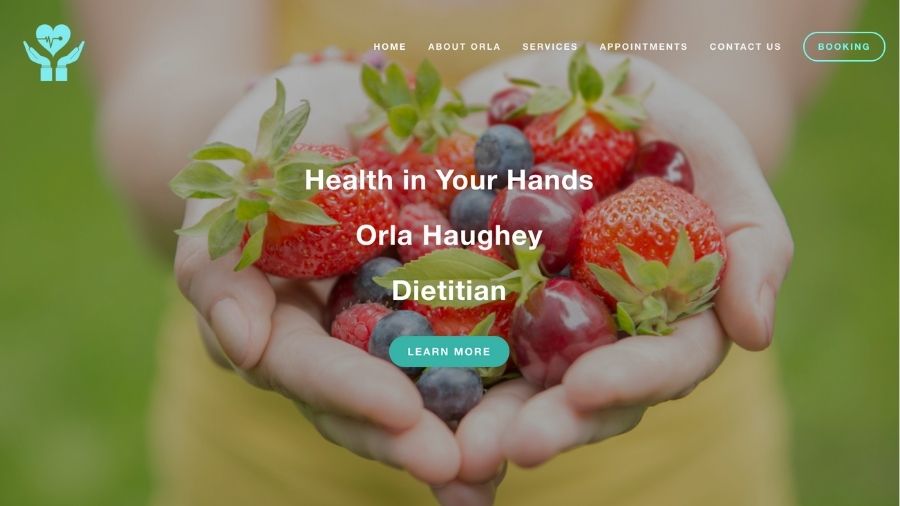 Address: 4, Bath Avenue Medical Centre, 4 Bath Ave, Sandymount, Co. Dublin, D04 V8N8
Contact: 087 911 3135
Website: https://www.orlahaugheydietitian.ie/
About: Orla Haughey Dietitian is based in Dublin. She offers many services including nutrition for fussy eaters, nutrition for vegetarians and nutrition for weight management. Consultations are available to book.
8. Conscious Performance
Address: Harcourt St, Saint Kevin's, Dublin
Contact: 086 034 8920
Website: https://www.consciousperformancenutrition.com/
About: Conscious Performance is based in Dublin. They offer nutritional guidance and coaching for endurance runners, cyclists, triathletes and pentathletes.
Reviews for Conscious Performance:
Aaron at Conscious Performance Nutrition has been fantastic help this past 6 months. Aaron is so knowledgeable and genuinely interested in my progress, answering any questions I had and explained everything in detail making sure I fully understood the reasons behind what I was doing to enhance my performance and nutrition. There were weekly check in emails and zoom calls once a month so Aaron is always available to answer any questions or queries. Over the months I have learnt so much and received valuable information, tips and advice and by making some changes have really noticed the improvements in my training sessions and performances.
I have no hesitation in highly recommending Conscious Performance Nutrition they are totally dedicated to making sure clients receive up to date information, working along with clients to ensure they get the most out of the plans, adapting plans to suit the clients needs and most of all creating a relaxed, supportive and friendly environment. Thank you Aaron for all your help. – Diane C.
10/10 service, very approachable and provided me with great sports specific knowledge on ways to improve my nutrition for camogie – Katie N.
I started off with Conscious Performance Nutrition as a part of Kilkenny camogie. Aaron and Annie were very professional and supportive in every way possible. They broke everything down for us to a simple and understandable level helping us with our nutrition. I have learned so much from them that I will carry with me as a player but also long term for my general lifestyle. They have been so accessible, always just a message away answering any questions I had. I would definitely recommend. – Miriam B.
Nutritionists in Ireland