Are you looking to eat better and want a nutritionist in Kerry to guide you? We have curated the ultimate list for you with the best nutritionists in Kerry. Nutritionists can work with you to teach you more about nutrition, food and health. Working with a nutritionist may involve introducing a meal plan to improve your nutrition to gain a healthy relationship with food.
The following is the list:
1. OM NOM Nutrition
Address: 3 Goat Street, V92VAF4, Dingle
Contact: 086 166 2562
Website: https://omnomnutrition.business.site/?
About: OM NOM Nutrition is based in Kerry. They offer many services such as nutrition consultations and weight loss programmes. The first consultation costs 160 euros and follow ups are 45 euros. Weight loss programmes cost 199 euros.
Reviews for OM NOM:
Just come back from my 3rd mini retreat with Om Nom Health. Each has been different, but I've had a wonderful time at all. It's lovely to have some time to relax and recalibrate. The mix of yoga, meditation and guests (talks about nutrition, Chinese medicine and essential oils in the past) helps reset the mind and soul. Emily is an amazing person, who instantly makes you feel at ease. Would highly recommend; cannot wait until the next one! – Clare B.
My experience with Emily has been nothing but positive. I have had the pleasure of seeing her both as a nutritional therapist and also attending one of her fantastic mini retreats.
As a nutritional therapist she has a wonderfully positive attitude and listens attentively to all concerns, acting with vast knowledge and going above and beyond in her efforts to help. She takes a holistic view to health and is compassionate, realistic and dedicated.
Further to this her mini retreat was relaxing, the food was delicious and I left feeling a lasting calmness! I could not recommend her more highly and certainly do to all my friends and family! – Alexandra S.
I have learnt an enormous amount from my appointments with Emily. I have been struggling with hormonal issues for years now and getting nowhere. I was getting weaker and my health was deteriorating. Emily has been working tirelessly, encouraging me and giving me the hope that I would get through this. I made some changes slowly, with Emily helping me every step of the way and I'm already seeing a change. My periods are regular for the first time ever, I am feeling healthier and happier and I can cope with stress so much better now and no longer have sugar cravings. Emily has been there for me through all of this and supported me when I needed it most. She is very easy to talk to and to be honest with. She did such a wonderful job at identifying areas to improve in my day-to-day diet and considered my cravings, my likes/dislikes, restrictions etc. I would definitely recommend her to anyone. I am learning to love food and to love life again. – Alice B.
2. Target Nutrition
Address: Dingle, Kerry
Contact: 086 179 0089
Website: https://targetnutrition.ie/
About: Target Nutrition is located in Kerry. They offer a wide range of services including consultations, meal plans and personal nutrition programmes. There is a 4 week, 8 week and 12 week personal nutrition plan available. A dietary analysis is also available.
Reviews for Target Nutrition:
Thanks so much John for your advice and tips regards my nutrition,
as a chef I found I was skipping meals, not sleeping properly and drinking too much caffeine
John tailored a great plan to suit my needs and got me back on track Regards nutrition.
I learnt so much, john i commend you on your professional approach, great communication and advice, thank you for everything, Caroline – Caroline D.
3. All Therapy Centre
Address: 21 Rock St, Balloonagh, Tralee, Co. Kerry, V92 V279
Contact: (066) 718 5229
Website: http://alltherapycentre.ie/
About: All Therapy Centre is based in Kerry. They offer Nutrition and weight loss programmes that include nutritional therapy.
4. Paula Duggan
Address: Cullenagh, Dingle, Co. Kerry
Contact: 087 961 5882
Website: https://balancenutrition.ie/
About: Paula Duggan is one of the best nutritionists in Kerry. She specialises in nutrition and weight loss coaching. She offers many services including group weight loss programmes, 1 to 1 weight loss programmes and consultations. Paula is available online and in person.
Reviews for Paula Duggan:
Paula literally helped me turn my life around by helping me recognise my relationship with food and adopt a healthy approach to eating. Her daily contact, non judgemental approach, easiness to talk to and continued encouragement made this journey enjoyable, versus "a diet" that I had to stick to. The new habits she helped me create have made a huge impact on my health and now I recognise if I start to slip I don't feel as well and can work back to where I should be. Paula sees the individual behind the weight/problem and helps you to make a lifestyle change and develop a good relationship with food where you can eat the foods you like, but know the healthy limits. Can't reccommend Balance Nutrition enough, Thanks Paula! – Fiona W.
Paula gave an excellent presentation to the students. It was very informative and the students were really engaged. The feedback has been very positive from the students. – Karen C
Paula completed a nutrition and sports talk for our Transition Years. Paula has superb knowledge of nutrition and delivers this advice in a way to make it as easy and engaging as possible for students to understand. I really enjoyed the realistic approach to nutrition that she has and several teachers also commented on such. Would highly recomend Paula for any age group in school , super engaging. Can't wait to try the recipes. – Laura M.
5. Coleman Nutrition
Address: Dromavally, Killorglin, Co. Kerry, V93 VC57
Contact: 086 214 8256
Website: https://www.coleman-nutrition.com/
About: Coleman Nutrition is located in Kerry. It was set up by Aine Coleman. She offers many services including a 8 week nutrition coaching plan and consultations. The coaching plan costs 275 euros.
Reviews for Coleman Nutrition:
Absolutley amazing experience. Not just a nutritionist but a helping hand to get you in the right mind set in terms of yourself but also for food purpose. Completley changed my mindset and I am all the better for it! Couldn't recommend Aine enough 🎉 – Orla W.
Working with Aine has been an absolute joy! She has amazing energy and a huge passion for what she does. I feel empowered with very practical advice, tips and tricks which I can easily apply to my life. I eat a vegan diet and felt she was always able to provide me with tools and solutions to go forward with. Her knowledge is excellent and her approach is solution focused and holistic. I always felt she put my needs and preferences first and I never felt I had to give up or have guilt surrounding my food/diet and general dislike of cooking. I would highly recommend her service and I only wish I had reached out to her sooner. – Jean C.
Amazing!
My wife and I lost a 1.5 stone each in a month without hardly doing anything! Now my whole family eats healthier aswel, without having to cut out as much as I first feared.
Would highly recommend – Chris W.
6. Marta Holewa Dietetyk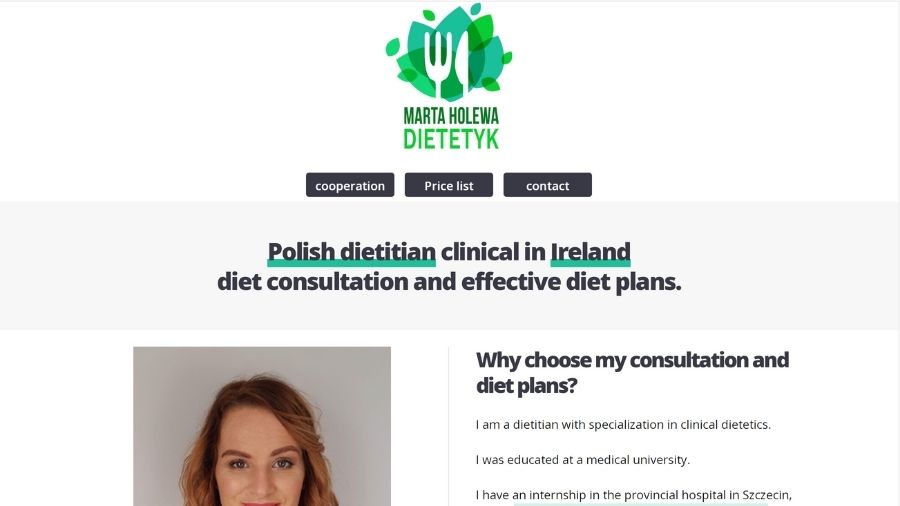 Address: 28 Derrylea, Oakpark, Tralee, Co. Kerry, V92 YCF3
Contact: 089 483 1160
Website: https://martaholewa.ie/
About: Marta Holewa Dietetyk is a dietitian based in Kerry. She offers services such as consultations and diet plans to help clients lose weight.
Reviews for Marta Holewa Dietetyk:
Marta is very professional and kind. Her recipes are tasty and easy. I would highly recommend her! – Marta M.
Nice, nice atmosphere, the way the consultation was conducted: a lot of questions about my daily routine, what I like and what I don't, so after the meeting I felt very motivated and interesting about my diet. When it comes to the diet itself, I am very pleased with simple, quick and, above all, delicious meals, so I will definitely continue my cooperation with Marta until I reach my dream weight 🙂 – Magda S.
"The consultation was friendly but professional. A lot of useful information. Mix of knowledge and questions about the patient's everyday life to adjust the plan to the individual person. Very good contact during the diet, useful advice related to the diet and discussing the results" – Dominika S.
7. Nourish By Nature
Address: Listowel Road, Gortacrossane, Co. Kerry
Contact: 087 384 8818
Website: https://nourishbynature.ie/
About: Nourish By Nature is located in Kerry. They offer services such as consultations and nutritional therapy.
Reviews for Nourish By Nature:
Nourish by Nature is the best thing ever to happen to cooking! Sid showed us how to cook simple meals that were bursting with goodness, using readily available ingredients. He is so on the ball when it comes to healthy eating he was a breath of fresh air in these times of convenient foods. His meals were quick, simple, nutritious and delicious. – Jan M.
I attend for reflexology and Angela is the most approachable and caring person and makes me completely feel at ease. The session helps me relax completely which I generally find difficult to do and i feel more calm in the days following. Highly recommend!!!! – Samantha K.
Some friends and I met here for an evening hosted by Sid. The kitchen is beautifully set up for groups and the serene country setting doesn't feel like it is only a few minutes from town. I will definitely be coming back here again. Thanks so much again to Sid for everything. – Damo O'M.
8. Metabolise
Address: Kevin Beasley, Metabolise, Gurtcreen, Listowel, Kerry
Contact: 087 929 0546
Website: https://metabolise.ie/
About: Metabolise is located in Kerry. They have many services to offer such as consultations, sports nutrition and online courses that will help you lose weight and build muscle.
Reviews for Metabolise:
I completed the Sports Nutrition Course provided by Kevin and Metabolise Nutrition. It is a course that I would highly recommend to anyone who wants to improve their sports nutrition! The course is very easy to understand and gives all the necessary information needed to improve your nutrition. I've no doubt that this course will help me going forward with my nutrition! – Sean Q.
Kevin has extensive knowledge in the area of sports performance nutrition. I have used Kevin's services among team sport settings which led to increased performances from the players. I have personally used Kevin's extensive library of nutritional information to aid in getting back into shape again. I would highly recommend Metabolise in a personal or team setting. He is always available for guidance and advice when needed. He's nutritional plans are simple and easy to follow. – Kieran S.
Outstanding knowledge of all things nutrition, explained in the simplest form. I found him extremely diligent, meticulous and always there to answer my questions. Couldn't recommend Kevin and Metabolise Nutrition enough. – Stephen F.
Nutritionists in Ireland