Are you looking to eat better and want a nutritionist in Cork to guide you? We have curated the ultimate list for you with the best nutritionists in Cork. Nutritionists can work with you to teach you more about nutrition, food and health. Working with a nutritionist may involve introducing a meal plan to improve your nutrition to gain a healthy relationship with food.
The following is the list:
1. Alison Nutrition
Address: Cafe Move / True You, Unit 3 Karlbrook Enterprise Park, Doughcloyne Industrial Estate, Sarsfield Rd, Wilton, Co. Cork
Contact: 087 991 7535
Website: https://www.alisonhealth.com/
About: Alison Nutrition is based in Cork. She offers nutritional therapy and coaching.
Reviews for Alison Nutrition:
Post thyroid cancer surgery, Alison gave me invaluable dietary advice and tailor-made nutritional supplements. However, what's even more important is that Alison "walks the talk" with self-care (physically, emotionally, mentally, spiritually) and cutting edge research. Go Alison ! – Ann M.
The BEST thing I have ever done for myself I'm free from the prison of dieting!!!!! Such an inspirational, educated and empowering woman! VERY excited about the future! Absolutely delighted! Highly recommended ASAP! – Jenny B.
Alison is an amazing talented professional is her field, very inspirational and knowledgeable. Her courses are excellent! – Karen O'S.
2. Honest + Goodness Nutrition
Address: 23 Sullivan's Quay, Cork, T12 A2RH
Contact: 086 246 6307
Website: https://www.honestgoodness.ie/
About: Honest + Goodness Nutrition is located in Cork. They offer weight loss programmes and food intolerance testing.
Reviews for Honest + Goodness Nutrition:
I completed some DUTCH testing with Claire, her advice and knowledge relating to my results was second to none. Highly recommend Claire for anyone looking to improve nutrition and life balance. – Una K.
I went to see Claire after having a heart attack. I was looking for dietary/lifestyle advice. She was very professional in her approach, her expertise and knowledge have been extremely beneficial for me in my journey of recovery. I felt very comfortable and safe with Claire, she was trustworthy, with a kind, gentle demeanor.
Thankfully, I am now in a better place and have made substantial improvements – all due to following Claire's guidance.
I would highly recommend her and am grateful for all her help and understanding. – John S.
I worked with Claire over a three month period. I had awful stomach/digestive issues at the beginning of this process. Claire is a pro! She is equipped with a vast knowledge and has a great plan to get your stomach and digestion back to working the way it should! Would highly recommend this service! Thanks again Claire! – Felix C.
3. The Digestive Health Clinic
Address: Douglas, Cork
Contact: 086 246 6592
Website: http://www.thedigestivehealthclinic.com/
About: The Digestive Health Clinic is located in Cork. They offer 1 to 1 nutritional coaching.
4. Gill O'Shea
Address: Cross Douglas Rd, Ballinlough, Cork, T12 H9V9
Contact: 086 170 1994
Website: https://gillosheanutrition.ie/
About: Gill O'Shea is one of the best nutritionists in Cork. She offers many services including weight loss programmes, consultations and personalised diet plans.
Reviews for Gill O'Shea:
Thank you so much Gill, since our 1st lockdown you have helped me to learn about Dairy free and Gluten Free how to keep a food diary and control my sugar control. I'm on track now for life learning ways of cooking and time management, scales is not a number, it is how we feel after eating and notice our change in our clothes is more important loved our chats on Zoom – Breda L.
After winning Gill's competition on Social Media it was like I had won the lotto!! I'd been stuck in a rut for so long and just couldn't get out of it. Doing yoyo diets loosing it and putting it on again but enough was enough I wanted to be fit and healthy before I was 40. Gill's knowledge of nutrition is just inspiring and all you have to do is look at how fantastic Gill looks and you know you are in the right place to start your weight loss journey. Gill recipes are simple and easy to cook and so delicious. I can honestly say I wasn't hungry and any point or didn't feel deprived. I have learned so much from Gill and having dropped 12 pounds am thrilled. I would highly recommend Gill and just can't thank her enough for getting me out of the rut I was in and making me feel so much better in myself. – Jane M.
Gill has an amazing wealth of knowledge and experience. Her passion for diet and nutrition is an inspiration. She is warm, welcoming and motivational. Would recommend Gill to anyone!! – Claire H.
5. INutrition
Address: The Therapy Rooms, Victoria Cross Rd, Cork, T12 T1XC
Contact: hello@inutrition.ie
Website: http://www.inutrition.ie/
About: INutrition is based in Cork. They offer services such as tailored nutrition and diet plans.
6. Aspire Nutrition
Address: 76 Delford Drive, Rochestown Road, Cork
Contact: shane@aspirenutrition.eu
Website: https://aspirenutrition.eu/
About: Aspire Nutrition is located in Cork. They have nutritional services for people looking to lose weight and for people looking to build muscle.
Reviews for Aspire Nutrition:
Couldn't recommend Aspire Nutrition enough. I have tried every other diet plan/method over the years and this is the first one I have stuck to. I actually enjoyed the process and will continue to work with them. It is not just the case of losing some weight and that's it. Working with Aspire has given me the knowledge and understanding of food to have sustainable results! The community page with other people on similar journeys is a great tool for motivation. There is no cutting out of foods you enjoy, social events. I am thrilled with my results so far and will definitely be working with them further. – Jason B.
I would highly recommend availing of nutrition coaching with Aspire Nutrition. After doing the 6 week coaching course I now have full command over my own nutrition and feel better than ever before. Shane is highly knowledgeable in his field and gives a fantastic, personalised service. Thanks again Shane! – Eamonn M.
Huge amount of knowledge that will help change your nutrition and health for life – Rob N.
7. Mary Carmody Nutrition
Address: Saint John's Well, Silversprings House, Ballinrea Rd, Carrigaline West, Carrigaline, Co. Cork, P43 F535
Contact: 087 288 4461
Website: https://marycarmodynutrition.ie/
About: Mary Carmody Nutrition is based in Cork. She offers recipes and food intolerance testing. Nutritional programmes and 1 to 1 consultations are also available.
Reviews for Mary Carmody Nutrition:
I have had some mild digestive issues for years and in July I finally decided to play detective and find out once and for all if I had any food sensitivity issues. I found Mary's practice easily online and since she had so many amazing reviews and the food sensitivity testing company she works with have been in business for so many years I decided to go with her. It was so easy to order the kit online, you can do the test yourself and then send it away. You can also pay online so it's a very smooth process.
Mary was so knowledgable and passionate about helping people get to the bottom of their dietary issues. She is warm and friendly and she also gave me great advice about food digestion. It turns out I was highly sensitive to almonds (which I eat all the time!) and so by avoiding these my digestive and skin issues have significantly reduced.
Would recommend 100% ! – Laura H.
I had a consultation and intolerance test with Mary before Christmas and would highly recommend her services. Mary was lovely to deal with throughout and the whole process was very easy – all completed online, with the test itself being posted out to me. I figured out which foods to cut out (some which were a surprise), the right probiotics for me and Mary also gave great recipes. It took a few weeks to kick in but I have noticed a real difference and am delighted with the results! – Julie A.
Mary was absolutely amazing from the very beginning. I had been feeling unwell for quite a while and was constantly bloated with no energy. Mary arranged to meet me before work at her office to conduct a food intolerance test and sent me the results even though she was on holiday when they came in. She then scheduled a video call to talk through the results and gave so many options for different meals and supplements I should take. I am absolutely delighted to say that I feel amazing after following her advice and all the health issues I was experiencing have vanished which I never thought would happen! Mary was easy to talk to and very accommodating, I would advise anyone suffering health issues relating to food to contact Mary and set up a consultation. – Kayleigh H.
8. Apex Nutrition
Address: Douglas, Cork
Contact: 085 112 3730
Website: https://www.apexnutritionist.com/
About: Apex Nutrition is located in Cork. They offer a range of services including weight loss, muscle gain and sports performance nutrition. Corporate Nutrition is also available.
Reviews for Apex Nutrition:
I started with Dan because I was stuck in an emotional eating rut, I had put on a load of weight thanks to all the lockdowns and it was time to take some action. Dan has been really supportive and helpful with clear guidance on how to achieve my goals realistically. I really enjoyed his gentle approach to healthy eating, I was terrified of a boiled chicken and brown rice diet, this is nothing like that. I have learnt that I can still eat the foods that I enjoy by being more aware and making wiser choices with meals while still losing weight. – Elaine B.
What I liked about Daniel and Apex Nutrition is that I felt like he cared about each and every client as much a we do. He went above and beyond answering individual emails and even made phone calls to clients to help them out.
Even in a relatively short period of time clients have reported measuring improvements in body composition without resorting to any extreme measures or unsustainable practices.
As a gym owner it freed up precious time for me to be able to focus on other tasks like on boarding new clients and resolving any problems which is invaluable. Worth every penny. – Cathal O'S.
I reached out to Dan based off recommendations from work colleagues. I've had success in fitness and body image before but there was always the constant feeling of fatigue. I put this down to training and eating 1500-1700 calories a day for slimming down as much as I can, and although it worked, it's something that made everyday tasks that much more challenging. Dan asked me to eat more to slim down, which I initially thought was strange, but over the last 6 weeks I'm waking up hungry and am hitting old gym records pre lockdown already. My body has very slowly started to slim down again despite eating more carbs. My weight is the same but am seeing less fat, more muscle. So far, this has been absolutely brilliant. I'm still fighting myself to eat more but as Dan says. 'trust the process'. I'll update this review after the 12 weeks are up. – Steven N.
9. West Cork Nutrition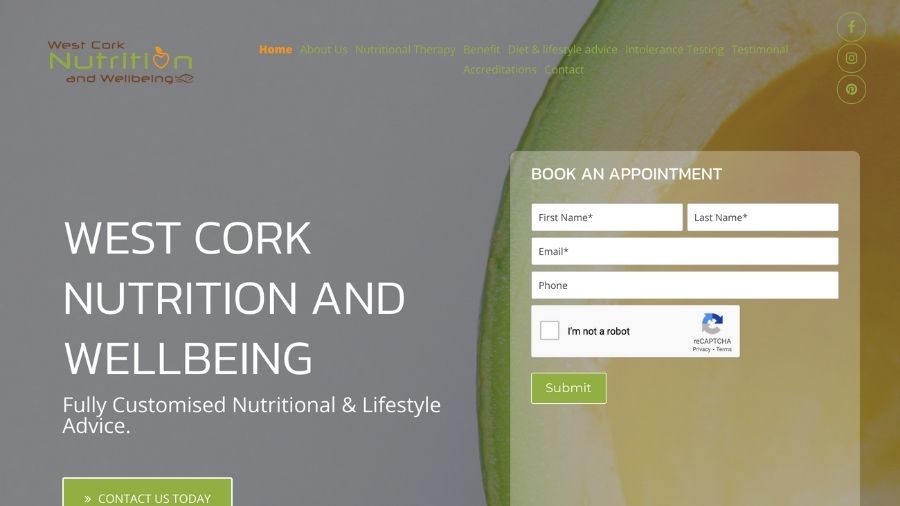 Address: 27a S Main St, Cloghmacsimon, Bandon, Co. Cork, P72 C421
Contact: 087 299 8239
Website: https://www.westcorknutritionandwellbeing.com/
About: West Cork Nutrition is based in Cork. They offer services such as nutritional therapy, diet & lifestyle advice and food intolerance testing. Personalised nutrition plans are also available after consultations.
Nutritionists in Ireland