We've conducted some internet research to find the best gyms in Wicklow to kickstart your fitness routine. Are you looking to start going to the gym? Or have you moved to and want to find a new gym? Then this is the ultimate list for you. The list is not ranked in order of popularity.
The following is the list:
1. Wicklow Strength & Fitness
Address: Wicklow Strength & Fitness, South Quay, Wicklow Town, A67X928
Contact: 040 461515
Website: https://wicklowstrengthandfitness.ie/
About: Wicklow Strength & Fitness is Wicklow Town's premier training facility. It offers services such as personal training, individual programmes and crossfit. The staff are qualified and very friendly. One of the best gyms in Wicklow.
Reviews for Wicklow Strength & Fitness:
I have been attending this gym 3 times a week for the last few years. I would highly recommend this gym if you want to get fit and to improve your strength. Great trainers who have helped me on my journey and there is a very welcoming community spirit. – Edward G.
Excellent atmosphere, knowledgeable and helpful staff.
Getting back into the gym after 18 months of working from home was made so much easier because I joined WSF. I had never been a member of a cross fit gym before. I've learned so much in a few months and have worked on muscles I never knew I had. Couldn't recommend more. – Philipp K.
You won't find a friendlier or more welcoming community. The coaches here know their stuff and will walk you through every step of your journey no matter your starting point. If you want to push yourself to your limit and make lifelong friends while doing it, this is the place for you. – Katie V.
2. Coral Leisure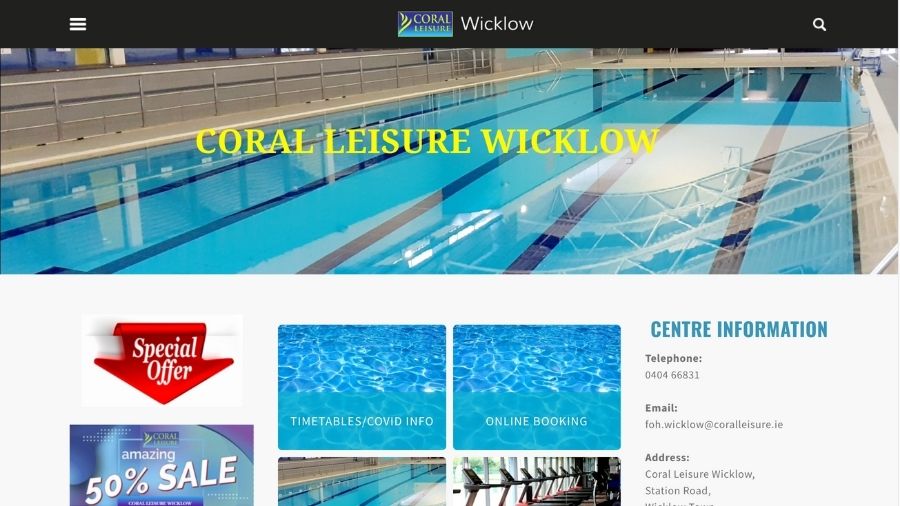 Address: Coral Leisure Wicklow, Station Road, Wicklow Town, Co. Wicklow
Contact: 0404 66831
Website: https://wicklow.coralleisure.ie/
About: Coral Leisure is a gym equipped with amazing facilities such as weight machines, a swimming pool and a sauna/steam room. This gym also offers a selection of classes including spinning and full body circuit. There is a range of membership options available. It is definitely one of the best gyms in Wicklow.
Reviews for Coral Leisure:
Great facilities and the staff are brilliant, so friendly and always on hand to help. Great opening hours too. – Tanya S.
Quite old gym equipment, but does the work! – Rafal R.
Good facilities. Pool is warm & spotless clean. Gym needs expanding but good range of machines & free weights. Cardio room is excellent and there are daily classes for spinning, cardio, etc; – Thomas M
3. Pure Fitness
Address: Unit 10, Croghan Industrial Estate, Arklow, Co. Wicklow
Contact: 087 709 6451
Website: https://www.purefitnessgyms.ie/
About: Pure Fitness is a gym based in Arklow that offers services such as Personal Training and Nutritional Training. Classes are available at the gym. The staff are all qualified personal trainers. Pure Fitness is one of the best gyms in Wicklow.
Reviews for Pure Fitness:
I really love the gym. Owner is very friendly and supportive. There's everything regarding equipment. Also, there is a booking in place so that you can make sure the gym wouldn't be overcrowded and gives you freedom to book it anytime gym is open. Recommended. – Tomas V.
A very well equipped gym loads of free weights. a few power racks , plenty of benches and machines if your looking for a great spot to train look no further – Adrian W.
Come and go as you please,,,good equipment, clean and staff are very helpful,, would recommend to anyone👍👍 – Paul K.
4. Go Gym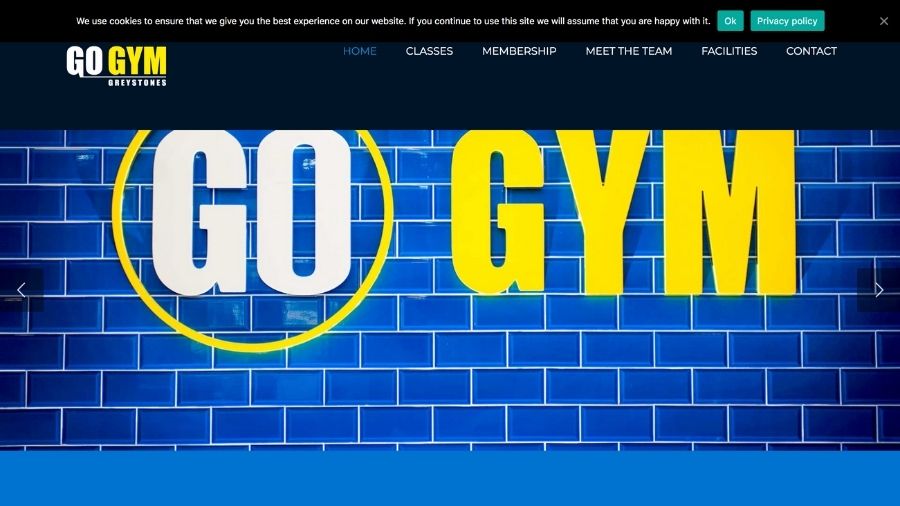 Address: Charlsland Park, Greystones Co. Wicklow
Contact: 01-2874770
Website: https://www.gogymireland.com/
About: Go Gym is a gym in Wicklow that offers a range of fitness classes. The staff is highly trained and qualified. The gym welcomes all fitness levels. There are different membership options available. Go gym is one of the best gyms in Wicklow.
Reviews for Go Gym:
Great selection of resistance training equipment, free weights, women's only area, friendly staff, barber and hair dresser, beauty salon, cross fit area, all round pretty good. Air con is useless however so expect savage heat in the summer. – Stephen M.
Huge gym with all the equipment you could want. Not the most modern but it does the job – Eoin F.
Good Gym. A lot of equipment. – Andy S.
5. Match Fit Fitness
Address: Match Fit Fitness, St Mantanns Road, Wicklow Town
Contact: 086 0265277
Website: https://www.matchfitfitness.ie/
About: Match Fit Fitness is a state of the art gym based in Wicklow with top of the range equipment. It has its own app that is used to book gym times. Fitness classes are suitable for every level of fitness from beginner to advanced. The team have years in the fitness industry and are all qualified.
Reviews for Match Fit Fitness:
Great studio, very friendly staff and got all the toys you can ask for in a gym. Love the open plan setup. Plenty of parking available – Philip B.
All you need for fitness. Brilliant gym. – John M.
Great gym with everything you need. – Tom D.
6. Glenview Hotel
Address: The Glenview Hotels, Glen of the Downs, Co.Wicklow, A63DC95
Contact: 01 2740078
Website: https://www.glenviewhotel.com/contact/
About: The Glenview Hotel has a fully equipped gym in their leisure centre. The gym welcomes both beginners and regular gym goers. Fitness classes are available each week. There is also a heated swimming pool, sauna, steam room and jacuzzi.
7. Freedom Fitness
Address: 27 Willowbrook, Kilcoole, Wicklow
Contact: karen@freedomfitness.ie
Website: https://www.freedomfitness.ie/
About: Freedom Fitness is a gym based in Wicklow. It offers Personal Training, group fitness classes and kids training. The owner is qualified and is ready to help you reach your goals. Everyone from beginners to advanced gym goers are welcome. Postnatal return to fitness classes are available here.
Reviews for Freedom Fitness:
Karen and Noelle are two of the best coaches you will meet out there. They are both so passionate, supportive and caring in what they do, while keeping it fun. They know how to push you to do more than you thought capable. During lockdown they have both kept us motivated when let's face it, it's just bloody hard. Cannot wait to get back to the gym to that fun, welcoming, music pumping atmosphere. Freedom Fitness is my new happy place. – Nicola G.
Freedom fitness is a great gym, Karen and all the members were so welcoming and nice when I joined It was great. Karen was great at modifying exercises to suit my bad shoulder so I have no excuses. I absolutely love going and miss it a lot cant wait for it to open back up. – Samantha F.
Lovely relaxed gym, suitable for people beginning their journey or building their confidence – Rachel W.
8. Red Door Fitness
Address: 2 Wicklow Vale Emporium Arklow, Ireland, Y14 AD60
Contact: 087 968 3795
Website: https://www.facebook.com/red.door.fitness2/
About: Red Door Fitness is a gym in Wicklow that offers a wide range of fitness classes such as strength & conditioning, bootcamp, cross training and cardio training. This is a fantastic gym for anyone who wants to get fit while training in a group. People of all ages are welcome.
Reviews for Red Door Fitness:
Great classes and PT. Pushes and encourages you to achieve the most from each session. – Jeana J.
really enjoying this gym, Ken is a great trainer. – Anita K.
Great Atmosphere, Excellent PT – Chris P.
Best Gyms in Ireland