We've conducted some internet research to find the best gyms in Louth to kickstart your fitness routine. Are you looking to start going to the gym? Or have you moved to and want to find a new gym? Then this is the ultimate list for you. The list is not ranked in order of popularity.
The following is the list:
1. Gym Plus
Address: M1 Retail Park, Mell, Drogheda, Co. Louth
Contact: 041 980 7122
Website: https://gymplus.ie/locations/drogheda/
About: Gym Plus Drogheda is one of the largest gyms in Louth. It offers a range of classes as well as fantastic equipment for cardio and strength sessions such as state of the art Keiser indoor bikes. The Gym Plus Drogheda team are industry leading professionals and will help you reach your health and fitness goals. There is also a swimming pool and sauna. It is one of the best gyms in Louth.
Reviews for Gym Plus:
Love gym plus the place is spotless clean showers changing rooms my daughter loves the pool and the instructors are very friendly its nice and spacious too – Erin O'C.
Great Gym and friendly staff I use here at part of their Multi club offer great price for this . Highly recommend – Sheila B.
It's my second week at the gym, love it and the swimming pool is fantastic. – Jenny O'B.
2. Felda Health & Fitness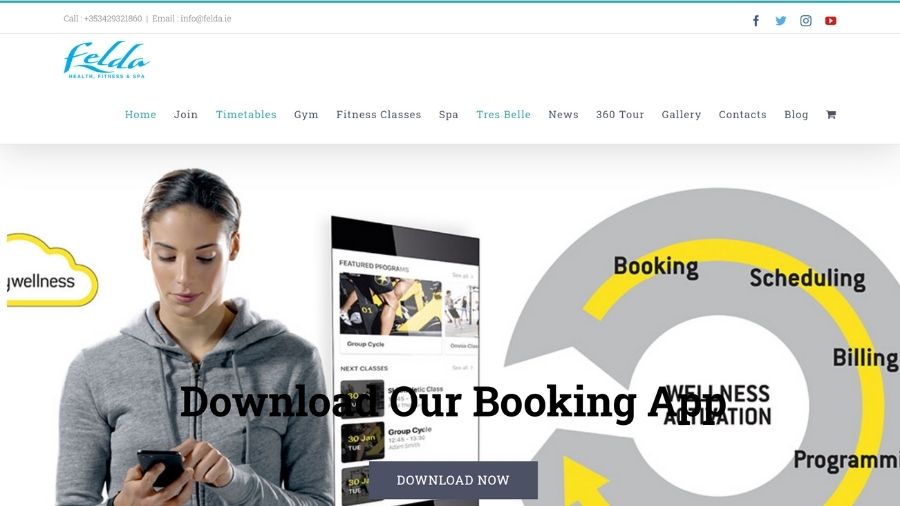 Address: Blackrock, Co. Louth, Ireland
Contact: 042 9321860
Website: https://www.felda.ie/
About: Felda Health & Fitness is located in Louth that has facilities such as Swimming Pools and a gym. The gym also offers fitness classes and has a designated weight and cardio area. The swimming pool is a great option for relaxing after an intense workout. There is a spa available for massages.
Reviews for Felda Healht & Fitness:
Great facilities, friendly knowledgeable staff. Good standards of hygiene. Particularly look forward to the pool, steam room and jacuzzi after my workout. – Maurice K.
I recently joined after being a guest. I was impressed by the staff and the amount of equipment there, and better still it's exceptionally clean. – Liam O'N.
Top class gym and staff. – Chris K.
3. DKIT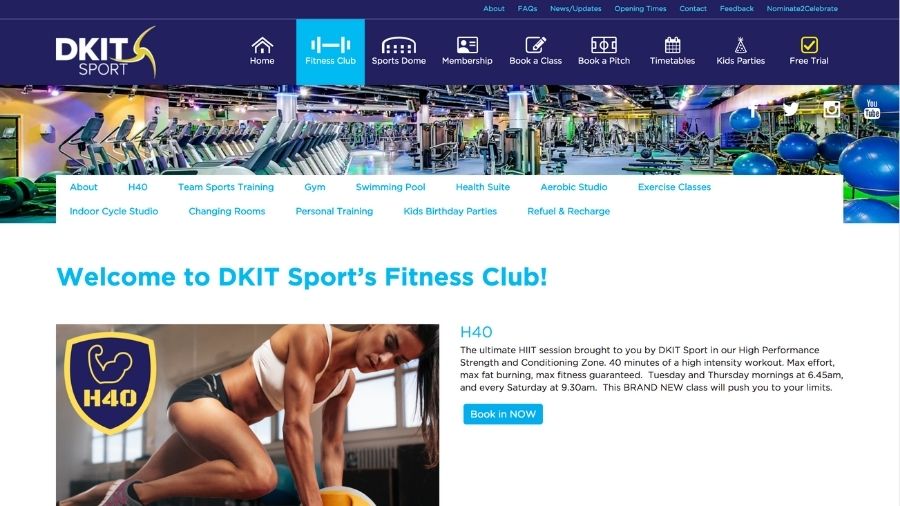 Address: Inner Relief Road, Dundalk, Co. Louth.
Contact: 042 9396420
Website: https://www.dkitsport.ie/fitness-club/
About: DKIT is a gym equipped with amazing facilities such as weight machines, a swimming pool and an aerobic studio. This gym also offers a selection of classes including spinning and full body circuit. It has sports halls & studios. There is a range of membership options available. Team sports training is also available.
Reviews for DKIT:
Good gym with ample equipment. Friendly staff with plenty of drinks and meals to buy at reception. Nice coffee and chill out area too – Shane L.
This is a fully equipped gym. I enjoy my session. – Oluwatimileyin A.
Great service, very clean facility… they even have a well needed cafe! – Shona J.
4. Integral Fitness & Leisure
Address: Boyne Business Park Drogheda Co. Louth Ireland A92 PY01
Contact: 041 980 2600
Website: https://www.integralfitnessandleisure.com/#drogheda
About: Integral Fitness & Leisure has every facility you may need. The gym is fully equipped. There are a range of classes also available. There is a swimming pool that offers lessons. Personal Training is also offered. There is also a 2 day free pass that everyone should use before signing up.
Reviews for Integral Fitness & Leisure:
Gym, swimming pool and massage on offer. Good selection of classes and Personal Trainer options. I am a beginner level swimmer and not as confident yet, swimming classes with Andrea are making me more confident. Can't recommend enough 🏊‍♂️👍👌 – Maja S.
Definitely best gym and pool option in Drogheda. 5 stars for location, parking and equipment, 10 stars for the lovely staff. – Muhammed K.
This gym is amazing, it has everything you need in a gym love it Lorraine B.
5. Aura Drogheda
Address: Aura Drogheda Leisure Centre, Marley's Lane, Drogheda, Co. Louth
Contact: 353 41 987 4478
Website: https://www.auraleisure.ie/location/drogheda/
About: Aura Leisure Centre has a range of facilities and services to offer. These include swimming pools with saunas & steam rooms, a fitness gym, fitness class studios and spinning classes. No matter what exercise you are seeking, Aura Leisure Centre can accommodate you.
Reviews for Aura Leisure Centre:
Amazing place. Very nice and helpful staff, Gym and Pool top class. Been a member for a couple of years now. definately recommend anyone even for chilling in the Steam, Sauna and Jacuzzi. – Cyrus K.
Great swimming pool with jacuzzi, sauna and stream room.
The complex also include a gymnasium. Suitable for adults and families alike. – Rodney B.
Excellent gym …spinning bikes ..pool and changing facilities ..Staff V helpful too – William S.
Best Gyms in Ireland