We've conducted some internet research to find the best gyms in Galway to kickstart your fitness routine. Are you looking to start going to the gym? Or have you moved to and want to find a new gym? Then this is the ultimate list for you. The list is not ranked in order of popularity.
The following is the list:
1. Results Ireland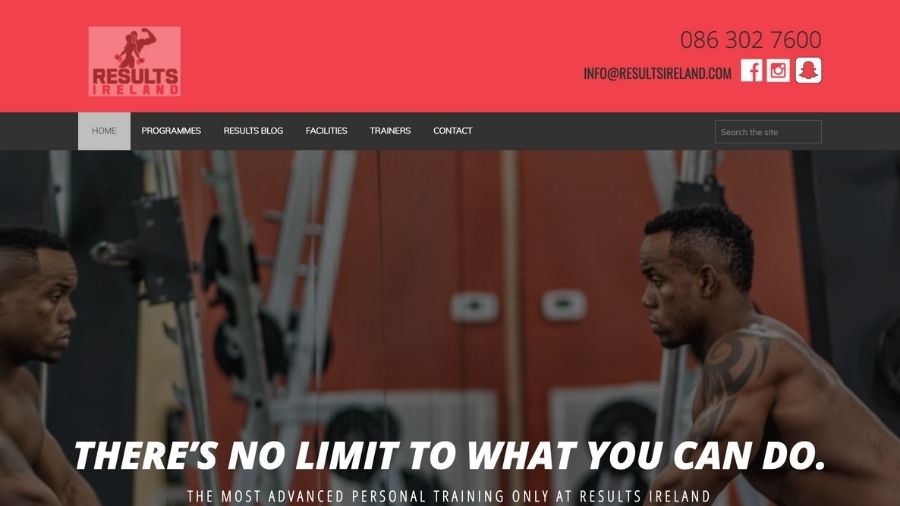 Address: Liosban Industrial Estate, Tuam Rd, Galway
Contact: 086 302 7600
Website: http://resultsireland.com/
About: Results Ireland is a private gym that focuses on results. The gym offers programmes such as lean and strong, that dream shape and train to look better. They also offer personal training. It is one of the best gyms in Galway.
Reviews for Results Ireland:
Hands down, best choice I've made training at results. VERY friendly team who make me actually want to go train. I look forward to walking through the doors and always feel great when I leave. – Shane O'C.
Dave and his personal trainers are amongst the very best in the west of Ireland! Gym atmosphere and equipment is top notch! Combined with enthusiasm and passion for their job as well as genuinely taking an interests their clients well being I couldn't recommend this place enough – Jonathan D.
Fantastic gym & coaches who are committed to helping all members achieve their individual goals. The coaches always tailor my training to suit my needs ensuring best results & are flexible with times etc highly recommend – its addictive 😊 – Caitriona L.
2. Push
Address: Push Gym, Kiltartan House, Forster Street, Galway
Contact: 086 206 5109
Website: https://pushgym.ie/
About: Push is a great gym based in Galway that offers great services. These services include fitness classes and  personal training. It is a great place to focus and get the support and motivation you need to get your results.
Reviews for Push Gym:
Great spot. I do a drop in session whenever I'm in Galway. The gym is well equipped and usually not too busy. Owner is very sound and will always try to accommodate you. – Rick N.
Can wholeheartedly recommend Push Gym! Shaun and his team are brilliant at guiding you towards your goals and at a sensible pace. I always found the staff and fellow gym-goers friendly which is great when you're new and could otherwise feel a little daunted. They must also be commended for how clean the gym and changing rooms ALWAYS are, not just the decor! – Tara McG.
Perfect sized gym with all equipment and facilities. Decor, music and atmosphere 100%. Trainers Shawn and Gary always on hand for any questions. Train here often – would recommend. Cool spot.
Well done Shawn – Gavin McG.
3. Kingfisher NUIG
Address: NUI Galway Sports Centre, National University of Ireland, Galway, Co. Galway
Contact: (091) 570 800
Website: https://nuigalway.kingfisherclub.com/
About: Kingfisher NUIG is a gym equipped with amazing facilities such as weight machines, a swimming pool, sauna & steam room. This gym also offers a selection of classes including spinning and full body circuit. Located at the university campus.
Reviews for Kingfisher NUIG:
It's a good club for the students to do all kind of sports activities. Students of different interest like fittness, martial arts, various sports and swimming, kingfisher club is one of the best to try out. Don't miss the chance. – Mohammed R.
Awesome place for chill and play sports for NUI Galway students. – Sahib K.
Professionally managed sports club, part of Galway University.. lots of great facilities including indoor swimming pool, large gym and rock climbing wall.. and much more – Mary N.
4. Energie Fitness Galway
Address: Units 11 & 12, Briarhill Business Park Ballybrit, Galway City
Contact: https://www.energiefitness.com/get-in-touch?gym=galway
Website: https://www.energiefitness.com/galway
About: Energie Fitness is not only a gym but a community. The health and wellbeing of members and staff are taken very seriously. There are over 160 group classes a month. These classes include Spinning, Rig Circuits and HIIT. Personal training is offered at Energie Fitness. Personal Training includes a programme made just for you and one to one training sessions.
Reviews for Energie Fitness Galway:
Very friendly and professional start members, I always enjoyed going to this gym! Always very approachable and willing to help, and for the price of the membership in comparison to other gyms, I would definitely recommend it. New equipment, I never took the classes myself but saw them being ran and they look very promising for anyone who is looking to start working out with a programme. Overall very good atmosphere in the gym, I would definitely recommend it! – Martyna M.
Great rates and quality classes. Favourite gym I've tried in Galway. – Orla McG
Really great atmosphere. Very approachable and knowledgeable team who made me feel at home when I didn't know squat about exercise. Insanely affordable, great variety and quantity of classes and equipment. Absolutely adore the place. – Julia T.
5. Planet Health Galway
Address: Planet Health Club Galway Shopping Centre, Headford Rd, Galway
Contact: (091) 569 336
Website: https://planethealthgalway.ie/
About: Planet Health Club is a gym equipped with amazing facilities such as weight machines, a swimming pool, sauna & steam room as well as a separate room for free weights. This gym also offers a selection of classes including spinning and full body circuit. It is one of the best gyms in Galway.
Reviews for Planet Health Club:

Excellent facilities, very expansive, open and spacious and very helpful staff 👍 – John M.
The best equipped gym I've ever seen! Very spacious and it's open for non members as well. Only €9,- for a day pass. Friendly guys at the reception and you can buy some snacks and drinks out there. This gym has a couple of different rooms, so pretty much everyone will find something for themselves. Showers and changing rooms also accessible:) – Tom B.
Personal training with Rosie Boyce's Amazon Fitness in Planet was so rewarding! Delighted to have done it with her in there. She was so patient and was adamant that I knew how to work all machines. A must do! – Stephanie O'T.
6. Goals Gym Galway
Address: Unit 4, Terryland Retail Park, Galway.
Contact: 091 533 915
Website: https://www.goalsgym.ie/
About: Goals Gym Galway is a newly opened gym that is arguably the best equipped gym in Galway. They offer a free trial on the main gym floor or one fitness class. The owner of the gym has over 15 years experience in the fitness industry. The team are fully qualified and can help you reach your fitness goals.
Reviews for Goals Gym:
Incredible gym. Goals has a great atmosphere with really helpful friendly staff. All the equipment is in perfect condition. This gym has a really cool aesthetic too. The place is super clean and clearly very well taken care of. Great classes and personal training sessions. I'd thoroughly recommend this gym for anyone at any gym level. Try it out! 🙂 – Conor.
Fantastic gym, loads of different machines. Staff are SUPER friendly and SOOOOO helpful. Gym is really clean and cleaning practices are implemented by all members and staff. Top class gym, I'm very happy here. – Robyn C.
Goals Gym is a top class gym in the thriving city of Galway. Where to start. The staff: incredible, helpful and professional. The equipment: brand new, top class and specialist. The atmosphere: positive, motivating and results driven. Highly recommend. – David G.
7. NRG Health & Fitness
Address: Cuirt Seoige, Bohermore, Galway
Contact: (091) 565 600
Website: https://www.nrgfitness.ie/
About: NRG Health & Fitness is a leading gym & leisure centre in Galway located near the city centre. The gym caters to both beginners and regular gym goers with its large range of up-to-date equipment. It's friendly and highly trained team will instruct and help motivate you to reach your goals. One of the best gyms in Galway and the city centre.
Reviews for NRG Health & Fitness:
Good gym, well located and with a lot of parking slot in the basement. Equipment is good overall and the swimming pool is not busy, either sauna's and jacuzzi. Covid rules followed by staff and customers as well. Should be great to have an app to book the session and make the process easier than via website. Recommend overall! – Pietro B.
Good equipment and a very nice pool. Membership is expensive compared to other gyms but it's worth it. – Shane D.
Great gym brilliant staff – David P.
8. The Connacht Hotel Galway
Address: The Connacht Hotel, Dublin Road, H91 K5DD Galway, Ireland
Contact: 091 381250
Website: https://www.theconnacht.ie/en/active-24-fitness-galway/
About: The Connacht Hotel Galway has a range of facilities and services to offer. These include swimming pools with a jacuzzi & steam room, a fully equipped 24hr gym and fitness classes including spinning. No matter what exercise you are seeking, The Connacht Hotel can accommodate you.
9. Galway City Gym
Address: Galway City Gym, Town Park Centre, Tuam Rd, Galway.
Contact: 091 752666
Website: https://galwaycitygym.ie/
About: Galway City Gym is one of the best gyms in Galway. Its wide range of facilities cater to every type of athlete and every type of gym goer. It has been used by the 1992 Australian Rugby Union team and more recently by The South African World Rugby Champions. The gym has facilities to cater anyone in the Powerlifting and Olympic Lifting world.
Reviews for Galway City Gym:
I used this gym mostly for mobility and flexibility and the facilities were excellent – floor space and props. The gym has several conditioning machines so there was no problem accessing treadmills etc. The main part of the gym is for weight and strength training and the range of equipment for this training is excellent catering for the heavy lifters. I really like that there are secure and clean changing rooms for the times when you don't want to go straight home. Staff are very friendly and helpful. I recommend this gym to anyone who likes weights. – Melanie D.
Solid gym, definitely one of my favourites in Galway. Always a great atmosphere to train in and supportive staff. Brilliant value for money, would highly recommend. – Eanna McN.
Solid gym. Great bench, squat rack and platform with lots of weights. I was able to do a solid training session. Staff and gym goers were very friendly. Everyone was great in terms of covid restrictions. – Dave T.
10. Active Fitness
Address: Active 24 Fitness, at The Connacht Hotel, Dublin Road, Renmore, Galway. H91 K5DD
Contact: 091 381250
Website: https://activefitness.ie/
About: Active Fitness & Leisure has every facility you may need. It is Galway's first ever 24hr gym. The gym is equipped with strength and conditioning machines and cardio and resistance equipment. Free Weights are also available. Personal Training is available. There are multiple classes also available including spinning and hot yoga. There is also a swimming pool. Definitely one of the best gyms in Galway.
Reviews for Active Fitness:
Great gym and good swimming facilities – Breda B.
I went to many gyms in Galway, but it qualifies for the best a little high price to join but it's worth it. there is a gym, swimming pool and sauna. punching bag and class. the gym is very clean and the service is nice. – Paul M.
The gym area is small but has all the necessary. People there are tidy and neat… You'll find the dumbbells im their place (something I never seen in a gym before!). The pool is great and has 2 big saunas. Showers and changing rooms are big and clean. – Rodrigo V.
11. Snap Fitness
Address: Citypoint, Prospect Hill, Galway
Contact: 091 567828
Website: https://www.snapfitness.com/ie/gyms/galway/?
About: Snap Fitness is a 24hr gym located in Galway. It offers personal training and group classes. There are free weights and cardio equipment available in the gym. Strength training is also available at Snap Fitness.
Reviews for Snap Fitness:
Amazing gym, great people and very clean with all the machines you could ever ask for!! – Oran M.
Only my first day today but I am head over heels in love with the place already
Go snap fitness if you're going anywhere
The manager is fabulous aswell – Aidan W.
Love this gym! You pay by month on a rolling basis so you're not stuck on a contract. This is brilliant. The equipment is excellent and the showers are great. – Gareth R.
Best Gyms in Ireland