We've conducted some internet research to find the best gyms in Limerick to kickstart your fitness routine. Are you looking to start going to the gym? Or have you moved to and want to find a new gym? Then this is the ultimate list for you. The list is not ranked in order of popularity.
The following is the list:
1. City Gym Limerick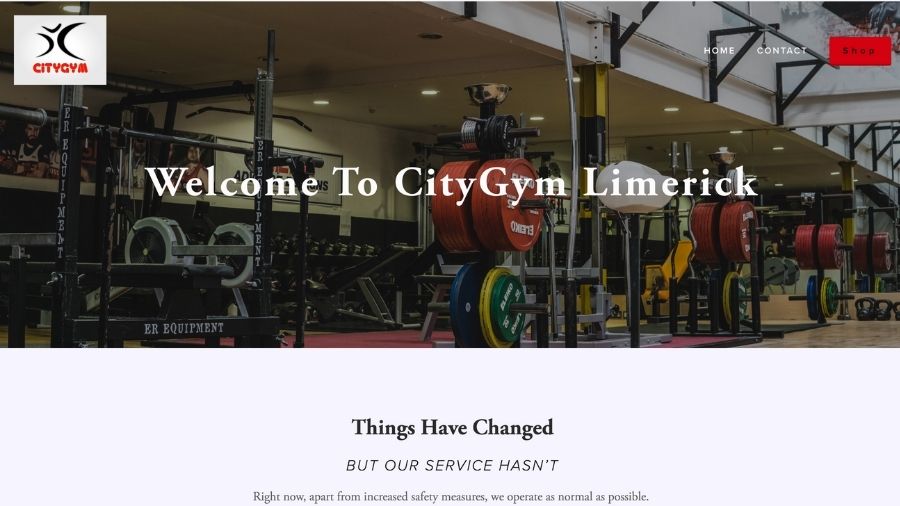 Address: CITYGYM LK, 17 SEXTON ST, LIMERICK, LIMERICK
Contact: INFO@CITYGYMLK.COM
Website: https://www.citygymlk.com/
About: City Gym is a great gym based in Limerick that offers personal training. They have a fully private studio away from the main floor that caters to personal training. It is a great place to focus and get the support and motivation you need to get your results. They also have a gym for powerlifting which ranks as one of the best in the country. One of the best gyms in Limerick.
Reviews for City Gym:
CityGym offers a great and super friendly environment to train in. High quality personal trainers with knowledge of anything related to fitness or the body is beyond amazing. I had an amazing and dedicated PT, Rob. He made me addicted to lifting the way I would never dreamt of lifting and was always making sure I'm in good form, using the right techniques. He is also supportive when I'm in the gym training by myself. I would not have discovered my strength if he had not pushed to challenge myself. I am delighted with the result I achieved in just 2 months.
Tasha is very approachable for any advice or help.
Keep up the good work guys 💪 – Milena S.
Such an amazing atmosphere, different to any gym I've ever trained at. All the staff are so friendly, incredibly knowledgeable and are willing to help with anything you need. Equipment is tops, no shortage of racks and platforms. Couldn't recommend this gym enough! – Siobhan M.
The staff are the nicest people ever! (Especially Tasha). Would definitely recommend – Amy B.
2. Go Gym Limerick
Address: Go Gym Limerick Coonagh Cross Coonagh Co. Limerick
Contact: 061 328503
Website: https://gogymlimerick.ie/
About: Go Gym is a gym in Limerick that offers a range of fitness classes. The staff is highly trained and qualified. The gym welcomes all fitness levels. There are different membership options available. It is definitely one of the best gyms in Limerick.
Reviews for Go Gym:
Great people, great culture, excellent facilities. Great place to work out. – Kevin McC.
Awesome place to train. Friendly and bubbly staff always engaging and helpful. Constantly improving and listening to their clients, very progressive and facilitating. Love this place 👍👍👍👍 – Aidan McN
Great gym great staff. Really helpful. Early opening and late evenings. Tops – Liam K.
3. Planet Health Club
Address: Planet Health Club Childers Retail Park Childers Road, Limerick.
Contact: (061) 422 350
Website: https://www.planethealthlimerick.ie/
About: Planet Health Club is a gym equipped with amazing facilities such as weight machines, a swimming pool, sauna & steam room as well as a separate room for free weights. This gym also offers a selection of classes including spinning and full body circuit. Planet Health Club is one of the best gyms in Limerick.
Reviews for Planet Health Club:
Great gym, the best in Limerick in my experience. Fabulous range of equipment and very friendly staff. – Derek N.
This is the third gym in limerick I've joined and i love it. Don't think I'll cancel membership here – Aisling M.
Great gym. The new section upstairs is very spacious and modern. Nice staff. – David F.
4. DooraDoyle Gym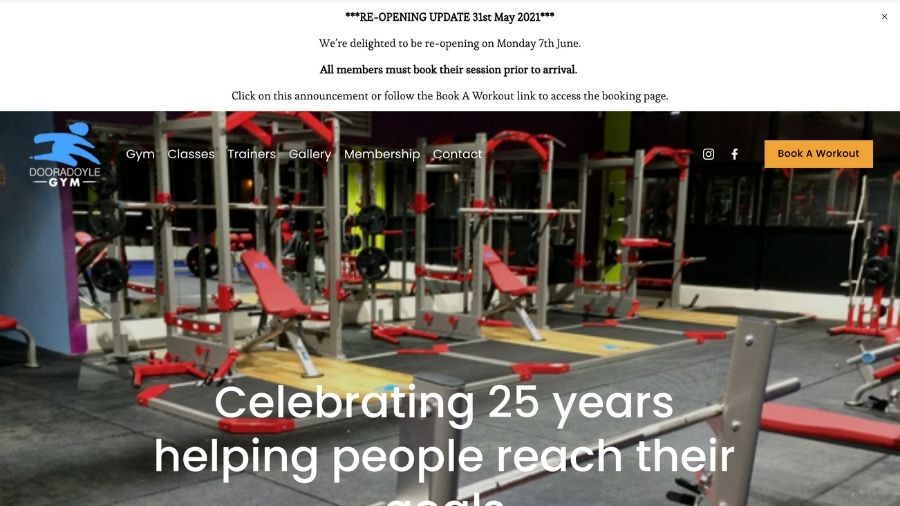 Address: Dooradoyle Gym, Dooradoyle Rd, Limerick, Ireland V94 RH36
Contact: (061) 308199
Website: https://www.dooradoylegym.com/
About: DooraDoyle Gym is a fully equipped gym located in Limerick. The equipment is top of the range. There is a separate ladies only area. It has everything you need to get results. There is a wide range of exercise classes available. There is also a wide range of membership options to suit everyone including students. DooraDoyle gym is one of the best gyms in Limerick.
Reviews for DooraDoyle Gym:
Fantastic gym, staff are very welcoming, polite and friendly. There are many classes available. One on one classes are also very good if you're a beginner to weights and different machines. There is no swimming pool but there are changing rooms and showers available. – Michael D.
Great equipment, ventilated area and have a specific ladies gym, what is great when you need more privacy to exercise. – Kecia M.
Excellent gym with a fantastic range of classes, equipment and weights. Friendly staff.💪🤩💪 – Ewa L.
5. Energie Fitness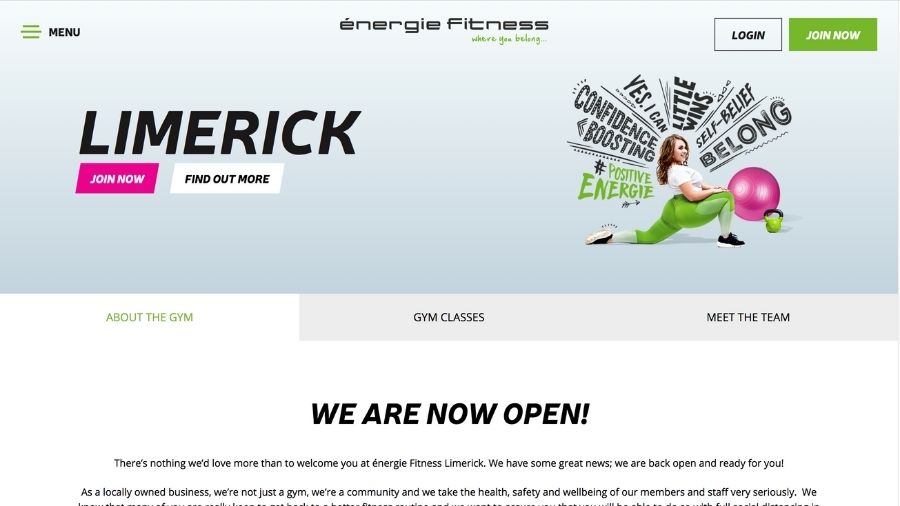 Address: Unit 1, Abbey River Court, Island Road, Limerick
Contact: 061 511040
Website: https://www.energiefitness.com/limerick
About: Energie Fitness is not only a gym but a community. The health and wellbeing of members and staff are taken very seriously. There are over 160 group classes a month. These classes include Spinning, Rig Circuits and HIIT. Personal training is offered at Energie Fitness. Personal Training includes a programme made just for you and one to one training sessions.
Reviews for Energie Fitness:
Great atmosphere friendly staff loads of equipment help if you need it. – Siobhan H.
Great facility for all levels not to big not to small..brilliant value and staff are top class and equipment new and up to date.highly recommend this gym👍👍 – Eric Mac S.
The best gym in town with the best staff ❤️ – Roksana G.
6. Womens Fitness
Address: Courtfields Shopping Centre, Courtfields, Raheen, Limerick, Ireland
Contact: 061 303586
Website: https://womensgym.ie/
About: Women's Fitness Gym Limerick is a fully equipped gym for women of all ages and sizes to come and get fit. It is a gym for beginners who tend to stay for life. Women's Fitness Gym is a place for good headspace. Private Training sessions every day as well as private nutritional consultations are available. There is an extensive range of classes available with over 60 classes every week. It is a great place for friendship.
Reviews for Womens Fitness Gym:
Great selection of classes and easy access. – Sarah Q.
Great range of classes at times that suit. Fantastic instructors and really helpful and patient with beginners. A lovely bunch of ladies in all classes. Really enjoying the clases – Triona O'D.
The trainers are great! They are patient, understanding and have an interest in the client's needs. Love the diversity of the online classes too. – Norma B
7. Fit100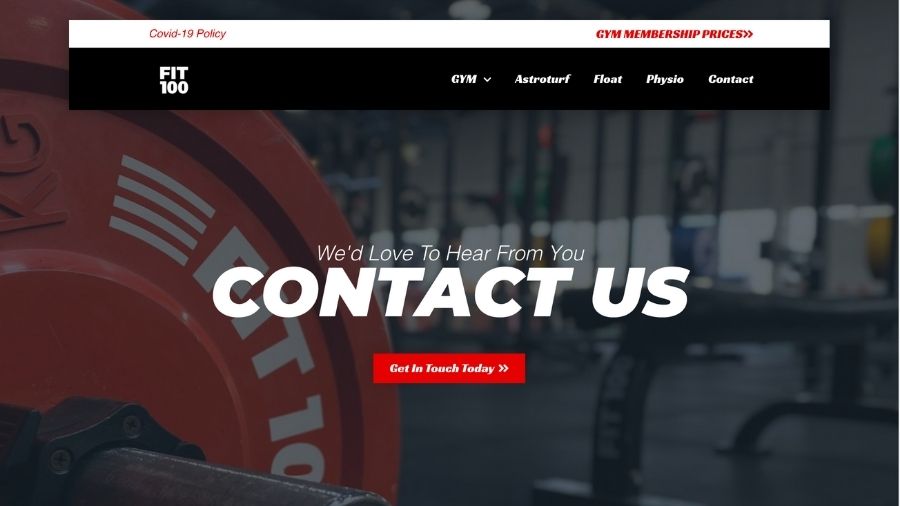 Address: Ballysimon, Limerick
Contact: 087 223 6857
Website: https://www.fit100hq.com/contact-us/
About: Fit 100 has every facility you may need. The gym is fully equipped. There are a range of classes also available. There is an astro turf for team training or 5 a side. Floatation Therapy is available which has many benefits. Personal Training is also offered. One of the best gyms in Limerick.
Reviews for Fit100:
Excellent facility. Professional staff with a friendly atmosphere. Spacious and well equipped. – Cormac C.
Doing the system 10 program with David 4 weeks in and results are showing. – Georgina B.
Best gym I've been to in limerick. Fantastic setup and friendly staff! The app is really good at managing the numbers in the gym at any given time and the covid controls in place make it a very safe place to workout. Would definitely recommend 👍 – Dominic L.
8. TBB
Address: Raheen Business Park, Limerick, Ireland
Contact: (061) 309 062
Website: https://www.tbb.ie/
About: TBB is a gym in Limerick that is alway adding new equipment. The gym offers both indoor and outdoor classes. It has an online booking system for members. The gym is open 7 days a week and the staff will help you complete your goals.
Reviews for TBB:
Great to be re opening. Staff are so supportive. Equipment is great quality – Tim E.
Friendly staff, everyone is fair sound. Equipment is great. – Eoin T.
Just a good gym, plain and simple – Evan O'M.
9. The Fit Factory
Address: Unit1 Kilmallock road ind estate, Kilmallock road, Limerick, Ireland
Contact: 085 735 2296
Website: https://www.thefitfactorylimerick.com/
About: The Fit Factory is one of the best gyms in Limerick. Personal Training is available with plenty of trainers to choose from. The gym is fully equipped and has everything you need. There are multiple membership options available. Other services include classes such as bootcamp and pilates. This is a great gym for strength & conditioning.
Reviews for The Fit Factory:
Just back from Dance Fit in Fit Factory. Great class, big space well ventilated. – Una K.
If you need someone to put you through your paces, this is the class to go. The bootcamp is 45 mins of pure toughness – Mary D.
Fantastic gym with great equipment and brill trainers – Cliona M.
10. Peak Health
Address: Unit 1B, Delta Sports Dome, Delta Retail Park, Ballysimon Rd, Limerick.
Contact: 085 863 4090
Website: https://peakhealth.ie/
About: Peak Health gym in Limerick offers a range of services. These services include one to one training, semi private training and online coaching. The team is fully qualified and has years of experience in the fitness industry.
Reviews for Peak Health:
Friendly and motivating staff – Andrew C.
Highly recommended. The least intimidating gym you could ever walk into. Really friendly and knowledgeable staff too. 10/10 – Diarmuid G.
Couldn't recommend Gavin highly enough. Dedicated to results even if I'm not!! Great location, great facilities and great training and nutritional programs and advice. – Owen L.
11. Basecamp Fitness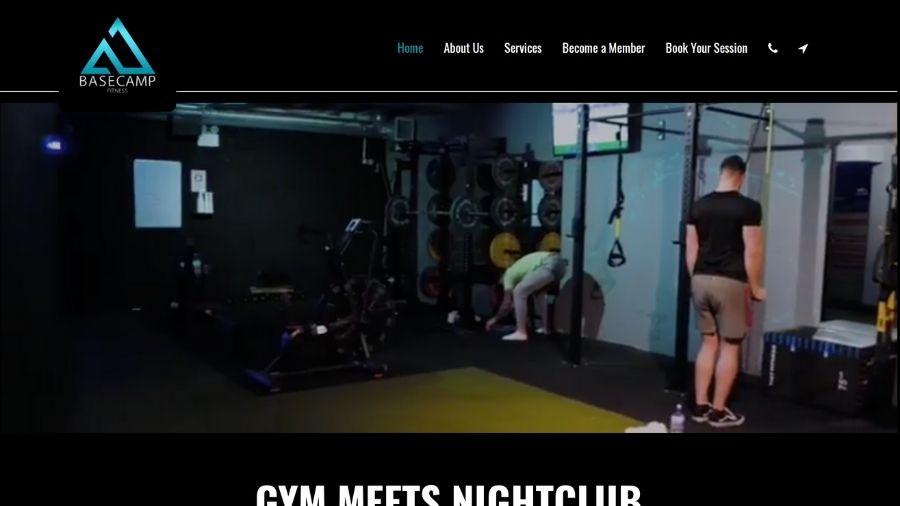 Address: 4 – 5 Catherine Street, Limerick, Ireland
Contact: 353 (061) 319 343
Website: https://www.basecampfitness.ie/#
About: Basecamp Fitness is a fantastic gym in Limerick. The team are qualified and highly motivational. The gym offers personal training, classes including rumble boxing and sports therapy. There are multifunctional training zones in the gym. There is also a coffee dock for after your workout. One of the best gyms in Limerick.
Reviews for Basecamp Fitness:
The best Gym in the area. Amazing staff and quality equipment. Love the decor and atmosphere. Also best price for what you get. If you are in town centre you not gonna find anything better. 💪😎 – Im s.
Excellent professionals! Very nice place to start or continue a healthy and fit life. – Vanessa B.
Best Gym in Limerick. Well located and fully equipped. All the personal trainers working there are very friendly and helpful. – Lincoln L.
12. Aura Leisure Centre
Address: Aura Grove Island Leisure Centre, Corbally, Limerick.
Contact: 353 61 350 221
Website: https://www.auraleisure.ie/location/grove-island/?utm_source=GMBlisting&utm_medium=organic
About: Aura Leisure Centre has a range of facilities and services to offer. These include swimming pools with saunas & steam rooms, a fitness gym, fitness class studios and spinning classes. No matter what exercise you are seeking, Aura Leisure Centre can accommodate you.
Reviews for Aura Leisure Centre:
Good facility, friendly and helpful staff. Great for families and swim lessons for kids – Aidan H.
Accessible, clean, great selection of machines/ classes, family friendly and the staff are very helpful. – Maria S.
Fantastic place. The facility has undergone massive improvements over the last few years. The staff are some of the best around. The gym and pool are spotless. The Boot-camp class I highly recommend – Alan O'B.
13. The Maldron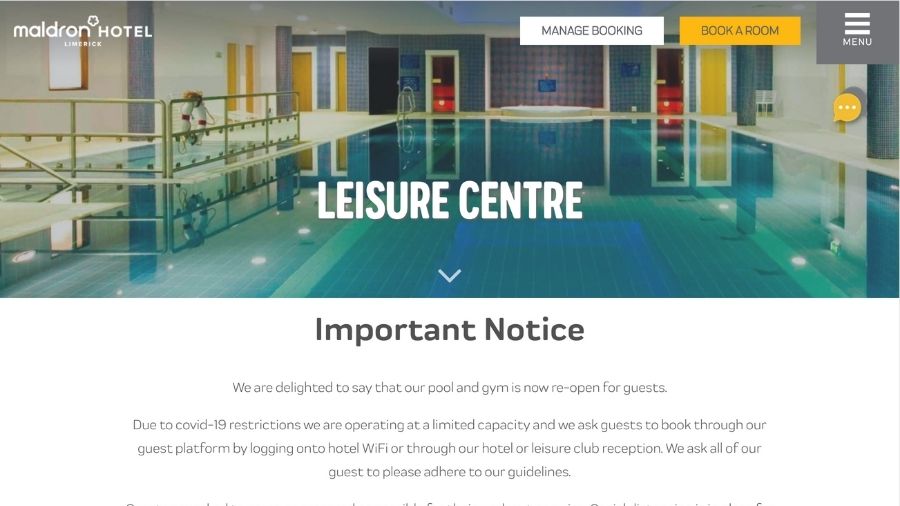 Address: Maldron Hotel Limerick Southern Ring Road, Roxboro, Limerick Co. Limerick, Ireland, V94 EDP
Contact: 061 436 153
Website: https://www.maldronhotellimerick.com/leisure-centre/
About: The Maldron Hotel Limerick is a state of the art gym with some of the best equipment in the world. There is also a 20m swimming pool. The gym includes resistance machines, boxing equipment, free weights and exercise bikes. There are treatment rooms available with different massages offered.
Best Gyms in Ireland