We conducted some internet research to find the best gyms in Cork to kickstart your fitness routine. Are you looking to start going to the gym? Or have you moved to and want to find a new gym? Then this is the ultimate list for you. The list is not ranked in order of popularity.
The following is the list:
1. Flyefit Cork City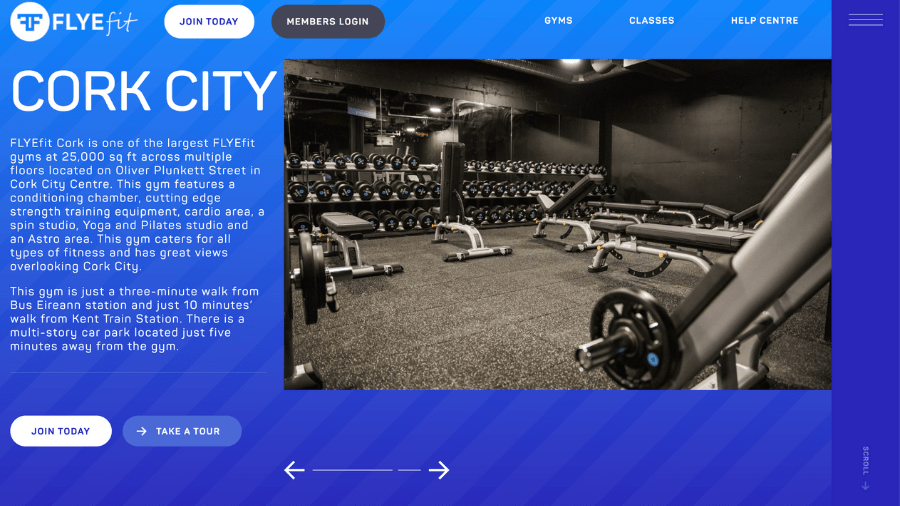 Address: FLYEfit, 10 Oliver Plunkett St, Centre, Cork, T12 YT78
Contact: flyefit.ie/contact/
Website: flyefit.ie
About: Flyefit is a state of the art gym in Cork City. From heavy lifting areas to yoga studios, they have it all. They have 16 gyms in Ireland, and you either sign up to join one Flyefit Gym or gain access to all 16 Gyms. They offer a range of outstanding classes such as Dancefit, Boxfit and Spin. It is definitely one of the best gyms in Cork.
Reviews for FlyeFit Gym:
Great gym, nice layout and good equipment for all types of training and fitness goals. Right in the center of Cork City. Staff are very friendly. – David W.
THE BEST GYM IN Cork!! Very modern, new and with good equipment, great place in the City Center, I'm totally in love and very surprised. And the view from cardio floor is absolutely amazing! – Maxime P.
Love the gym it's so huge 1st gym I've ever joined massive range of equipment spread over 6 floors for every fitness level I love the classes the personal trainers are all super friendly and motivating has helped me lose weight every week get fitter healthier brilliant location hours are very flexible best gym in Ireland – Angel C.
2. OneLifeFitness Gym
Address: 12-13 South Terrace, Ballintemple, Cork, T12 T0CT
Contact: (021) 206 3247
Website: onelifefitness.ie
About: OneLife Fitness is a beginner-friendly gym that won't punish you but work with you to hit your targets. They have state of the art equipment that make fitness fun. OneLife Fitness have excellently trained instructors to support you reach your goals and smash your workouts. One of the best gyms in Cork.
Reviews for OneLifeFitness:
I have been three times here and since the second time I started to feel the change. The training plan is amazing and the staff and the energy of the people attending gives you a lot of motivation. The coaching from the training is very accurate and fit to each particular person demand. I am more than satisfied. – Lainel O.
My experience with One Life Fitness has been and continues to be very good. Great Location, the place is big enough and the staff is very welcoming, kind and friendly. – Valentina S.
Great gym, motivational staff, wide range of equipment, very economical. – Brendan D.
3. Dennehys Health & Fitness (Douglas)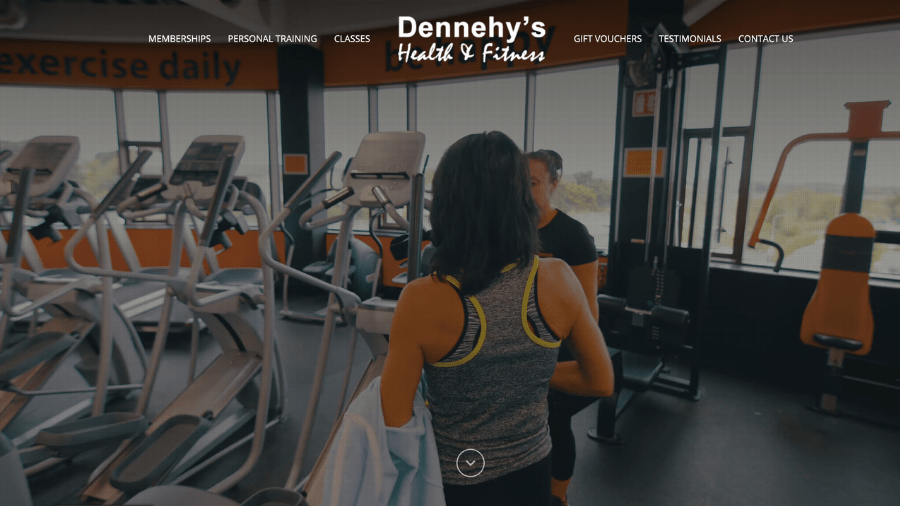 Address: Unit 1 & 2, Level 3 & 4 Douglas Village Shopping Centre, Co. Cork, T12 A797
Contact: (021) 489 3304
Website: dennehys.ie
About: Dennehy's Health & Fitness is a fantastic gym based in Douglas, Cork. They have a team of experienced trainers to give you the motivation you have been looking for to reach that next level. They also offer personal training if you're a beginner who wants to start a program or a regular attendee looking to up their workout. Dennehy's is one of the best gyms in Cork.
Reviews for Dennehy's Health & Fitness:
Great facilities, clean, friendly staff, welcoming atmosphere and fantastic value for money. Membership freezing and cancellation process are more flexible than others gym and more member friendly. They offer lowest fees. The location is very accessible and it has parking available too. I had great experience of it. – Rimi S.
I've never enjoyed the gym so much until I joined Denney's. Their classes are so much fun and I can actually see the results. Disco Spin has become my new favourite hobby. very helpful, fun and friendly staff. The gym and equipment is spotless. Always great energy every time I go. – Aoife C.
Love this gym. Fantastic, friendly and helpful staff. The PT's are also very motivational during classes to really push you to the end. Equipment is great, so is the location. I can see why it gets busy at times! But off-peak times are just as good as peak times. Would highly recommend to anyone thinking about joining! – Lydia B.
4. GymPlus
Address: 2 Park Place City Gate, Mahon, Cork, T12 DH0F
Contact: (021) 451 5364
Website: gymplus.ie
About: Gym Plus Cork is an industry led gym located in the heart of City Gate. It offers a range of classes as well as fantastic equipment for cardio and strength sessions such as state of the art Keiser indoor bikes. The Gym Plus Cork team are industry leading professionals and will help you reach your health and fitness goals. Gym Plus is one of the best gyms in Cork.
Reviews for Gym Plus Cork:
Fantastic gym with different membership options. The staff are always very helpful and are committed to providing the best for their clients. They have a good selection of fitness classes that appeals to all. There is an option to try out a free guest pass and no pressure to join unlike other gyms. – Gillian O.
Friendly trainers, laid back atmosphere, free classes with membership.Cafe within the gym if you wanted to catch up with a friend post workout. – Leticia N.
Great gym ,ideal location, spotlessly clean and great staff would highly recommend – Simon M.
5. NRG Health & Fitness
Address: The River Lee Hotel, Western Rd, The Lough, Cork, T12 X2AH
Contact: (021) 422 2444
Website: nrgfitness.ie
About: NRG Health & Fitness is a leading gym & leisure centre in Cork city located in the River Lee Hotel in Cork. The gym caters to both beginners and regular gym goers with its large range of up-to-date equipment. It's friendly and highly trained team will instruct and help motivate you to reach your goals. One of the best gyms in Cork city.
Reviews for NRG Health & Fitness:
Nice place, good staff. I love the equipment there and the fact that there is a swimming pool as well – surely worth of recommending! – Jakub Z.
This really is an outstanding gym. The free classes to members are top class and are given by a team of brilliant instructors. The online classes available to members are brilliant and have helped maintain and improve my fitness levels during this pandemic. – Conor M.
Amazing gym and pool . Staff are excellent and really pleasant . – Philip S.
6. Planet Health Club
Address: Old Mallow Rd, Cork, T23 NR4R
Contact: (021) 430 0888
Website: planethealthcork.ie
About: Planet Health Club is a gym equipped with amazing facilities such as weight machines, a swimming pool, sauna & steam room as well as a seperate room for free weights. This gym also offers a selection of classes including spinning and full body circuit. Planet Health Club is one of the best gyms in Cork.
Reviews for Planet Health Club:
An excellent and well-run gym and health club. Brilliant opening hours which run from 6:30 a.m. to 10 p.m. on the weekdays and 9 a.m. to 6 p.m. on the weekends. No need to worry about peak and off-peak for swimming pool. Would highly recommend this gym to other people – Christopher O.
Everything you need in a gym, lovely pool, very friendly helpful staff – Sean B.
absolute brilliant gym joined 3weeks ago very relaxed environment. excellent equipment you get a real bang for your buck swimming pool, classes and full use of the gym for 59 euro a month – Daniel L.
7. One Arena
Address: 4 Swan's Nest Business Park, Pouladuff Road, Cork, T12 XC1Y
Contact: 087 756 9826
Website: onearena.ie
About: One Arena is a gym in Cork that offers a range of services including small group sessions and 1to1 Personal Training along with classes such as boxing and yoga. One Arena also has services such as health consultation and KMC therapies. Nutri Zone is another amazing service that is offered at One Arena. This gym is definitely one of the best gyms in Cork.
Reviews for One Arena:
Such a brilliant gym. There is a great community there. The facility is state of the art. I have felt welcome since the first day I started. It's the first time in ages I enjoy going out the door to the gym rather than feeling I have to go! All the trainers are so supportive and really push you to your best. – Aisleigh B.
Great place to train. I attend the small group training sessions there and the small numbers gives it a real family/team feel. The trainer's there are great (big hello to Danielle) and make you feel welcome at every session. Spotless facility with top equipment. Only regret is I didnt find Edward and the team at One Arena sooner. – Tommy M
Having been to a number of gyms over the last couple of years, i can genuinely say One Arena is the best, my favourite and all you need. The Small group training is super effective, motivating and highly enjoyable, with over services being offered like 1 to 1, nutrition and consultation. Everyone from the staff to the other members, you'll feel at home from Day 1. And to put the icing on the cake, in an ideal location 👌🏽 – Tiernan C.
8. Womens Fitness
Address: South Ring Business Park, Kinsale Rd, Ballyphehane, Cork
Contact: (021) 496 6904
Website: womensfitness.ie
About: Women's Fitness Gym Cork is a gym for women of all ages and sizes to come and get fit. It is a gym for beginners who tend to stay for life. Women's Fitness Gym is a place for good headspace. Its nutritionists and staff are non judgemental and are there to help motivate and encourage all women. There is an extensive range of classes available. It is a great place for friendship. One of the best gyms in Cork for women.
Reviews for Women's Fitness Gym:
I've been doing online classes for 6 weeks. There is a great selection at different times of the day to choose from. I love all the workouts I've done so far. I highly recommend Women's Fitness. Thank you so much. – Ewa P.
A great variety of classes available throughout the week. The staff are friendly & very welcoming. The gym is very clean and variety of equipment on offer. Loving the 12 week kickstart plan – the 2 x classes, 1 x personal trainer & 1 x nutritionist meet up per week – Julianne C.
Women's Fitness are terrific. There is a wonderful range of classes and the instructors are professional and lovely. I don't live in Cork so I've only done the online workouts but if those classes are anything to go by, the gym must be a super place too. There really is something for everyone, it doesn't matter what your level of fitness is. I had been meaning to try Pilates and yoga but never got around to it but when I found Women's Fitness online, my golden opportunity was right there. The only downside is trying to choose which class to attend. They're all great. Lockdowns and winter will be a lot more bearable (and interesting) if you have Women's Fitness in your life – Lisa M.
9. District Health & Leisure Cork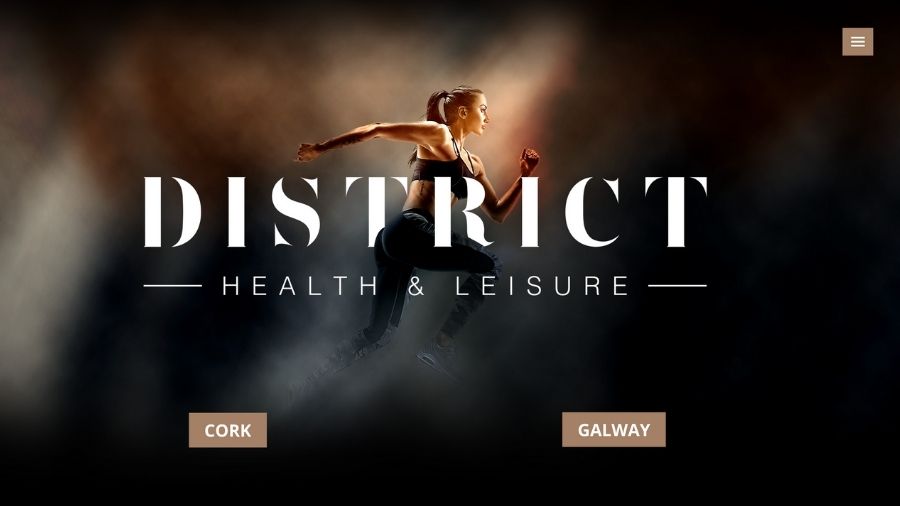 Address: Silversprings Ct, Tivoli, Cork, T23 52DH
Contact: (021) 475 7717
Website: district.ie
About: District Health & Leisure is a recently revamped gym that has been modernised and includes a range of facilities such as Swimming pool, Gym, Astroturf and Squash courts. Spin classes are also available. Each member receives a personalised tailored programme when they join which is reviewed and changed every 6 weeks. District is one of the best gyms in Cork.
Reviews for District Health & Leisure:
This is my second time going here and I found it very professional. The staff are very helpful, the place is very clean, they have very high quality equipment and I would highly recommend them. Can't wait for my next visit. – Bobby L.
Good staff at this gym. Very good classes – Maryanne W.
Best gym in the West of Ireland. Great facilities, friendly staff, exceptional product ✌️ – James M.
10. Coral Leisure Cobh
Address: Coral Leisure, Carrignafoy, Cobh, Co. Cork, P24 X953
Contact: (021) 420 1696
Website: cobh.coralleisure.ie
About: Coral Leisure Cobh is one of the best gyms in Cork with its excellent facilities including weight machines, cardio equipment and everything in between. Their instructors are on hand to assist you if you have any questions. They also offer a range of intense but rewarding classes. Members can also avail of personal training sessions at the cost of an extra fee but which is well worth the money.
Reviews for Coral Leisure:
Member with 2 months. Loving it. The equipment is good and there's loads of space. Staff are friendly and welcoming. – Adam H.
Great facility, friendly staff… all the equipment you need. – Michael W.
Brilliant facilty great staff up to date machines.5 stars – Brian O.
11. Elite Fitness Cork
Address: Unit G1 & G2, Marina Commercial Park, Centre Park Road, Cork
Contact: 087 132 6600
Website: https://www.elitefitnesscork.com/
About: Elite Fitness Cork is a new gym with some of the most experienced and well renowned coaches. This gym offers a range of different classes from Strength and Conditioning to Mobility and everything in between. Elie fitness welcomes gym goers of all levels and no goal is too small to fulfil.
Reviews for Elite Fitness:
Would recommend for those looking for a no-nonsense gym, somewhere you go to really work out and get results. Really friendly members and staff feels like a very varied and welcoming family. – Kathryn W.
Great facilities and classes in this place – David C
Amazing fitness centre, something for everyone. I particularly like the room they have for older people – Tammy B.
12. Studio Fitness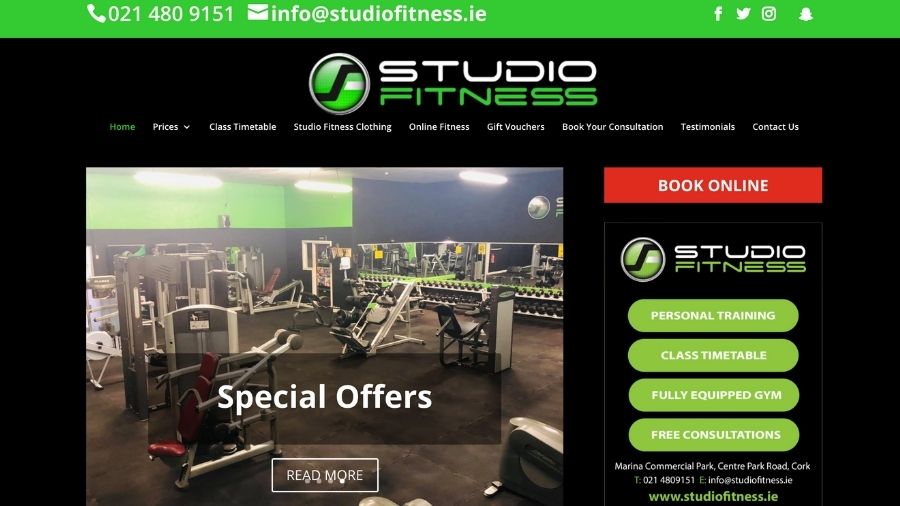 Address: Studio Fitness Cork, Marina Commercial Park, Centre Park Road, Cork.
Contact: 021 4809151
Website: https://studiofitness.ie/
About: Studio Fitness is a gym with a welcoming and non intimidating atmosphere. It offers a fully equipped gym and a range of classes. The staff are friendly and highly qualified to help deliver the results you want.
Reviews for Studio Fitness:
Excellent gym. Well run and friendly staff. – Conor S.
Great gym, very friendly staff. Suitable all levels of training – Kelan C.
Fantastic gym with a personal touch and very helpful trainers and staff – Darren M.
13. Power
Address: Horgan's Quay, Railway Street Cork
Contact: 021 4289803
Website: https://powergym.ie/
About: Power Gym is a studio with fantastic facilities such as Thermal Suites, Hydrotherapy Relaxation Pools, Sauna & Steam room. The gym contains 4 areas to suit your training needs. Cardio, Lifting area, Free weights & Functional Training. Classes are also available and are designed for people of every fitness level and promise to give you an amazing workout.
Reviews for Power:
What an experience.. Top of the range gym, its small but it has some amazing equipment. Pool, sauna, steam room all unreal. Had a spinning class that was the best I've done, really great bikes, set up in the room with the lights was something I've never seen before. The staff we're honestly the nicest people, I spent half an hour just chatting to them after I finished my session and even longer on my way out the door, felt like I've known them for years we talked so much. Honestly I cannot say a bad thing about the place it truly is in a world of its own compared to the commercial gyms that Cork has. – Jason H.
Great gym. The facilities here are top notch and the staff are even better. Laura really made our day 😃 – Colin L.
Best Gym in Cork , everything is new for your training and lovely sauna and swimming pool with hydromassage. The Power climbing lesson with Laura are amazing. – Luca A
14.Ketogym
Address: Unit 22, Penrose Wharf, Penrose Quay, Victorian Quarter, Cork, T23 X340
Contact: (021) 450 5355
Website: https://www.ketogym.ie/
About: KetoGym is a personal training studio in Cork that offers personalised nutritional and training programmes. Each training session is 20 minutes of high intensity.
Reviews for Ketogym:
Fantastic gym, with expert PT's. Team are lovely – Maria R
Best decision ever to join up. If you think it's expensive just remember it's worth it and you get results. Lost 16lbs in just 6 weeks. Staff are brilliant and supportive. 20 minute sessions spot on as it's short enough to be motivated to get out of bed for the gym in the morning. Just do it! – Glenn S.
Finally found a gym I enjoy going to. The workouts are tough but quick and very effective! Lovely staff! – Siobhan N
15. F1T
Address: Unit 4, Westside Retail Park, Ballincollig, Cork
Contact: (087) 6619275
Website: https://f1t.ie/
About: F1T gym was awarded Best Gym in Cork by 96FM in 2020. This gym offers 1to1 Personal Training and has a qualified nutritionist available to help with your nutritional plan.
Reviews for F1T:
Great place to get in shape. Offers a huge range of plans and classes. Best gym in Ballincollig. – Colin L.
Excellent gym. Extremely well organised. Staff are outstanding and care about their clients and make sure they are safe. Very good hygiene and safety during Covid. – Marion C.
Best gym in cork, staff so friendly, comfortable environment, good price highly recommend – Fiona B
16. ClubVitae
Address: Club Vitae Cork, Clayton Hotel Cork City, Lapp's Quay, Cork Ireland T23 E244
Contact: 021 234 1200
Website: https://www.clubvitae.com/corkclayton
About: Club Vitae is a gym located in the Clayton Hotel in Cork that has facilities such as Swimming Pools, a gym and essence spa. The gym also offers personalised training and the swimming pool is a great option for relaxing after an intense workout. Saunas & Steam Rooms also available at the pool.
Reviews for Club Vitae:
Went for swimming and gym. It was really good and well maintained. Plus they offer student membership as well – Bimlesh Y.
My favourite gym in cork by far.
Convenient location. Modern equipment and most important of all excellent and very helpful staff. Andreas and Sarah both are lovely and always keen on providing assistance. – Azaz A.
Great open gym with the best equipment and such helpful staff. The joining fees are excellent especially when you have the pool and free classes as a full member. – Paul D.
17. Montenotte Hotel
Address: Middle Glanmire Road, Cork, Ireland T23 E9DX
Contact: 021 4530050
Website: https://www.themontenottehotel.com/
About: Membership to Motion Health Club allows access to the Gym, Saunas, Steam Rooms & Jacuzzi. Personal Training and fitness classes are also available. Equipment include free weights, weight machines, resistance bands and spinning bikes. The staff are experienced and friendly.
Reviews for Montenotte Hotel Gym:
Great gym and staff are very helpful and friendly. A good selection of classes – Caroline O.
Great gym and Ian and his staff are fabulous always on hand to help and there classes are brill – Trisha M.
Excellent staff at the gym. Spinning classes are great. A really good place to be staff make it – Triona K.
Best Gyms in Ireland