We've conducted some internet research to find the best gyms in Clare to kickstart your fitness routine. Are you looking to start going to the gym? Or have you moved to and want to find a new gym? Then this is the ultimate list for you. The list is not ranked in order of popularity.
The following is the list:
1. Tribe Fitness
Address: Shauntrad Business Park, Killaloe, Co. Clare, V94 RX44
Contact: 087 3925732
Website: https://www.tribefitness.ie/
About: Tribe is a fantastic gym based in Clare. At Tribe the focus is on gym classes. The classes are 45 minutes long and are medium to high intensity. The classes are suitable for all levels of fitness and ability.
Reviews for Tribe Fitness:
I would highly recommend Tribe. Great classes for all levels of fitness. Professional & motivated trainers in a friendly, enjoyable environment. Great selection of class times and no class is ever the same which keeps it interesting! Being so local is a bonus!
Best of Luck Guys! – Karen M.
Great Classes, tough but so effective and the instructors are great, very encouraging and motivating. Would highly recommend for anyone, whether you are just starting out or a fitness fanatic. – Jenny C.
Guaranteed to work up a good sweat👌 they run great classes for all types of fitness levels and the trainers are really encouraging and helpful i would highly recommend tribe fitness – Stephanie P.
2. Active Ennis Leisure Complex
Address: Active Ennis Sports & Leisure Facilities, Central Office, Highfield Road, Ennis, County Clare.
Contact: 065 682 1604
Website: http://www.activeennis.ie/facilities/active-ennis-leisure-complex/
About: Active Ennis Leisure Complex is an indoor health and fitness arena located in Clare. It has extensive facilities such as a state of the art gym, 25m swimming pool, sauna & steam room. The staff are fully qualified and provide a range of services aimed to improve your fitness. Fitness classes are also available.
Reviews for Active Ennis Leisure Complex:
Great facilities, wonderful staff! Fully wheelchair and disabilities friendly with lifts and lift into the pool also. Great teachers swim classes for all! There is a baby pool, sauna, steam room, fully equipped gym, and studio with mirrors perfect for sessions and renting the hall privately for personal training and coaching. There is a sauna also in the gym. The price is fine but if you get the membership its a steal! – Rachel R.
Spotless and clean. Very well kept. Staff helpful and courteous. Good gym and facilities. – Jim H.
Great staff, very clean fun place for all ages – David C.
3. SKB
Address: Unit 1, Link road Smithstown, Shannon, Ireland
Contact: (061) 718 839
Website: https://www.facebook.com/SKBCommunityFitnessCentre/
About: SKB is a fitness centre in Clare with fantastic equipment and a friendly staff. They offer amazing classes and have their very own spin studio. Personal Training is available at SKB with numerous PT's to choose from. SKB has everything you need.
Reviews for SKB:
Great value for every session and membership, Excellent equipment and extremely helpful staff – Kevin O.
Really well run with friendly and professional staff. – Michelle O.
Excellent gym – Liam K.
4. Love Fitness
Address: Unit 1a Elevation Business Park, Ennis, Co. Clare, V95 D291
Contact: 086 2449488
Website: https://lovefitness.ie/
About: Love Fitness is a fully equipped private gym in Ennis Town Centre. One to One Personal training is available from an experienced trainer. Online coaching and private group training are also options. Love Fitness specialises in Body Composition changes so it is a great gym for anyone trying to lose weight and fat. Long term Nutritional advice is available rather than short term diets.
Reviews for Love Fitness:
The one to one Training at this place is amazing, would recommend – Finney P.
5. Shannon Swimming & Leisure Centre
Address: Bothar Linne, Tullyglass, Shannon, Co. Clare, Ireland. V14 PH02
Contact: (061) 361 841
Website: https://www.shannonleisurecentre.ie/
About: Shannon Swimming & Leisure Centre has every facility you may need. The gym is separated into strength and conditioning with cardio and resistance having its own studio. There is a swimming pool with a sauna & steam room, an astro turf and basketball hall. For people who like doing activities instead of the gym, the climbing wall is recommended. There are multiple gym classes also available from zumba to flat abs.
Reviews for Shannon Swimming & Leisure Centre:
Great facility, always spotlessly clean and run by welcoming interesting crew. 100% score from me. – Padraig C.
The best spot in Shannon for indoor outdoor sports as well as relation swimming spa sauna. The staff are super friendly. – Sohail M.
Very good experience, the gym spotless, staff are very friendly and helpful – Breda M.
6. LifeFit Gym Clare
Address: LifeFit Gym Lahinch Road, Ennistymon Co Clare, V95K4OK
Contact: 087-9713465
Website: https://lifefitclare.ie/
About:
LifeFit Gym is owned and operated by Paul & Elaine Dunne, BSc Degree in Strength & Conditioning, Personal Trainer, Olympic Weightlifting Coach (Weightlifting Ireland) Precision Nutrition Coach and studying to be a CGS-1 Certified Women's Coaching Specialist.
The gym is an open space with a combination of weightlifting platforms (x10), a studio area, machine weights, free weights, a treadmill, concept 2 rowers and assault bikes.
Their classes are a blend of strength, conditioning and core exercises. Their clientele range from 10 years old to 81 years old and our aim is to make our gym as inclusive and enjoyable as possible. We cater for all abilities from absolute novices to elite athletes. Class and gym drop-ins are welcome all year round.
Reviews for LifeFit Gym:
If you want to work out somewhere where you are looked after and pushed towards your potential, this is the place. Paul is always on hand to advise and to ensure you are training at your best! – Jo H.
I could go on about the quality gym equipment, wide range of fitness classes, or ample space to safely train, because LifeFit Gym has all of that. But what sets LifeFit apart from other gyms I've trained at is the incredible environment. There's a strong sense of community within that keeps me coming back. We encourage one another, have a laugh, and push harder towards our goals. Paul Dunne knows plenty about nutrition and fitness, and his passion for both is contagious. The most important result I've achieved from LifeFit—I ALWAYS leave the gym in better form than when I arrive. – Tara S.
Great gym great staff – Nigel K.
7. KFITT
Address: Ennis Rd, Kilrush, Co. Clare, V15 A264
Contact: 087 6413413
Website: https://kfitt.ie/
About: KFTIT is a quality gym that operates in Clare. It offers Personal training, Strength & Conditioning and nutritional plans. For Bike lovers this is your gym as KFIIT offer services such as maintenance, upgrades and repairs. There are also different therapies available such as NMT, Dry Needling and Sports Massages. KFIIT really offers it all.
Reviews for KFITT:
Fantastic gym and trainers. Very professional coaching and definitely will help you achieve your fitness goals ! – Jemma C.
Absolutely great gym. Incredibly helpful & knowledgeable. – Martin C.
The best Gym… – Sinead C.
8. VR Fitness
Address: VR Fitness, Unit 3, Westlink Centre, Kidysart Road, Ennis, Co. Clare, Ireland
Contact: 087 702 4627
Website: http://www.vrfitness.ie/
About: VR Fitness is a gym with a range of services in Clare that will help you reach all your goals. There are classes available such as Bootcamp and Spin Circuits. These classes are pay as you go and are only 8 euro. There are also Personal training packages available as well as Strength & Conditioning packages. VR Fitness is a great place to complete your fitness goals.
Reviews for VR Fitness:
Excellent Gym. – Dennis G.
Great place. Super training and great help. Highly recommend – Emma B.
Outstanding training sessions in a friendly environment. – Paul S.
9. Educogym
Address: Killrush Road, Co. Clare, Ireland.
Contact: (065) 684 1182
Website: https://educogym.com/locations/ennis-gym/
About: Educogym is a gym that focuses on fast results. The gym offers programmes such as body transformation and online coaching. They offer a free consultation and 3 day trial. Educogym has 10 years of experience. The gym is appointment based meaning you will get complete attention and motivation from a fitness consultant.
Reviews for Educogym:
Simply brilliant, will continue to reach my goals with educogym, mark is great asset for educogym ennis, he is the face of educogym ennis, great trainer, great person, he cares and wants best out of you, you want it bad enough you will succeed – Adrian H.
The personal, professional approach to nutrition and weight training is unique and highly effective, subject only to the client's commitment and hard work. Certainly, Jacqui Murphy and her staff go over and above to assist in maintaining that commitment to achieve the results being sought. – Clare M.
Fantastic gym, great workout programmes and very professional staff. The best place to be! – Nina H.
10. Crossfitennis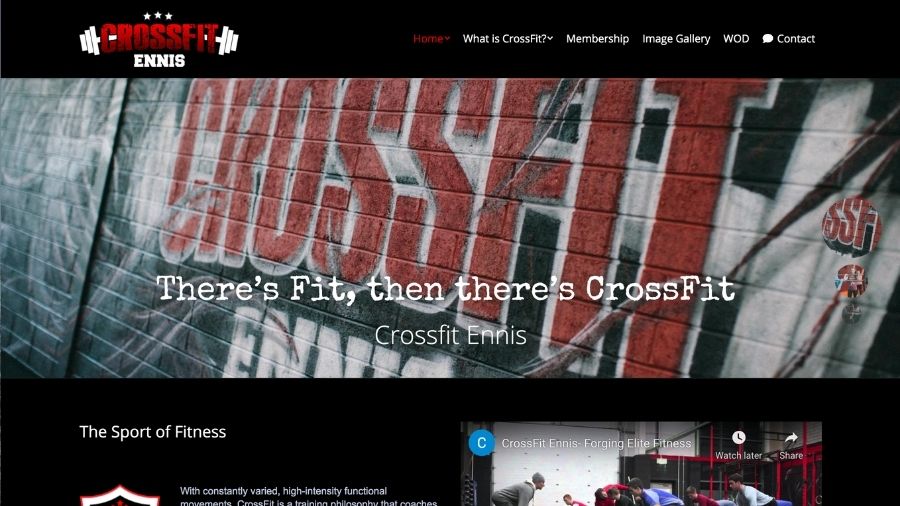 Address: Quin Road Business Park, Ennis V95 DK88
Contact: 087 9146603 / 087 9077044
Website: http://www.crossfitennis.com/
About: Crossfitennis is a fantastic gym in Clare for all the crossfit lovers. They welcome newcomers with open arms and put them through a 3 class series to cover the basics. This is a great gym to get a workout that will give you a sense of achievement.
Reviews for Crossfitennis:
Excellent instructors and a great place to get fit. The instructors are very attentive and are always offering advice and suggestions on how to improve your technique. I highly recommend it. The classes are always different and you are constantly learning and improving. – Marty F.
Great gym, great programming, great coaches, great people and best of all great craic! – James C.
This place really ups the ante. I feel that I'm pushed, but not over pushed. They have a good balance. Always a great feeling afterwards. – Russel H.
11. Hustle Fitness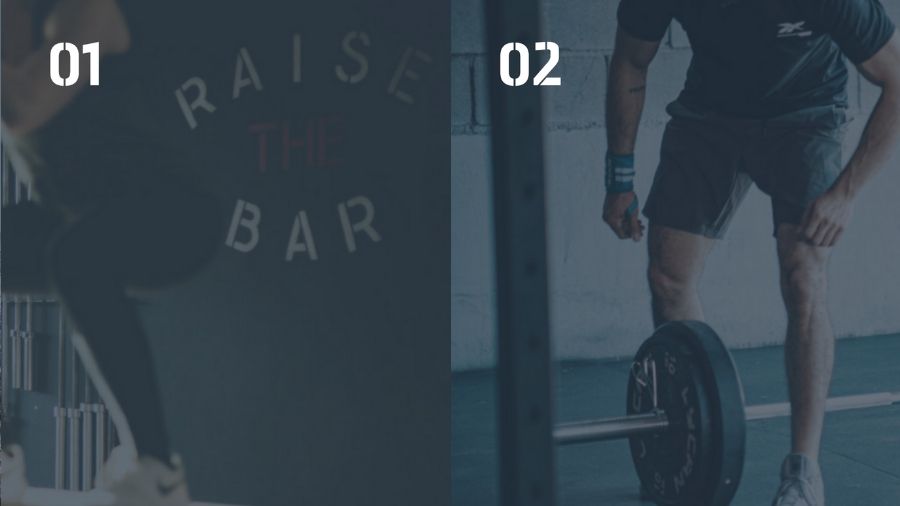 Address: Cornmarket St, Clonroad Beg, Ennis, Co. Clare, Ireland
Contact: (065) 689 2500
Website: https://hustlefitnessireland.ie/
About: Hustle Fitness is a gym in Ennis that focuses on everyone being equal. Everyone helps everyone no matter how experienced they are. Both beginners and experienced gym goers are welcomed. Spinning and HIIT classes are available.
Reviews for Hustle Fitness:
Been a member of hustle for a few years now, continues to improve by the day. Such lovely and helpful staff. My favourite place to go☺️ – Shona M.
Great gym, from day one they work with you to tailor a plan that's right for you. When you work with one of their personal trainers they are always looking to update and evolve your plan as you progress on your fitness journey. – Emma L.
Best gym in Ennis and a dedicated team of trainers to go with it. – Aishling S.
12. Ozone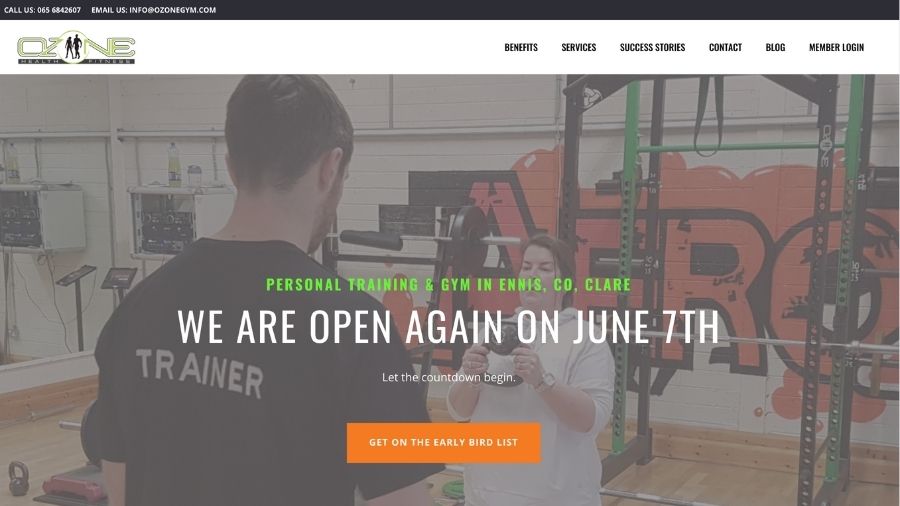 Address: Ozone Centre, Unit 10 Block B, Quin Road Business Park Ennis, Clare V95HK58 Ireland
Contact: 065 6842607
Website: https://www.ozonegym.com/
About: Ozone is a great gym based in Clare that offers great services. These services include online coaching and small group personal training. It is a great place to focus and get the support and motivation you need to get your results. The gym also offers different challenges every month which can be a fun way to workout and get prizes.
Reviews for Ozone:

Excellent gym with friendly and involved staff who work closely with clients to ensure the best results. All the classes are done to individuals own pace and strengths with positive motivation to help you power through and push yourself a little more each time. Highly recommend – Adam H.
Cant praise this gym highly enough. Amazing staff that are both professional and helpful. From the minute you contact them to each time you set foot in the door they are on hand to guide and help you through each session. I don't have much experience of gyms but can honestly say I wish I had signed up with them years ago. – Helena C.
All the staff are excellent, brilliant service and the gym is spotless. Well done – Niamh T.
Best Gyms in Ireland