We've conducted some internet research to find the best gyms in Sligo to kickstart your fitness routine. Are you looking to start going to the gym? Or have you moved to and want to find a new gym? Then this is the ultimate list for you. The list is not ranked in order of popularity.
The following is the list:
1. Club Vitae
Address: Club Vitae Sligo Clayton Hotel Sligo, Clarion Road, Sligo Ireland F91 N8EF
Contact: 071 911 9037
Website: https://www.clubvitae.com/sligo/
About: Club Vitae is a gym located in Sligo that has facilities such as Swimming Pools, a gym and an essence spa. The gym also offers personalised training and the swimming pool is a great option for relaxing after an intense workout. Saunas & Steam Rooms are also available at the pool. One of the best gyms in Sligo.
Reviews for Club Vitae:
Great facilities, Great staff, highly recommend – Gerry Mc L.
Great staff, good facilities – Darren T.
A Great place to training and spend nice time with kids on pool
100% recommended – Tomasz S.
2. TNT Gym
Address: Unit 2 Ballast Quay Sligo, Ireland
Contact: 087 377 1177
Website: https://tntgymsligo.ie/
About: TNT Gym Sligo is a gym that offers great services. It offers a wide range of fitness classes. Personal training is also offered at TNT Gym with plenty of trainers to choose from. Group sessions are also available and suitable to all levels of fitness. There are plenty of membership options available. It is Definitely one of the best gyms in Sligo.
Reviews for TNT Gym Sligo:
Happy, friendly and knowledgeable staff. Well spread out and a good layout for individual training. Gyms can be intimidating especially for beginners but not this one. – Paddy Mc D.
Best gym in sligo. Very helpfull and friendly staff and cheap prices – Ediijz Z.
Great gym. Good equipment. Awesome staff – Nathan K.
3. Clayton Hotel Sligo
Address: Clarion Road, Ballinode, Sligo, Ireland.
Contact: 353(0)71 911 9000
Website: https://www.claytonhotelsligo.com/leisure/club-vitae-sligo/
About: The Clayton Hotel has a range of facilities and services to offer. These include swimming pools with a jacuzzi & steam room, a fully equipped gym and fitness classes including spinning and yoga. The instructors are all highly qualified and ready to help you reach your goals.
4. Sligo Park Hotel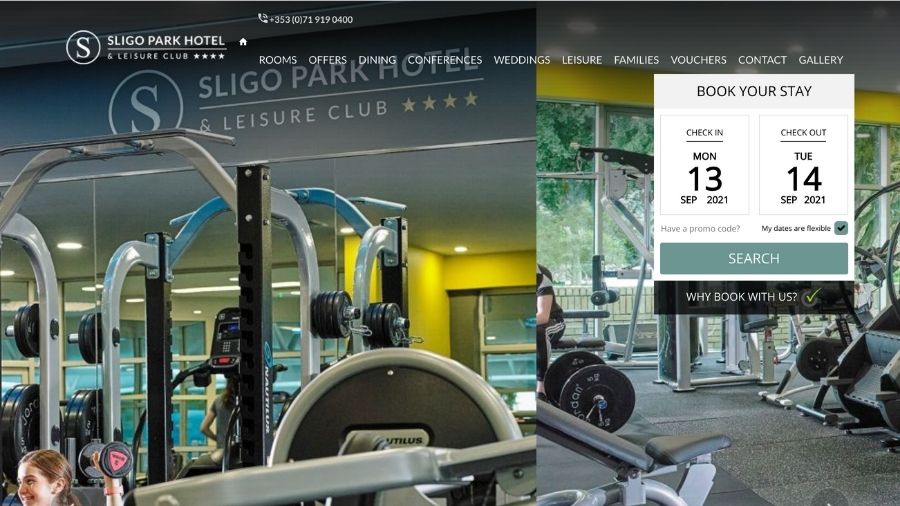 Address: PEARSE ROAD, SLIGO (IRELAND) – F91Y762
Contact: 353 (0)71 919 0400
Website: https://www.sligoparkhotel.com/membership.html
About: Sligo Park Hotel has a state of the art fully equipped gym in their leisure centre. The gym welcomes both beginners and regular gym goers. Fitness classes are available each week. There is also a heated swimming pool.
5. Avena Leisure
Address: Ballisodare Town Centre, Ballisodare, Sligo
Contact: 071 91 30882
Website: https://avenaleisure.com/
About: Avena Leisure has every facility you may need. The gym is fully equipped and offers a range of classes. There is a swimming pool that offers lessons and there are different membership options available. One of the best gyms in Sligo.
Reviews for Avena Leisure:
As always a very well maintained leisure centre, nice friendly staff, and a big bonus is the fact that all equipment, and facilities are working Ina proper fashion – Geery F.
5 star service from all the staff at Avena the leisure centre and gym is in fantastic condition and very clean, all you look for in a family friendly leisure centre. – Brendan J.
An amazing facility well run and most friendly. – Jim M.
6. ROM Sligo
Address: Unit 2, Cleveragh Retail Park, The Back Ave, Sligo.
Contact: 085 8704446
Website: https://www.romsligo.net/
About: ROM Sligo is a commercial gym with a wide range of free weights and machines. The gym opens at 6am every day. Personal Training and Online training are available as well as Nutritional plans and recipes. Group classes are also offered at ROM Sligo.
Reviews for Rom Sligo:
Joined ROM after having moved back to Sligo from Dublin. A fantastic gym which is a good as if not better than any gym I had used in Dublin whilst also being more affordable and great value for money. All the staff and instructors are so helpful and friendly, as well as all the gym goers in there being super friendly there is really such a nice atmosphere. I would highly recommend ROM to anyone even thinking about joining a Gym whether it be for your physical health or even mental health, it's the go to gym in Sligo for sure – Brian B.
Joined after lockdown last year after moving away from Dublin..love the opening hours …good range of equipment including multiple machines, free weights and cable machines..worth the fee – Michael O'F.
I love the place, workers are always very welcoming. Great open gym🔥🔥 I love it!!
Zai – Zet B.
7. Storm Body Fitness
Address: Unit 2, Ballast Quay, Sligo, Ireland
Contact: 086 8577896
Website: http://www.stormbodyfitness.com/
About: Storm Body Fitness is one of the best gyms located in Sligo. This gym offers personal training programmes as well as semi private training and small group training. Online Training is also available for anyone who can't get to the gym. Storm Body Fitness also offers free body consultations.
Reviews for Storm Body Fitness:
Such a wonderful facility. Staffed by highly knowledgeable male and female professionals. Very pleasantly surprised! – Mark W.
Can't say enough for Storm, easily the best atmosphere I've ever trained in and the knowledge and experience of Keith, Fiona and David is second to none. This place is the genuine article for anyone wanting a gym that delivers real results, from total novice to experienced, all levels and abilities and individual goals catered for. – Gemma D.
Great gym ,trainers and programs . Would highly recommend storm to anyone looking to train no matter what your goals are 👍🏼 Conor Mc M.
8. Crossfit Sligo
Address: CrossFit Sligo, Finisklin Business Park, Sligo, Co. Sligo, Ireland
Contact: 087 676 3143
Website: http://www.crossfitsligo.ie/
About: Crossfit Sligo is a fantastic gym in Sligo for all the crossfit lovers. They welcome newcomers with open arms. This is a great gym to get a workout that will give you a sense of achievement.
Reviews for Crossfit Sligo:
Fantastic Gym, head coach is really focused on doing the right thing and pays plenty attention to detail. Place was spotless and the sense of community is evident among the members. Congrats folks. – Esdras N.
Classes are well run. Edel and the other instructors are brilliant as well too – Kevin K.
Great place! Edel and Zack were friendly and welcoming! – Sean O'C.
9. The Fitness Studio
Address: HOUSE 44, INNISFREE, 45 High St, Sligo, F91 WC79
Contact: 083 098 2144
Website: https://www.the-fitness-studio.com/
About: The Fitness Studio is a family run business that offers a safe and top class training facility. It is a class based gym that is suitable for all fitness levels. All services are offered in person and online.
Reviews for The Fitness Studio:
I can highly recommend this fitness studio ,there are very professional and passionate about what they do aswell as being down to earth genuine nice people.They cater for all levels of fitness and endeavour to get the best out of you .You won't regret your first class with these guys between the energy and motivation and a lot of fun you will enjoy getting fit . – Aisling B.
Eithne, Jake and Luke are a fantastic team. Great trainers, great energy and great fun. Highly recommend "The Fitness Studio"👍 – Carol G.
Worked with Luke for a couple of sessions, the studio is absolutely an fantastic facility! I would recommend anyone to pop in to these guys and you will guaranteed results! – Johnathan F.
Best Gyms in Ireland