We've conducted some internet research to find the best gyms in Westmeath to kickstart your fitness routine. Are you looking to start going to the gym? Or have you moved to and want to find a new gym? Then this is the ultimate list for you. The list is not ranked in order of popularity.
The following is the list:
1. Club Active Mullingar
Address: Unit 13, Zone C, Mullingar Business Park, Mullingar, Co. Westmeath
Contact: (044) 93 96904
Website: https://www.clubactivemullingar.ie/
About: Club Active is a state of the art gym located in Mullingar with many services. These are services such as personal training and fitness classes. Some of these fitness classes include bootcamp, spinning, circuits and HIRT. The staff are very friendly and really motivate you during these classes.
Reviews for Club Active Mullingar:
My goto fitness palace of love. I hate to give it 5 stars because I want fewer people in the gym, not more, but this place is great. Good selection of machines, free weights, squat racks, and cardio machines. Everything you could realistically need. The staff are friendly and welcoming. Highly recommended. Please don't talk to me mid-set. – Thomas D.
It is very good sport club: good location, spacious parking, long open hours, friendly, attentive instructors, and full set of equipment for everybody either you are beginner or professional. I really enjoying training here. – Albertus K.
Have been to the gym a few times now and taken part in a few classes. Excellent facilities, friendly and warm staff and really enjoyed the classes, especially the Pilates (have tried it in a few places but this was my favourite). Will definitely be back. – Stephen W
2. Shane Flynn Fitness
Address: NGS GYM, MULLINGAR, CO. WESTMEATH
Contact: shane@nextgenspeed.ie
Website: https://shaneflynnfitness.com/shop/
About: Shane Flynn Fitness is a gym that operates in Mullingar. It offers Personal training, Strength & Conditioning and nutritional plans. There are group classes also available that promise to fulfil your workout needs. Online coaching is also available at Shane Flynn Fitness.
Review for Shane Flynn Fitness:
Phenomenal attention to detail, unbelievable service for finding the root cause of an injury or a series of injuries. There's also loads of brilliant life skills to learn for relieving physical and mental tension. They're also sound lads on top of it all! – Sean O.
Shane is very professional and always there to help, along with his hardworking team. I would highly recommend anyone thinking of going to Shane. I travelled 4 hours to get to Shane and it was well worth it. Never looked back since. – Anna S.
On the online training: Shane and Luke were constantly available for any questions or issues I had. There was detailed feedback given back for each exercise which made the process so much easier. Would recommend the service to anyone looking to rehabilitate an injury or gain strength and power for sport. – Ross C.
3. Crossfit Croi
Address: Unit 1 Moydrum Commercial Centre,Moydrum Road,Athlone,Co. Westmeath
Contact: 085 8186055
Website: https://crossfitcroi.com/
About: Crossfit Croi is a fantastic gym in Athlone for all the crossfit lovers. They welcome newcomers with open arms. This is a great gym to get a workout that will give you a sense of achievement.
Review for Crossfit Croi:
By far the best CrossFit box in the midlands and one of the best in the country. Just off the N6. Top of the line Rogue equipment (rig, barbells, plates, rings, med balls, peg board, sleds etc) along with great coaching, programming and community. Highly recommended for all, no matter what level you're at. We also do the CrossFit Open each year 🙂 – Jerico P.
A fantastic box with brilliant coaches who push you to do your very best. Very positive environment with like minded people, all pushing each other. can't recommend Crossfit Croí enough. Best box in Athlone. – Eamon F.
I would really recommend Croi to anyone who wants to try out Crossfit. It has such a nice vibe and the workouts are made to suit beginners to advanced. There is a real community feel here which helps you stick to it and gives great motivation. – Deirdre W.
4. Bloomfield House Hotel
Address: Bloomfield House Hotel, Leisure Club & Spa, Belvedere, Mullingar, Co. Westmeath, Ireland N91 HP8E
Contact: 044 934 0894
Website: https://www.bloomfieldhousehotel.ie/health-and-leisure-club.html
About: The Bloomfield House Hotel has a fully equipped gym in their leisure centre. The gym welcomes both beginners and regular gym goers. Fitness classes are available each week. There is also a heated swimming pool, hydrotherapy pool, sauna, steam room and jacuzzi.
Reviews for Bloomfield House Hotel:
Great setting on the banks of lough ennell. Top class gym and leisure centre – Sean C.
Great service and leisure centre. – Peter L.
Great classes in gym – Paul D.
5. Wolfhound Fitness
Address: Unit 27, Lough Sheever Corporate Park, Mullingar, Ireland, N91 YY64
Contact: 044 934 8499
Website: https://www.wolfhoundfitness.ie/
About: Wolfhound Fitness is a gym that offers many services such as group classes and personal training. The gym is equipped with some great cardiovascular equipment and strength & conditioning equipment. The staff are highly trained and friendly.
Reviews for Wolfhound Fitness:
Kids go every week and husband goes most days. They get a great work out and Joe the instructor is great with them, most importantly he makes sure they do it properly and safely. Reasonably priced too. – Charlotte T.
Expert instructors and great atmosphere… – Eric B.
The best there is. – Peter W.
6. Athlone Regional Sports Centre
Address: Athlone Regional Sports Centre, Ballymahon Road, Athlone, Co. Westmeath
Contact: 090 64 70975
Website: https://www.athlonersc.ie/
About: Athlone Regional Sports Centre has every facility you may need. The gym is fully equipped. There are a range of classes also available. The swimming pool offers lessons. There are different membership options available. A jacuzzi and steam room are also available.
Reviews for Athlone Regional Sports Centre:
Sports Centre has a Gym and swimming pool indoors with well organized equipment. They have recently also developed the area around the sports center to facilitate outdoor activities and fitness park. There is a walking trail and pitches for football, basketball and few other sports. – Vijay A.
Hour and half sessions are ideal, can book 2 times a day if i want. Daily workout plans designed perfectly are set on the workout wall, which means less planning and more focus on performance all round. Friendly professional staff makes it easier. – Michael M.
Great gym and pool , unreal value for money. Great staff on hand to help with all you need. – Hugh O.
7. Fit Factory Kilbeggan
Address: Relic Road Kilbeggan, Ireland, N91AX66
Contact: 085 101 6357
Website: https://www.facebook.com/fitfactorykilbeggan/
About: Fit Factory Kilbeggan is a gym located in Westmeath. It offers fitness classes and transformation challenges. Personal training is also offered at Fit Factory Kilbeggan with plenty of trainers to choose from. Group sessions are also available and suitable to all levels of fitness. There are plenty of membership options available.
Reviews for Fit Factory Kilbeggan:
It was great, wasn't too many there plenty of room to move around and staff wevry welcoming and friendly… – Rufinaa E.
Great atmosphere and trainers. – Mo C.
Great gym, staff are very friendly and always helpful. Welcoming to beginners and experienced gym-goers. Terrific atmosphere. If you're considering going to Fit Factory, whether you're new or experienced, you won't regret it. – Shane S.
8. El Fitness Studio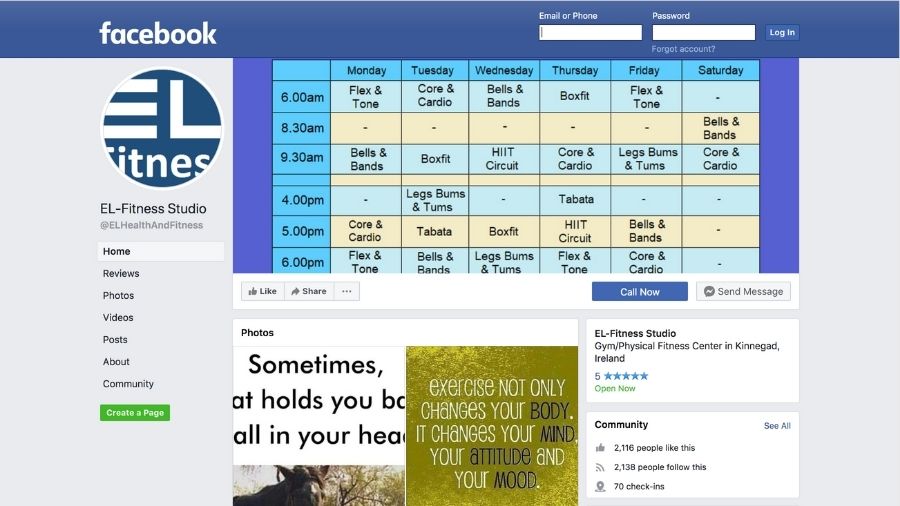 Address: Main Street, Kinnegad, Westmeath Kinnegad, Ireland,
Contact: 087 244 6118
Website: https://www.facebook.com/ELHealthAndFitness/
About: El Fitness Studio is based in Kinnegad and has a fantastic wide range of fitness classes. This gym also offers nutritional advice. The trainers are highly qualified and promise to help you reach your fitness goals.
Reviews for El Fitness Studio:
Great classes lead by a knowledgeable instructor. Fantastic equipment available for classes including loads of free weights.
Would recommend signing up for one of the programs if you need help to lose fat or gain muscle. Pay as you go also available. – Terence H.
Highly recommend Enda. Brilliant time table that changes every couple of months so there will always be a time and a class to suit. Everything is setup and instructions given so you're guaranteed an hour exercise and it's local so no time wasted in travelling, parking etc. home within an hour 10 minutes! Pay as you go option too which is great to try it out and get familiar with classes. – Serena T.
Very good instructor and great classes – Paul V.
Best Gyms in Ireland