Are you looking for a physiotherapist in Meath? We researched the best physiotherapists in Meath, so you can get back to total physical health to hit new goals. Physiotherapists can help people who are affected by injury through movement, therapy and education. They can help you manage pain and overcome it, working with people of all ages.
The following is the list:
1. Ratoath Physiotherapy
Address: Main St, Ratoath, Co. Meath
Contact: (01) 689 6701
Website: https://ratoathphysio.ie/
About: Ratoath Physiotherapy is based in Meath. They offer a wide range of services including physiotherapy. Shockwave therapy and red light therapy are also available.
Reviews for Ratoath Physiotherapy:
Very professional service. Rory was able to answer any questions I had and explained everything really well. Would highly recommend. – Cathal M.
Rachel has been a massive help to me this year. Physio and Red Light Therapy have helped me recover from Long Covid. It took about two and a half months to get me from not being able to walk up the stairs and crying with back pain to being able to bring my dog back out for hour long walks and pain free. I could not recommend Ratoath Physiotherapy highly enough – Kate R.
Cannot recommend this place enough. I had a bike accident which caused many complications both muscular and skeletal and then subsequent secondary muscular problems and have gone to Ratoath Physiotherapy on all occasions and received fantastic service. All of the physiotherapists are very good, but I recommend Rachel. She was able to isolate the source of each issue and gave very good exercises and stretches to assist with the recovery at home. – Jake R.
2. Mcentee Performance Physio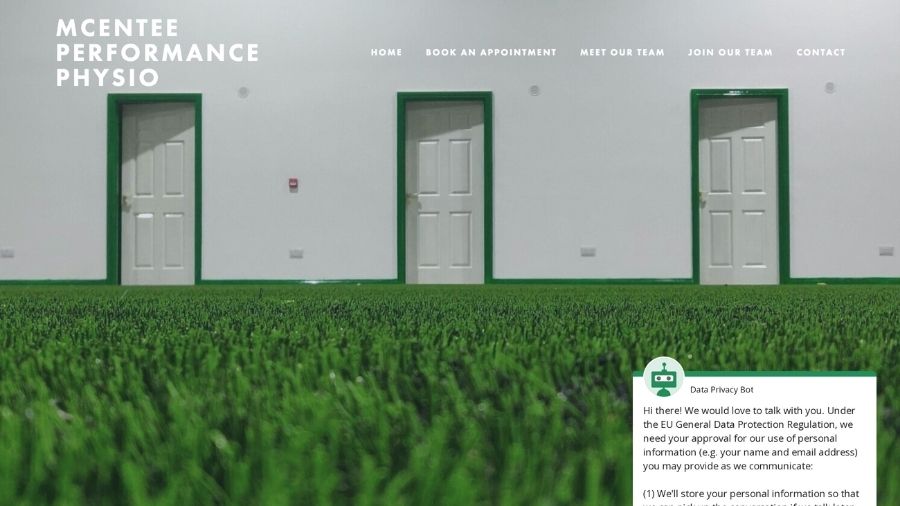 Address: McEntee Performance Physio, Mullaghboy Industrial Estate, Mullaghboy, Navan, Co. Meath
Contact: (046) 906 2265
Website: https://mcenteephysio.com/
About: Mcentee Performance Physio is located in Meath. They offer an extensive range of services such as physiotherapy. Mcentee Performance Physio are recognised as leading authorities in knee, back and shoulder rehabilitation.
Reviews for Mcentee Performance Physio:
Barry was excellent throughout my experience. Modern, impeccably clean & spacious premises. Very generous with his time & in explaining all stretches. Video links provided on an app that were extremely beneficial. – Martin C.
Very professional while also being friendly and reassuring. Great follow up service with access to prescribed exercises and movements on video. My first time there and I was very happy with the experience this evening. -Mary McH.
My physiotherapist was Eoghan who is friendly & efficient. Covid rules are adhered to & venue is bright & clean – Margaret O'L.
3. Trim Physio
Address: Patrick St, Trim, Co. Meath
Contact: (046) 943 8317
Website: https://trimphysio.com/
About: Trim Physio has some of the best physiotherapists in Meath. They offer a range of services including physiotherapy. Dry needling, acupuncture and clinical pilates are also available.
Reviews for Trim Physio:
Brilliant service! Rebecca at reception couldn't have been more helpful. My therapist Chloe was also great and very professional. Thanks for all your help and guidance guys – Emer McC.
I was very pleased with Trim Physiotherapy Clinic. The service was thorough and very professional. The prescribed exercises really helped with my shoulder issue. I would definitely recommend Trim Physiotherapy Clinic to anyone. – Shane C.
I have been attending Denise for 6 years. She is by far the best physio I have ever been with. She is excellent at identifying the areas which need working on and helping me live an active life by keeping my pain manageable. Great caring personality and a pleasure to engage with. – Colette C.
4. Navan Physio
Address: 24 Willow Green, Bailis, Athlumney Wood, Co. Meath, C15 VXA5
Contact: 087 944 7404
Website: https://navanphysio.ie/
About: Navan Physio is based in Meath. They use a range of physiotherapy techniques to treat injuries. Some of these techniques include acupuncture, manual therapy and electrotherapy.
Reviews for Navan Physio:
Szymon will take care you like nobody else does!! – Jim J.
simply this physiotherapist in Navan cares about his patients, prices are good also , without doubt worth to take a journey at least you get the things done if you have some mobility or muscle pain problems , physiotherapy is a must, Navan bit far but at least a free parking ;D not like Dublin city centre. – Marceli M.
I went to the Navan Physio with a huge issue around elbow epicondylitis from Basketball. I had been playing and not stretching enough. After my session with Simon the pain was immediately reduced and my arm/elbow movement was almost back to 100% range. I have used Navan Physio before and I can whole heartedly say that Simon is the best Physio Therapist in Ireland. Not only he wastes no time, but gives patients rigorous exercise programme to aid recovery after the injury treatment. I fully recommend Navan Physio for all types of sport injuries and other muscular/nerve problems. Thanks Simon! – Arthur K.
5. Kells Physiotherapy
Address: Medical Centre Navan Road, Kells, Co. Meath
Contact: 086 035 4797
Website: http://kellsphysiotherapy.com/
About: Kells Physiotherapy is located in Meath. They offer a range of services including physiotherapy. Post op rehab, dry needling and acupuncture are also available.
Reviews for Kells Physiotherapy:
Highly recommend! Great experience – John McC.
Best Physiotherapists in Ireland