Are you looking for a physiotherapist in Waterford? We researched the best physiotherapists in Waterford, so you can get back to total physical health to hit new goals. Physiotherapists can help people who are affected by injury through movement, therapy and education. They can help you manage pain and overcome it, working with people of all ages.
The following is the list:
1. Advance Physio
Address: The Cove Centre, Dunmore Rd, Waterford, X91 ANP5
Contact: (051) 844 471
Website: https://advancephysiowaterford.ie/?
About: Advance Physio is based in Waterford. They offer many services including physiotherapy. The first visit costs 90 euros and includes a consultation, physical assessment, digital postureanalysis, results of your assessments and commencement of your treatment. Every follow up session costs 45 euros.
Reviews for Advance Physio:
Anthony and his team provide a fantastic service. To begin with, everyone is so friendly in the clinic. I was suffering with severe back pain, which meant some mornings I was struggling to get out of bed. Within 3 sessions I started to feel some serious improvement. After a few more, I've been pain free. I'm delighted with the progress that's been made. – Arran M.
I had the regular aches and pains that you deal with on a daily basis but when I began to suffer from sciatica it was a different story altogether. I made an appointment with Anthony in advance physio who was recommended to me by my daughter as she had suffered awful pains and was cured by Anthony. People were telling me that sciatica could last a very long time but after two sessions in advance physio it was gone! I couldn't believe it. Then Anthony began to work on the other aches and pains that I had and has sorted all of them. I'm now going to Anthony one session a month for maintenance. I highly recommend Anthony Alma and Kate for their pure professionalism and patient care. I am now living pain free thank god. And by the way I'm 70 years of age. No problem with parking as it's free which is also a bonus. Thank you. Robbie O Keeffe – Julie O'K.
Fantastic treatment and amazing people. I was unable to work, walk or sit without pain, I
felt immediate improvement after the first session. After following sessions and doing the exercises I was soon back to work with no issues since. Some of the sessions may seem short but they definitely do the job. I would reccomend Advance Physio Waterford to anyone. Thank you all so much! – Alexander T.
2. The Physio Company
Address: Waterford Medical Centre, Kilbarry Shopping Centre, Tramore Rd, Waterford
Contact: 1890 749 746
Website: https://www.thephysiocompany.com/?
About: The Physio Company is based in Waterford. They offer physiotherapy, acupuncture and deep tissue massages as well as many more treatments. They treat all sorts of injuries including sports injuries.
Reviews for The Physio Company:
This was my second time visiting Peter at Waterford physiotherapy and I have to give credit to his practice. Peter takes the time to understand the issues and then sets about fixing them. An amazing man with a great talent to heal . – Eddie C.
As physio visits go the questions asked pre testing hit a nerve. When Joe the physio asked me to do certain stretches to source the pain I winced. That's ok he said. After the 2nd jab this upr arm muscular pain increased-was I holding onto the pain for some reason. The more I stretch the better it gets. Just work through it Joe said. Can't believe the results. Day by day the movement is returning and pain decreasing. Highly recommend #SpectrumHealth 👌 👍 – Siobhan D.
Great service, I felt very comfortable and supported. The exercises were explained well and having them on the app to check back on later really helped. Happy to have a strong and working ankle again! – Clodiagh F.
3. Waterford Physiotherapy & Sports Injury Clinic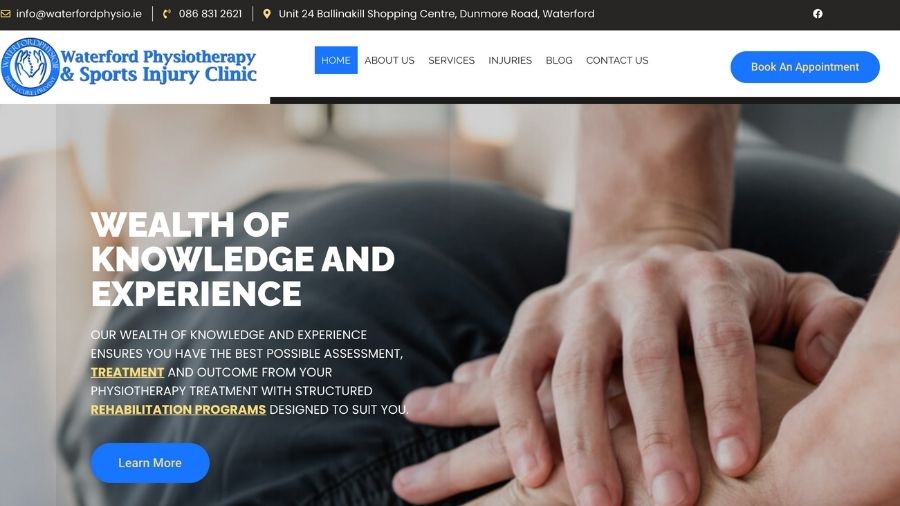 Address: 24 Ballinakill Centre, Dunmore Road, Waterford
Contact: 086 831 2621
Website: https://waterfordphysio.ie/
About: Waterford Physiotherapy & Sports Injury Clinic has some of the best physiotherapists in Waterford. They are located on the Dunmore Road. They treat all injuries. Electrotherapy and orthotics are available here.
Reviews for Waterford Physiotherapy & Sports Injury Clinc:
As I sprang out of my relatively low slung car this afternoon, the first thing that came to mind was Peter Keane!!! I have just completed two sessions with Peter on my back. He was absolutely outstanding. His professionalism, his knowledge was second to none. Having worked on my back both manually and with some space age looking machinery, he then demonstrated exercise, got me to do them as he recorded and then emailed to me. His emphasis is on getting the client as mobile as possible as fast as possible and giving you the tools to stay mobile. He is not in the business of bringing you back time after time. This to me also demonstrates a real professional. – Geraldine G.
I just moved to Waterford and have working from home at a desk for the last 18 months. My neck was super tense. After just one session I feel looser and no pain in my neck. Peter is great. Very professional, explains everything in understandable language and makes a video to help you do your exercises. Delighted to have found a great physio here – Tara McG.
I recommend this physiotherapist to everyone, He is the best physiotherapists I have sver been to. Explains everything relating to your case "injury", and how to go about it to fix it, etc. He is really helpful and understanding. He knows his stuff, He is really good, professional. – Adam C.
4. Waterford Chartered Physiotherapy Clinic
Address: Viewmount House, Viewmount Park, Waterford
Contact: 087 768 3322
Website: https://waterfordphysiotherapy.ie/
About: Waterford Chartered Physiotherapy Clinic is located in Waterford. They offer services such as physiotherapy and post op rehab. They treat sports and musculoskeletal injuries.
Reviews for Waterford Chartered Physiotherapy Clinic:
Another 1st time for me to go for Physio appointment. I can now review an excellent experience had & a great relief that nothing seriously found wrong. The physio named Conor gave me a thorough examination & gave me 3 exercises to do, which should clear my situation up in a couple of weeks time, – Derek G.
Prompt, efficient, professional advice given, my only problem was having to wait 4weeks for an appointment. But it was worth the wait. – Anne K.
Would recommend going for physio here great place ,Miley was fantastic – Bridget McH.
5. Physio Waterford
Address: Cleaboy Business Park, Unit 8D, Old Kilmeaden Rd, Waterford
Contact: 087 121 8133
Website: http://physiowaterford.ie/
About: Physio Waterford is based in Waterford. They offer treatments such as deep tissue massages, manual lymphatic drainage and dry needling. Post op rehab is also available.
Reviews for Physio Waterford:
She is so kind and skilled! My whole family sees her 😃 – Sarah P.
I recently went to Maria for rehab after a fractured elbow. I was really pleased with the Professional service. I had great results and would highly recommend her. – Greta P.
Very professional and helpful sorted my back pain – Cathrine R.
6. Ray Gallagher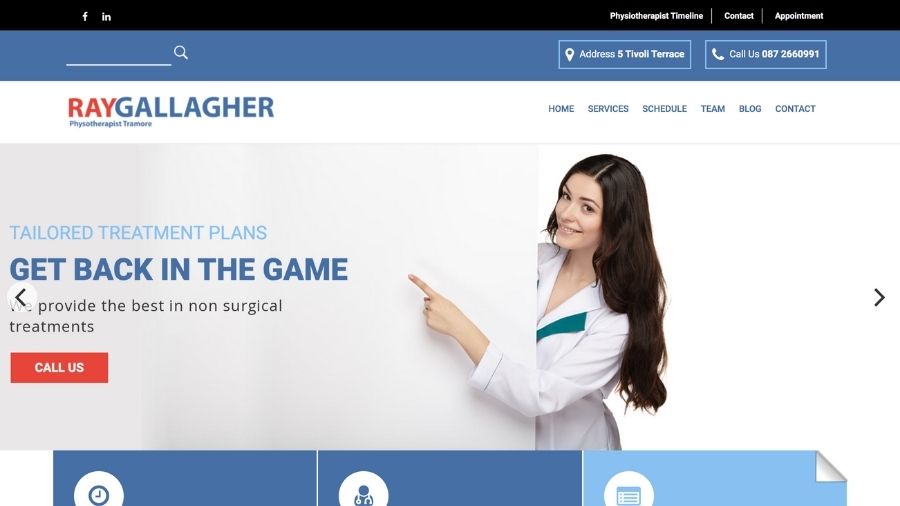 Address: Tivoli Terrace, 5 Waterford Rd, Tramore East, Tramore, Co. Waterford
Contact: (051) 386 604
Website: http://physiotramore.com/
About: Ray Gallagher is a physiotherapist based in Tramore. He offers services such as electrotherapy, dry needling and orthotics. Ray is open from 8am to 6pm Monday to Friday.
7. Bodyworks
Address: Johnstown Business Park, Unit 26, Waterford
Contact: 085 170 2791
Website: https://www.bodyworksptfn.com/
About: Bodyworks is located in Waterford. They offer services such as physiotherapy. They have 3 physiotherapists on the staff with years of experience.
Best Physiotherapists in Ireland