Are you looking for a physiotherapist in Cavan? We researched the best physiotherapists in Cavan, so you can get back to total physical health to hit new goals. Physiotherapists can help people who are affected by injury through movement, therapy and education. They can help you manage pain and overcome it, working with people of all ages.
The following is the list:
1. Cavan Physiotherapy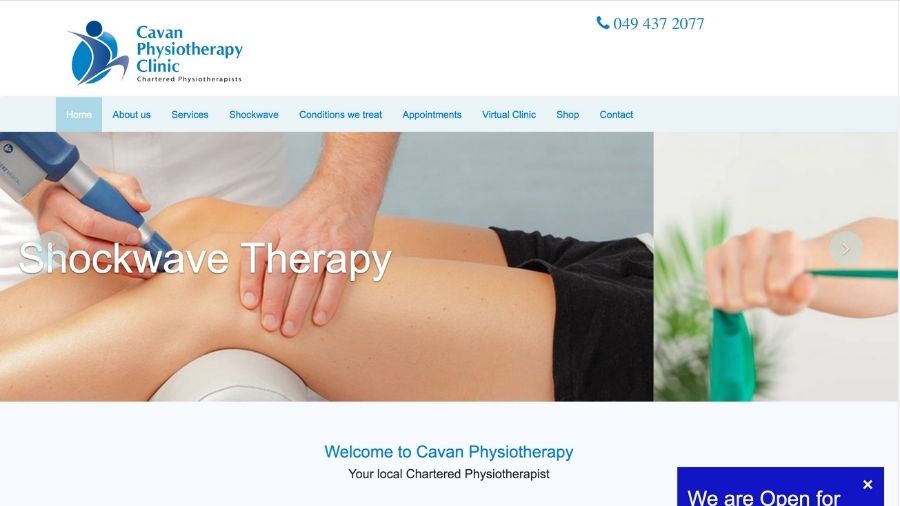 Address: Loreto Rd, Carrickane, Co. Cavan, H12 RY65
Contact: (049) 437 2077
Website: https://www.cavanphysio.ie/
About: Cavan Physiotherapy has some of the best physiotherapists in Cavan. They offer a range of services including physiotherapy, sports specific rehabilitation, post-operative rehabilitation, shockwave therapy, laser therapy and Stott Pilates.
Reviews for Cavan Physiotherapy:
Had physio on my back. Found Ian very relaxing to deal with. Explained everything as he went along and was very thorough. Would definitely recommend him . – Seamus.
The very caring people here have a great knowledge of there business. It's new bright and very clean.If you need there services it's great to know such a place exists. – Philip C.
Good clinic. Experienced physio who's knowledgeable and approachable. Recommended. – Marie M.
2. Cavan Sports Clinic
Address: Farnham Lane, Farnham St, Abbeyland, Cavan, H12 T858
Contact: (049) 438 0906
Website: https://cavansportsclinic.ie/
About: Cavan Sports Clinic is based in Cavan. They offer chartered physiotherapy and are open Monday- Friday from 8am to 8pm. They are also open on Saturday from 9am to 2pm.
Reviews for Cavan Sports Clinic:
A top class clinic! Cillian was really thorough and helpful. I'd highly recommend – Ciara L.
Great experience with Cavan Sports Clinic, top class treatment & facilities, highly recommended! – Conor H.
3. Body Balance Physiotherapy
Address: 26 Kesh Rd, Gortnakesh, Cavan, H12 X627
Contact: 086 386 2001
Website: https://bodybalancephysiotherapy.ie/
About: Body Balance Physiotherapy is located in Cavan. They offer a wide range of physiotherapy and massages. Pilates classes are also available.
Reviews for Body Balance Physiotherapy:
Had numerous sessions with Ciara, the knowledge that Ciara has is second to none, and I would really recommend Bodybalance Physiotherapy for any injuries and niggles you might have. Ciara goes above and beyond what I have experienced at other physios. Always feel positive and in good spirits after each session. – Sean McD.
Would recommend body balance cavan to my friends (and already have) . Chloe is very efficient and really knows her stuff and I felt very comfortable with her. – Marisa K.
I recommend Bodybalance Physiotherapy Cavan, I had a slight tear in my thigh, I dealt with Chloe she was professional, friendly and easy to deal with, very happy with the level of treatment and even check ups post injury. You can pay by card which is very handy. Highly recommend. – Nathan C.
4. The Good Back Clinic
Address: Cavan Leisure Complex, Drumalee, Cavan, H12 YN77
Contact: 087 648 4203
Website: https://thegoodbackclinic.ie/
About: The Good Back Clinic is based in Cavan. They offer physical therapy and pilates classes.
Reviews for The Good Back Clinic:
I have attended this Physical Therapist since 2007. I could not praise this gifted physician any more..I injured my shoulder recently, I intuitively knew where to get help..I by passed a GP, no need for A and E, Physical Therapy was in my mind the immediate solution. After yesterday's thorough examination of the injury, treatment and the delivery of a clear exercise plan, I am already on the road to recovery..The pain has already minimised by atleast 80%..Thank you Aine Kelly.
Mary McGrath. – Mary McG.
I would highly recommend Aines pilates classes. She brings you along at your own pace and explains everything so well. It's so great to be back face to face again. – Karen D.
Great pilates class. Aine is a great instructor. I love the constant flow in class. 👏👏 – Bernie J.
5. Carolan Chartered Physiotherapy
Address: Cavan Rd, Virginia, Co. Cavan, A82 P981
Contact: (049) 854 7705
Website: https://carolanphysio.ie/
About: Carolan Chartered Physiotherapy is based in Cavan. They offer a wide range of services including spinal and joint repair, licensed acupuncture, dry needling, orthotics, sports physiotherapy, massages, yoga and clinical pilates.
Reviews for Carolan Chartered Physiotherapy:
I have visited this clinic multiple times over the last 10 years. Ronan is at the top of his industry. – Paddy K.
6. O'Neill Physiotherapy
Address: Realta Shopping Centre, Cullyleenan, Co. Cavan, H14 PY89
Contact: 086 163 2611
Website: https://oneillphysiotherapy.com/
About: O'Neill Physiotherapy is a sports injury clinic based in Cavan. It is run by John O'Neill a qualified physiotherapist from Manchester. He offers a range of services such as physiotherapy, sports injury & rehabilitation, injury prevention, acupuncture, massages and pilates.
Reviews for O'Neills Physiotherapy:
Great set up, John is a top class physio. As a chartered Physio he can help diagnose and treat any musculoskeletal problem – Colin P.
John is by far the best physio I have ever been too, will always fit me in and put his clients. Has treated me twice and fixed me both times. Can't recommend this man enough. – Conor O'B.
John is probably the best Physio I have ever known – he has treated myself and my husband and every time he has always resolved the issue. Glad your practice is so close. – Monica G.
Best Physiotherapists in Ireland