Are you looking for a physiotherapist in Donegal? We researched the best physiotherapists in Donegal, so you can get back to total physical health to hit new goals. Physiotherapists can help people who are affected by injury through movement, therapy and education. They can help you manage pain and overcome it, working with people of all ages.
The following is the list:
1. Ellevyn Irwin Physio
Address: Donegal Centre for Independent Living, Ballymacool, Sallaghagrane, Letterkenny, Co. Donegal, F92 YY01
Contact: 087 797 1636
Website: http://www.ellevynirwinphysio.com/
About: Ellevyn Irwin Physio is based in Donegal. Ellenyn is a chartered physiotherapist. She has years of experience working with a lot of sports athletes from different sports such as GAA, Rugby and Basketball.
Reviews for Ellevyn Irwin Physio:
Hi Ellevyn, just want to say thanks for all your consultation in the last few months, my hip is well improved I am now climbing up my miles and speed sessions, am still doing the rehad exercise as a precaution but other than that am feeling great,
Thanks again – Marie O'D.
I was recommended to Ellevyn. She is a very professional young lady who really knows her stuff. I would highly recommend Ellevyn. I had a few sessions with her & some homework! If you follow her professional advice she will get you back on track. Five star Physio. – Marie Mc.
Went to see Ellevyn with a hand/wrist injury. She did a thorough assessment and I liked that she was clear in communicating her findings and prognosis. With her treatment and rehab exercises, I saw a dramatic improvement between sessions. I was training again way sooner than I expected. Highly recommend her clinic! – Shaun D.
2. Physio Eireann
Address: Castle St, Milltown, Donegal
Contact: (074) 970 5955
Website: https://physioeireann.com/
About: Physio Eireann is located in Donegal. They offer a range of services such as post op rehab, manual physiotherapy, orthotics, dry needling and taping& strapping. They have a team of trained and qualified physiotherapists.
Reviews for Physio Eireann:
Superb service. I would highly recommend. Extremely thorough. The therapist listened to everything I mentioned and really took on board my timelines for recovery. This is what sets them apart from previous clinics I attended. It was completely individualised and personal. – Gillian D.
Fantastic, professional staff. Would highly recommend it! – Fionnuala C.
Would highly recommend it 👍 – Lynda K.
3. Donegal Physiotherapy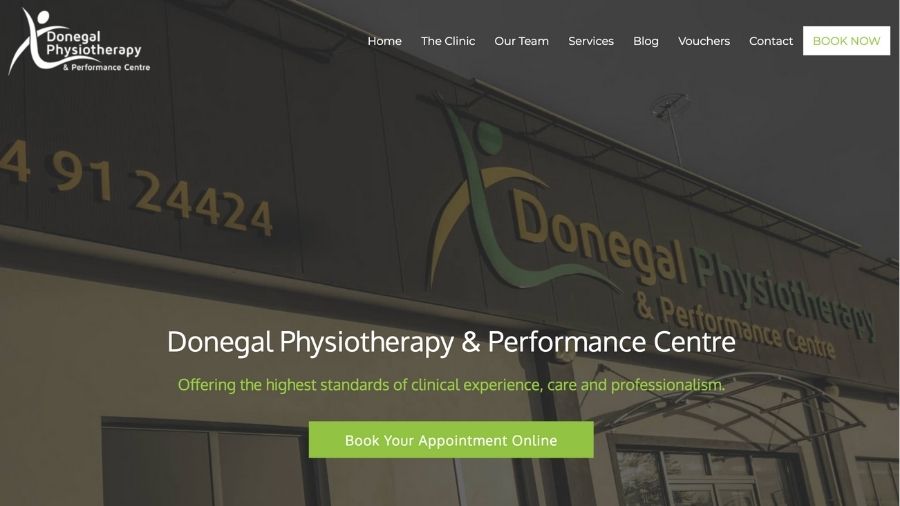 Address: Ballyraine Retail Park, Ballyraine, Letterkenny, Co. Donegal, F92 R674
Contact: (074) 912 4424
Website: https://www.donegalphysio.ie/
About: Donegal Physiotherapy is an injury clinic based in Donegal. They offer different types of physiotherapy and pilates. Massage therapies are also available.
Reviews for Donegal Physiotherapy:
My son injured his neck on a Sunday night and was seen promptly by Shane on the Monday. He experienced physiotherapy for the first time at this visit and was very pleased with the treatment he received saying how knowledgeable and kind Shane was to him. He also followed up with exercises by email. Highly recommended. Thank you – Ciara O.
Great system set up. Wait in car until you are called. Area very clean. Prior written assessment completed which saved time explaining again. Injury thoroughly assessed and exercise demonstrations given. Exercises also in the app which you are given a link to download which also shows you again how to do with the option to set up reminders. Great facility. – Sandra M.
First visit to Donegal Physio and Performance Centre and I was very impressed. The Centre is bright, modern and very clean. The Physiotherapists I saw was excellent. I strongly recommend the Centre. – Orla W.
4. JT Physiotherapy
Address: R940 Ramelton Rd, Magheranan, Letterkenny, Co. Donegal
Contact: (074) 911 1010
Website: https://www.jtphysio.com/
About: JT Physiotherapy is based in Donegal. They offer physiotherapy and massages. There is also different treatments available for sports injuries.
Reviews for JT Physiotherapy:
I had an operation last year on my knee. JT has given me great somatic and cognitive support that I'm already back and running again!!! Thanks – Steven G.
I have been attending reformer pilates classes at JT Physio for the past two years, and can't recommend them enough. The classes cater for all levels, and can be especially helpful if you are working with an injury. Everyone at JT Physio is incredibly kind and helpful, and will always go out of their way to help. While the clinic was closed this year, they organised a rental service for the reformer machines, allowing clients to continue classes at home. I am very grateful to have such a wonderful service in Letterkenny. – Julia F.
I can not recommend JT Physio highly enough. I was treated for neck pain in their Derry Clinic. When I contacted JT Physio a lovely girl called Annemarie got me sorted with an appointment with Christian. Christian is unbelievably knowledgable, he diagnosed my injury almost instantly and he set out a complete program to resolve it. I seen marked improvements within a couple of days and after three visits and from following his care program I am now pain free. This is a very professional service with very caring people. – Roisin B.
5. LetterKenny Physiotherapy
Address: Ballyraine Rd, Ballyraine, Letterkenny, Co. Donegal, F92 TYF1
Contact: (074) 912 4559
Website: http://www.letterkennyphysio.ie/
About: LetterKenny Physiotherapy is based in Donegal. They have services such as acupuncture, physiotherapy and manual therapy. There are orthotics also available. 
Reviews for LetterKenny Physiotherapy:
Margo has been brilliant for pain and muscle tension on my left shoulder. Professional down to earth advice. – Ray McD.
6. JM Physical Therapy
Address: Crieve Rd, Creeve Glebe, Letterkenny, Co. Donegal, F92 DX90
Contact: 086 245 2541
Website: http://www.jmphysicaltherapy.com/
About: JM Physical Therapy is located in Donegal. They offer a wide range of services including physiotherapy and different types of massages. Some of the massages include deep tissue, holistic and orthopaedic sports massage therapy. Dry Needling is also available.
Reviews for JM Physical Therapy:
John is just the nicest man and really knows his stuff, wouldnt go anywhere else when Im on Donegal! – Laura M.
Have a problem with my back and shoulder blade John sorted me out with massage and dry needling and gave me plenty of advice for stretching at home.
I'm very glad I called to him. – Johnny O'C.
John is an excellent physiotherapist – Cornelius S.
Best Physiotherapists in Ireland