Are you looking for a Personal Trainer in Roscommon? We have created the best list for you to hit your goals and reach new highs by finding personal trainers in Roscommon. Personal trainers can help with nutrition, training plans and keeping you on track with your fitness goals. So what are you waiting for contact a personal trainer in Roscommon today!
The following is the list:
1. The Workshop Castlerea
Address: St Patrick's St, Castlereagh, Co. Roscommon, F45 FN83
Contact: 087 384 6062
Website: https://www.theworkshopcastlerea.com/
About: The Workshop Castlerea is based in Roscommon. They offer services such as personal training and nutrition coaching. The owner is a qualified personal trainer and nutrition coach.
2. D&S Fitness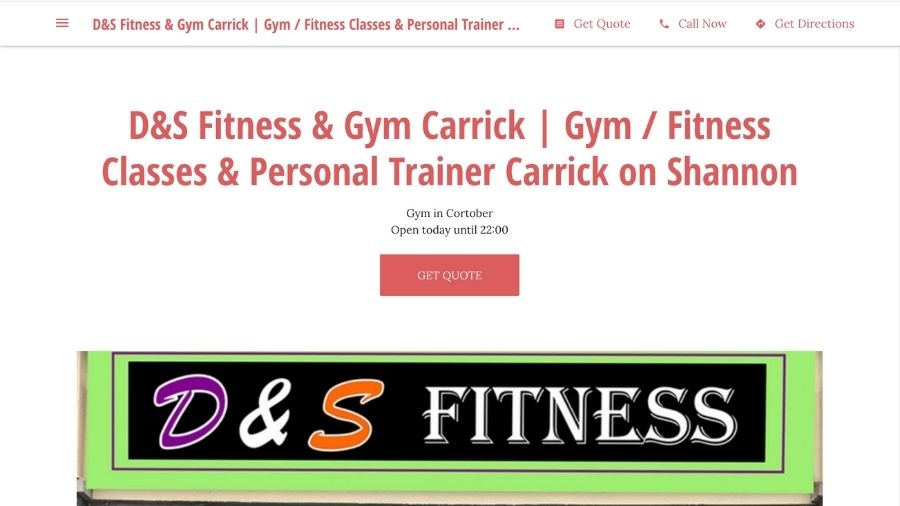 Address: Unit 2, Cortober, Carrick Retail & Business Park, Co. Roscommon, N41 XA32
Contact: 085 205 3109
Website: https://ds-fitness-gym-carrick-gym-fitness-classes-personal-trainer.business.site/?utm_source=gmb&utm_medium=referral
About: D&S Fitness is based in Roscommon. They offer many services such as personal training. They also have a 4 week body transformation package available.
Reviews for D&S Fitness:
Started d&s in January after having my baby 4 months ago. My body had really changed with my second baby and my confidence was low. 2 months later and I absolutely love the classes. I cant get enough and I feel absolutely amazing in just two short months! Roll on next month 👏 – Nicole M.
I absolutely highly recommend D&S Fitness, Dave and Siofra are amazing trainers, motivators and human beings. I hadn't done much exercise for the last years but both made me feel so at ease and welcome. The classes are exciting, every session is different so you never get bored. You can work at your own pace and the premises, music and lighting are really stimulating for a great workout. Just completed a 4-week weight loss challenge with great results, and can't wait to start the next one to get ready for Christmas! – K C.
Highly recommend D&S. Was never into fitness before I joined. Nearly a year later, I enjoy it more than ever. The flexibility of classes is great for me as each week is different for me. I feel stronger, clothes fit better and it's so good for the mind. The support offered in the classes in amazing too. – Lisa S.
3. Strong Life Gym
Address: Curliew View, Abbeytown, Boyle, Co. Roscommon
Contact: 086 077 5050
Website: https://stronglifegym.ie/
About: Strong Life Gym is a gym located in Roscommon. They offer many services such as personal training. They have 3 programmes available including the 12 week body transformation, hybrid coaching plans and the 16 home workouts plan.
Reviews for Strong Life Gym:
Highly recommend strong life gym, colm is great at explaining things and making you feel as ease when it's a new experience! Great results if you follow his advice – Rebecca F.
Best thing I ever did was join this gym. Great people and even better results. I actually look forward to going to the gym since starting here. – Aine P.
Life changing for me, feel like my old self again. If you're thinking of joining to make better, positive changes to your life then this is the best thing you'll ever do. – Marc C.
Best Personal Trainers in Ireland