Are you looking for a Personal Trainer in Carlow? We have created the best list for you to hit your goals and reach new highs by finding personal trainers in Carlow. Personal trainers can help with nutrition, training plans and keeping you on track with your fitness goals. So what are you waiting for contact a personal trainer in Carlow today!
The following is the list:
1. Optimum Fitness Results
Address: Monsters Gym 12A Deerpark Business Complex, Co. Carlow, R93 W840
Contact: 086 302 2288
Website: https://www.facebook.com/OptimumFitnessResults/
About: Optimum Fitness Results is based in Carlow. It is run by Chris a qualified personal trainer. Chris coaches women over 30s. It is 1 to 1 personal training and online coaching. Nutrition guidance is also offered as part of a programme.
Reviews for Optimum Fitness Results:
Just completed a 12 week program with Chris and absolutely delighted with how much my body has changed and the strength I have gained in my upper body and legs in such a short space of time. Chris is an excellent trainer with such a professional and friendly manner. The program designed really suited me when it came to work and the kids and I could fit my training in when it suited me during the day. So many positives with this guy and really looking forward now to continuing my journey with Optimum Fitness Results. – Olivia McN.
Really found the training beneficial as Chris had extensive knowledge about training and was is really passionate about it! Definitely would recommend – Ami P.
Anyone looking for a roadmap to improved fitness in 2019. I highly recommend Chris . Achievable goals and none of your stereotypical shouting and pushing that might put anyone off trying . In the past I've tried to use the gym planning my own way but with limited knowledge of how and why to use machines, I achieved little to no results. Chris asked questions with regard to my goals and planned a program according. Thanks again Chris – Mike H.
2. Hype Fitness
Address: Unit 11 Lorglenn Business Park, Hacketstown Rd, Carlow, R93 NX56
Contact: 083 436 1316
Website: https://www.hypefitness.ie/
About: Hype Fitness is a premium fitness centre based in Carlow. They have a team of qualified and highly trained personal trainers. They offer 1 to 1 personal training and small group personal training where 2 people can train together. There are different monthly pricing options available. You can choose 2 training sessions per week or 3 sessions per week and you can choose between 30 minutes, 45 minutes or an hour-long session.
Reviews for Hype Fitness:
I am doing personal training with Holly in Hype and I love it. She's really nice and encouraging, the time flies by. The gym is really well equipped and for me is really handy as I only live up the road. – Roisin L.
3. Energie Fitness
Address: First Floor, Carlow Shopping Centre, Carlow
Contact: (059) 910 4030
Website: https://www.energiefitness.com/carlow
About: Energie Fitness is a gym located in Carlow. They offer a range of services including personal training. They have some of the best personal trainers in Carlow. This service includes 1 to 1 personal training. The Personal trainer will give you an assessment at the start to see how fit you are and will then tailor a programme to your needs. This programme will give you exercises to concentrate on and will ultimately improve your fitness and diet.
Reviews for Energie Fitness:
Great gym, friendly staff. I feel very comfortable training there as I suffer with anxiety, love the atmosphere. Good selection of classes. Proud to be a member. Thank you – Steven H.
I absolutely love energy fitness gym, i missed it so much during lockdown i had no motivation at home alone. When the outdoor classes started back I couldn't wait to take part. They were even better than I'd hoped. I feel so much better and stronger now i look forward to the next one every time. I've so much more energy and what makes it better is the team of instructors, they are all so sound and very approachable. I would recommend energy to everyone beginners and pros as they cater for everyone, 5 stars from me!!! – Linda K.
The atmosphere, friendliness and upbeat tempo that you're met with each time you enter énergie fitness carlow! Well for me makes this the best gym in carlow. The classes are all varied and instructed with a very high standard. You won't be disappointed.. I've been a member of 4 different gyms and without hesitation, I would rate énergie fitness carlow 10/10 each time. – Marcella M.
4. Empower Fitness
Address: O'Briens Road, Rathnapish, Carlow, R93 P660
Contact: 087 738 2955
Website: https://www.empowerfitness.ie/
About: Empower Fitness is a gym in Carlow that offers personal training. They have qualified personal trainers ready to help you achieve your goals. They deliver innovative and amazing team training that are fun workouts that deliver quick results for their clients. In their gym, they have excellent equipment so members can train a variety of workouts.
Reviews for Empower Fitness:
First and foremost is the staff which awesome. So friendly and accommodating. Bonus is the massive selection of equipment that's constantly upgraded. A huge range of classes run during the week means there is something for everyone – Alan K.
Fantastic Gym, great equipment, friendly knowledgeable staff, very clean and spacious. Best Gym in Carlow – Niall K.
Great gym & equipment. Friendly and knowledgeable staff. Good variety of classes on offer too – Melanie B.
5. Patric Injury Clinic and Fitness Centre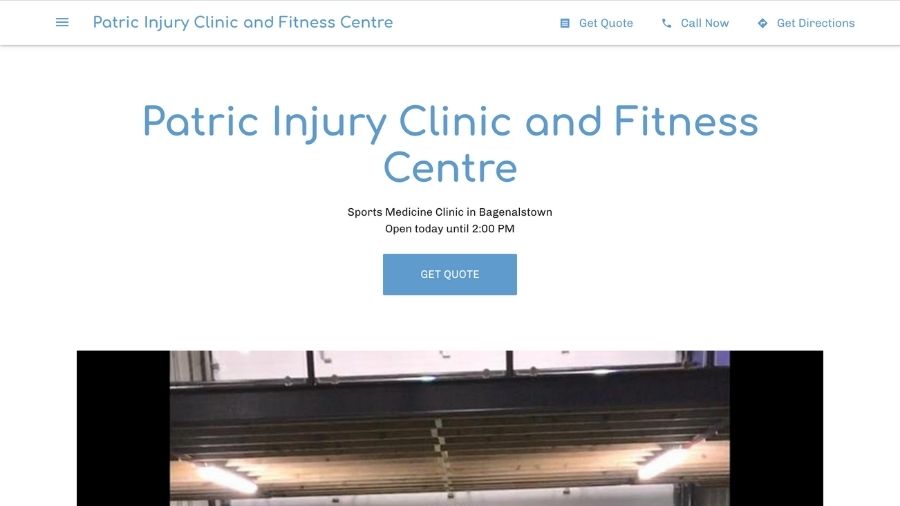 Address: Patric Injury Clinic and Fitness Centre, Kilcarrig, Muine Bheag, Co. Carlow, R21 X788
Contact: 087 125 2734
Website: https://patric-injury-clinic-and-fitness-centre.business.site/?m=true
About: Patric Injury Clinic and Fitness Centre are located in Carlow. They have a team of personal trainers on hand to help you reach your goals. They offer online programmes and training as well as on-site personal training.
Reviews for Patric Injury Clinic & Fitness Centre:
Superb gym with amazing staff who go over and beyond for you. The spinning is fantastic and I cannot recommend this place more. There's a gorgeous coffee facility and they also do proper body scans with a full breakdown of all stats for 20 euro which is 98 percent accurate compared to a dexa scan. It's my understanding that this is a difficult service to find as it's not at many fitness centres. All in all, a wonderful place. I travel over 20 minutes to use the spinning despite having a spinning class less than 5 minutes from my front door. Jean and Eleanor are be staff I've dealt with and honestly cannot sing their praises enough. It truly feels like a community and I have a friend who recently had her second baby, who has had incredible results with Eleanor in personal training and looks unbelievable but more importantly feels so supported and encouraged. She is very clever and body positive and sensitive to her clients needs. And jean is a genius at the spinning, she was born to do it. – Sandy D.
What can I say? Get yourself in here give the classes a go. The instructors are brilliant. The classes are never the same, they are always coming up with fresh ideas and exciting ways to keep you fit. Everyone is so friendly no bull just work rate. I love it here. – Fiona K.
Best Personal Trainers in Ireland