Are you looking for a Personal Trainer in Laois? We have created the best list for you to hit your goals and reach new highs by finding personal trainers in Laois. Personal trainers can help with nutrition, training plans and keeping you on track with your fitness goals. So what are you waiting for contact a personal trainer in Laois today!
The following is the list:
1. SJF Fitness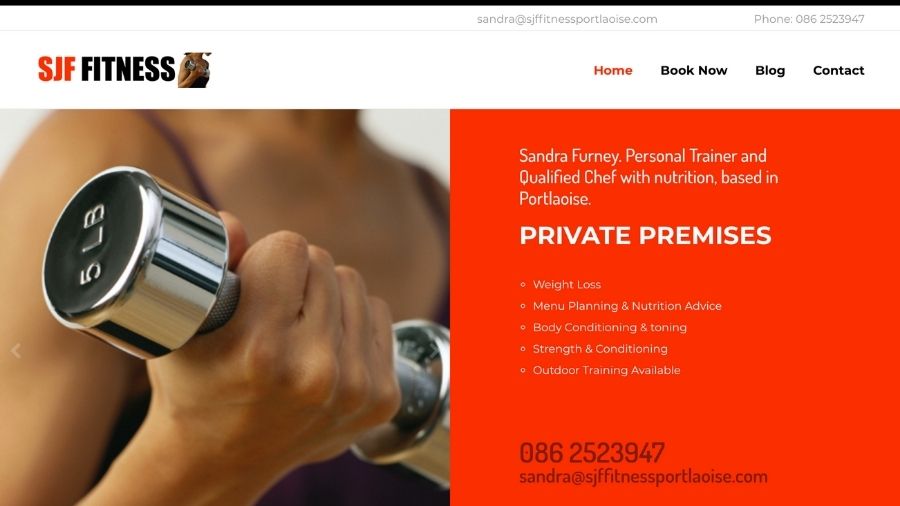 Address: Main St, Kylekiproe, Portlaoise, Co. Laois
Contact: 086 252 3947
Website: http://sjffitnessportlaoise.com/
About: SJF Fitness is based in Laois. It is run by Sandra who is a personal trainer. They offer personal training 1 to 1 sessions are 35 euro an hour and also offer nutritional advice for the same price.
Reviews for SJF Fitness:
Can't recommend Sandra highly enough! She works you hard and gives sound advice re.training and nutrition.The results speak for themselves!:) – Laura F.
Sandra is amazing! Before I met her, I hated exercise. I have a very physical job where I am on my feet all day. All I wanted to do when I got home from work was veg out in front of the TV. Exercise was the last thing on my mind. Having struggled with my weight all of my life and doing different diet plans which I could never stick to, I decided to go down the personal trainer route. From day one Sandra made me feel very comfortable. She is incredibly understanding and really encouraging. She created a diet and exercise plan suited to me and my lifestyle. At first it was extremely tough but when I started seeing the results it made me want to keep going. I have lost over 7 and a half stone in total and am now exercising 5 days a week. I am training to run 10k. My energy levels are way up and I feel healthier, stronger and more confident than ever before. I couldn't have done any of this without Sandra. – Aine B.
Sandra is a lady first & for most when comes to fitness this is the lady that knows it all, a fountain of knowledge when comes to fitness & diet. Wont go wrong with Sandra & she personality which always helps with fitness ! U go Sandra x – Monica T.
2. Pearson Fitness And Performance
Address: Bull Ln, Kylekiproe, Portlaoise, Co. Laois, R32 PO86
Contact: 085 812 2441
Website: https://www.pearsonfitnessandperformance.ie/
About: Pearson Fitness And Performance is a gym based in Laois. They offer personal training. They have many programmes available including a 1 month, 3 month and 6 month programmes. They offer 1 to 1 and 2 to 1 personal training.
Reviews for Pearson Fitness And Performance:
This is a gym that offers great care and personal attention. Nigel is great at keeping you motivated, a great workout guaranteed! – Lisa O'C.
Best gym in the midlands. 👍👍 – Joe T.
The coaches are brilliant in PFP. Every time I have been in PFP the atmosphere is great. There's great craic there too! – Muire H.
3. JMC Elite
Address: Unit A13, National Enterprise Park, Co. Laois, R32 RY63
Contact: 085 758 3256
Website: https://jmcelite.ie/
About: JMC Elite is a gym located in Laois. They offer personal training as one of their many services. They have a single 4 week plan, single 6 week plan, single 12 week plan, partner 6 week plan and partner 12 week plan available.
Reviews for JMC Elite:
By far the best choice I've made for my son and I to start training with John. He is a fantastic trainer, very supportive and takes time to get to know you. All training sessions are always tailored to your needs and abilities and he never repeats a session unless necessary. The coaching is very professional and well planned so we started seeing results in no time. Let's not forget John's great sense of humor so every session is filled with laughter and it feels very positive.
Thank you for guiding us throughout our fitness journey ! – Rita J.
"Nobody cares how much you know, until they know how much you care" – Theodore Roosevelt.
Whether it's an experienced athlete or a young aspiring athlete, John McCormack CARES tremendously about everyone he works with. And, once you realize how much he CARES about helping his clients become better, you realize just how much he KNOWS in regards to how to help each athlete reach their potential. John's energy and enthusiasm is contagious. He possesses every quality you'd want in a great coach. He's bright, motivational, passionate, disciplined, and hungry to get better. More importantly, he instills these same qualities in the athletes and coaches he interacts with. His training not only builds a strong/well conditioned athlete, but his approach, more importantly, builds confidence in athletes to believe in their ability to reach new heights. . I've been fortunate to have him coaching me for the last 18 months. He's truly one of best coaches in the country – Claire M.
John helped me to prepare for my wedding and his professionalism and encouragement helped me to achieve my goal of toning up, losing weight and being able to wear the dress I wanted. He has a fantastic ability to break down your goal into everyday tasks and exercises and this is achieved by a very personal and tailored plan!
He was a taskmaster when I was slacking off and not putting in the effort while at the same time encouraging and ensuring that all exercises where done safely and properly. Everyone of any ability or fitness level is always made to feel welcome and supported and there is often great banter and craic as well as working hard and getting the job done! Great facilities and free parking and the classes and workouts are regularly changed and improved so it is impossible to get bored, couldn't recommend this gym and John highly enough 😊 – Sarah McC.
Best Personal Trainers in Ireland