Are you looking for a Personal Trainer in Cork? We have created the best list for you to hit your goals and reach new highs by finding personal trainers in Cork. Personal trainers can help with nutrition, training plans and keeping you on track with your fitness goals. So what are you waiting for contact a personal trainer in Cork today!
The following is the list:
1. David Sisk Fitness
Address: Unit 6, Mount Oval Village, Cork, T12 V20C
Contact: (021) 489 8452
Website: https://www.davidsiskfitness.com/
About: David Sisk Fitness is a small private training facility in Cork. They offer a range of personal training packages including 1 to 1 training for 60 minutes and 30 minutes, an introduction to personal training and online training. They will teach you the basics of training and nutrition and will deliver you results. They know that there is a range of reasons to use a personal trainer such as weight loss, rehab from injury or just to develop strength.
Reviews for David Sisk Fitness:
Fantastic Personal Training service. My experience with Dara and Vilma have been really positive. So attentive to technique and really push you to your limit but most importantly at a pace you're comfortable with. I've been training in David Sisks now for around 10 months and I couldn't recommend them any more highly. – Jamie H.
I highly recommend David Sisk Fitness. Great, relaxed atmosphere. Always so encouraging & positive. – Elmarie B.
Great personal training and group classes. Such personalised service at both. Would highly recommend Vilma and David. – Jackie K.
2. Body Sculpt Personal Training
Address: Nyhan Industrial Estate, 16 Tramore Rd, Ballyphehane, Cork
Contact: 086 775 7747
Website: http://www.personaltrainercork.com/
About: Body Sculpt Personal Training is based in Cork. They offer personal training packages such as 1 to 1 personal training, online nutrition and coaching. They offer a range of packages based on what you want from your sessions. You can start off with an initial consultation which is €100 where you will receive a nutritional plan and custom workout to work on.
Reviews for Body Sculpt Personal Training:
Brilliant trainer and brilliant staff. Would highly recommend to anyone 💪🏻 – Eoghan W.
I had been tipping away for last 2 years doing my own thing.  I needed to re energise and learn more about fitness training. In the 6 weeks course I achieved both and if you are prepared to work hard Barry will push you to your limits. Highly recommended. – Mike McG.
Really enjoyed the 6 weeks programme with Barry. It's a great kick starter and Barry is really good to motivate you to push yourself. Each session is completely different so never get bored of doing the same thing. Would really recommend this to anyone thinking of starting PT. Thanks Barry! 👍 – Emma H.
3. Gillian O'Sullivan
Address: Hayfield Manor Hotel Perrott Ave, College Rd, Cork
Contact: 086 107 2528
Website: http://gillianosullivan.ie/
About: Gillian O'Sullivan is a personal trainer in Cork. She offers 1 to 1 personal training, 2 person training, 3 person training, 7-week training packages including full assessment and a 12-week programme with a full assessment. She offers a range of packages depending on what you want. One of these is a weight loss and fitness plan where Gillian will create an individual plan to increase fitness and help you lose your target weight.
Reviews for Gillian O'Sullivan:
Gillian is an excellent coach and motivational trainer. Never did I think that I would take up running again in my 50s, and here I am, working towards 5 kms with Gillian cycling beside me on her bike. After each run and 20 minutes of weight training I feel exhilarated and full of energy. The Hayfield Manor is a wonderful setting for our meetings. I couldn't do this without Gillian whose coaching and mentoring are inspirational. Thank you, Gillian, and looking forward to our next training session! – Siobhan D.
I couldn't recommend Gillian highly enough. She has worked with me to regain my fitness and weight (plus a bit) after the birth of my baby. She has a very informed and supportive approach which helped me to focus on the task at hand. I really enjoy my sessions with Gillian who is genuinely a great person to deal with. – Niamh H.
Strength training is important to managing my osteoporosis and Gillian designed a routine that meets my specific needs. She keeps me on track and is quick to modify as needed. I appreciate her expertise and knowledge and am grateful to have found her. – Barbara I.
4. Aclai
Address: Unit 9, Crawford Business Park, Bishop St, The Lough, Cork, T12 PR89
Contact: (021) 436 5917
Website: https://www.aclai.ie/
About: Aclai has been in business since 2013 offering a team of coaches ready to provide personal training to their clients in Cork City. They create a space for you to keep on top of your mental and physical wellbeing. They will teach you how to train, develop new skills all in a highly motivating training space. They offer 1-1 coaching for people of all ability so don't think because you haven't exercised in a while that you can't sign up.
Reviews for Aclai:
Aclai gym is an excellent place for people of all abilities to enhance fitness and potential. All the staff are extremely friendly and highly trained experts in sports and exercise science. It is very inclusive and welcoming. I would definitely recommend Aclai to anybody hoping to reach their potential in fitness and wellness!! Orla F.
I started in a Aclaí a few months after I once again found myself at the physio, off work, on loads of meds and unable to train. A cycle that I was well and truly over so I decided twas time for a prevention vs cure approach and started researching personal training. Gym culture, which can be toxic and competitive, is really not something that appeals to me at all. I needed to to find a place where I would be comfortable and enjoy training, because I didn't enjoy it I would not keep it up. Aclaí is very open and welcoming, the staff are all professional, knowledgeable, approachable, friendly and abitta craic like, this creates a really great environment to be in. One that is fun, encouraging and challenges you in the right ways, with personalised training programmes that change regularly so your always progressing and moving forward! hup! – Eimear M.
I've been training at ACLAÍ for a couple of months now and I can honestly say it's been a phenomenal experience. All the members and coaches are fantastic and it's just such a lovely community that's been built there. I have to give a special shout out to Alan – he is an exceptional coach and I've learned so much from him; thank you for everything. – Maria H.
5. Studio Fitness
Address: Unit G9, Marina Commercial Park, Centre Park Rd, Ballintemple, Cork
Contact: (021) 480 9151
Website: https://studiofitness.ie/
About: Studio Fitness is a studio gym in Cork. They have a range of personal training packages available including 1 to 1 training and buddy training. The packages include 6 week, 12 week and 18 week options. They provide a full gym and timetable and specialise in helping individuals make a change and feel good mentally and physically.
Reviews for Studio Fitness:
Has everything you need equipment wise. I love it because they have a pay as you go option so you don't have to sign into any contract. I pay less than €40 a month for just the gym, classes might be extra I'm not sure. Convenient location aswell close to the city centre. Very clean and have covid safety practices – Erin.
Excellent gym. Well run and friendly staff. – Conor S.
This is a hidden gem in the Marina Park complex. Well run with friendly and knowledgeable staff, this gym offers all you could really need at a really affordable price. Parking is never an issue and several new pieces of equipment make this gym a really good and value-for-money exercise venue. It offers private classes and has stringent Covid procedures in place to keep staff and customers safe and healthy! – Kevin B.
6. Em Fitness & Nutrition
Address: Unit 11 Westside, Model Farm Rd, Cork
Contact: 083 816 8063
Website: https://www.emfitnessnutrition.com/
About: Em Fitness & Nutrition is a gym in Cork that offer personal training. They have both 6 and 12 week packages available that include nutrition and 30 minute sessions. They believe in striking a balance between healthy living and training all while enjoying life. They want you to still have a social life, eat guilt-free and achieve those targets you set. They have highly experienced personal trainers who have delivered excellent results for clients.
Reviews for Em Fitness & Nutrition:
I have been going to PT sessions with Chelsie so for the last two months and I absolutely love it. At first we dis online sessions and then we moved into the gym. Thhe facilities are excellent. There is ample free parking and is easy to get to.
The sessions themselves are challenging and interesting. Chelsie is very good at what she does and continues to motivate me throughout my journey. I am so glad that I found this gym. I will not be going anywhere else. – Luisa M.
Best personal training gym in Cork. Helped me set a goal and smash it prior to my holiday. Every trainer is highly qualified and will not only train you but educate you too. Would highly recommend. – Colin L.
Such a great gym, great pt deals and nutrition plans. Various classes to suit everyone. Would definitely recommend. – Graham L.
7. MT Fitness
Address: Unit 5 Kilnap Business and Technology Park, Old Mallow Rd, Blackpool, Cork, T23 N6XC
Contact: 085 738 4657
Website: https://mtfitnesscork.com/
About: MT Fitness Cork is based in Cork. They offer 12 week personal training packages. These include a nutrition plan, trainer support and support classes and much more. The team at MT Fitness are on hand to help you improve your sports performance, a lifestyle change or just help to feel better about yourself. They will be on hand at every step to guide you along on your journey.
Reviews for MT Fitness:
I started going to Mt fitness a couple of weeks ago and honestly it was best thing I have ever done. I am currently doing pts with Sean and he is amazing. He is so helpful and makes me feel really comfortable when I'm working out and explains everything I need to know and more. The motivation i receive from online and in the gym is brilliant. I would highly recommend Mt fitness. Can't wait for my next pt already 😁 – Joanne M.
Started with MT fitness in October last year and I absolutely love going to this gym. Its a place where you can clear your head, have a laugh with the trainers and other members, get a savage workout in and feel so much better afterwards. The community element of this gym is amazing and the support you get is outstanding. It's also continuously improving and your guaranteed a tough but very enjoyable workout. We'll done to Mark and the trainers ye are a credit to yourselves ⭐⭐ – Fiona E.
So I can't explain how MT fitness has changed my life in the last 12 months,I've never realised how heavy and unhealthy I was until I looked back on pictures from this time last year. When Mark asked me on numerous occasions to start PT session I kept putting it off as I taught I wouldn't like it and I certainly didn't think I'd keep it up, but now I am 4 stone and 8 pounds down and another bit to go, there's no stopping me now I couldn't be happier. I am a lot more motivated and healthier and thats all down to the MT fitness team I can not thank them enough. MT fitness is not only a gym to workout its a place to meet great friends and the staff go above and beyond to assist and help you no matter what and are always there if you need the help. Not only is Mark a good fitness instructor hes also my best friend that I've known all my life always putting others needs before his own and I have a lot to thank him for because now I have a steady relationship and a solid mindset . – Gavin O'C.
8. Robs Gain Train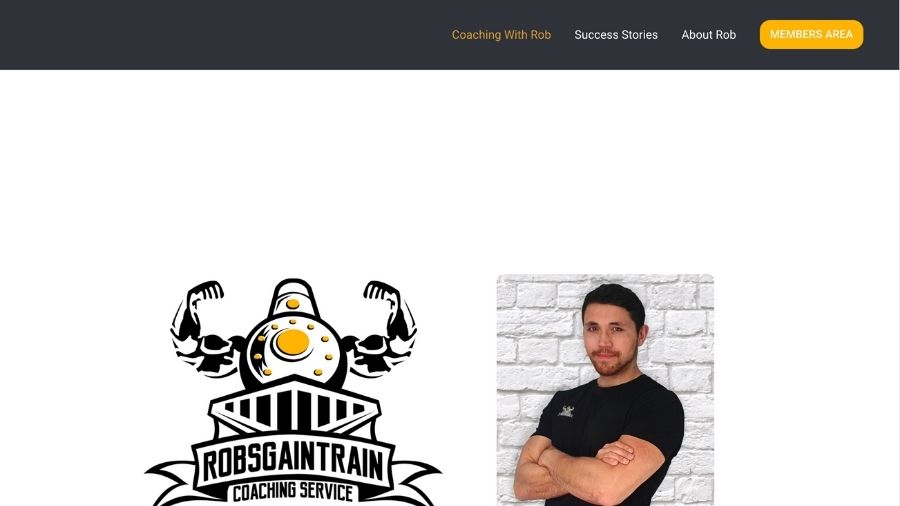 Address: Unit 11, Model Farm Road, Westside Centre, Cork, T12 YA02
Contact: 087 997 1171
Website: https://robsgaintrain.com/
About: Robs Gain Train is based in Cork. Rob is a qualified personal trainer. He has over 7 years experience helping thousands of men and women transform their bodies. He has a no nonsen approach to personal training and knows that if you're visiting his site then you want to stop making excuses and get into to best shape you can.
Reviews for Robs Gain Train:
I started working with Rob only a few shorts months ago and my only regret is not coming across him years ago. He's an amazing coach so down to earth, approachable and is teaching me so so much. I know without a shadow of a doubt he truly cares for each and everyone of his clients. I cannot recommend him highly enough. If I could give 100 stars I would – Rebecca K.
I have been trying to lose weight on and off my whole life, tried different diet plans even different PT's for years! I'd always lose initially but end up piling it back on…that was before I found Rob and his approach! I have been with Rob coming up two years now and I'm happy to say the only weight I have put on during my time with him is pregnancy weight 😂Rob is hands down the best trainer I have ever had, he has thought me so much more about nutrition and training, I was never given a one plan fits all for either my training or my food! He thought me about balance and also how to have a healthier relationship with food! He educated me to make my own decisions with food if something came up or I wanted different food I could always make those changes myself and see results because finally I had been educated enough to make those decisions! My training alone was second to none! 5 am starts are made a hell of a lot easier when you train with someone like Rob! He's a human first and foremost! We had chats laughs and most importantly always a had goals for my training that no matter how big or small we chipped away session on session and achieved the most incredible results! Never before on a weight loss journey had I lost weight but also built a body that was incredibly strong, and fit while never deprived of any food or any occasion! Rob teaches you about the long term and the goals that are far more rewarding than weight loss and that's coming from someone who lost six stone! What my body could do strength wise became more important and that really changes your mentality for the better! Hands down Rob is the best decision I have ever made, the knowledge he has is truly incredible and mind blowing, I'm now excited for our after baby phase 😊 – Rachel C.
Excellent PT, knows what he is talking about and provides the lessons at the right time. Focuses on performance and health as the tools to gain what ever your goals are, weight loss or mass gain. Really listens to his clients and provides excellent feedback and straight forward, no nonsense coaching. Guys like this would be excellent in any field. He understands how the body works but most importantly he understands his clientele and their thought process. Rob knows exactly when to say what needs to be said. He's not going to feed you standard training plan and restrictive food plan, he's going to educate you, build your confidence and help you to really enjoy yourself. Workouts are excellent, advice is based on sound science and his tone is marvelous. Just a top PT and a top man. His layered approach to better health is a testament to knowledge in his field and his empathy for his clients – Mike McC.
9. Nutriking
Address: Ballyphehane GAA Club, Tramore Rd, Ballyphehane, Cork
Contact: 087 350 0728
Website: https://www.nutriking.ie/
About: Nutriking is based in Cork. They offer online coaching and personal training. The team have over 14 years of experience in helping people lose body fat and build muscle. If you sign up with Nutriking then be ready to get in the shape of your life. No matter what your experience is they will deliver you goals to be proud of and work for.
Reviews for Nutriking:
Absolutely love working with Sean, the plans are realistic and helped me to achieve exactly what I set out for and then some! I could not recommend them more. I love that the approach matches what you're looking to do and takes into consideration what your preferences and schedules are to make things easier. If you're looking for an excellent support system and great education about reaching your goals this is a great place to go! – Anita K.
I absolutely love Nutriking. Professional, friendly, gives me that extra push I need, and also plenty of education along the way. But the most important thing- it's fun. Sean and the team make me feel at ease, and I feel like a friend rather than a client. Highly recommended – Nicola McP.
If you are looking for outstanding nutrition advice this is the place for you. Cannot speak highly enough of the service. Got great results following their plans! You will not regret signing up! – Joe M.
10. Diverse Performance
Address: College Commercial Park, Magazine Rd, Dennehys Cross, Cork, T12 NRT6
Contact: 083 062 4700
Website: https://www.diverseperformance.ie/
About: Diverse Performance is located in Cork. They offer 1 to 1 personal training and online coaching packages. Each package starts with a free 1 to 1 consultation.
Reviews for Diverse Performance:
On my second round of personal training with Joe! Can't recommend Joe enough! So supportive and dedicated to his job! – Tara O'D.
Professional, friendly, comfortable environment to train in and always pushing you to your limit! Highly recommend – Claire B.
The best thing I did was starting to train with Joe. Joe is extremely professional very easy to get along with but he also motovates and encourages me to push to hit personal bests. – Michelle C.
11. Tomas Whelan Fitness
Address: 10 Oliver Plunkett St, Centre, Cork, T12 YT78
Contact: 087 644 5549
Website: https://www.tomaswhelanfitness.com/
About: Tomas Whelan Fitness is based in Cork. Personal training is offered at this gym. They offer 1 to 1 training and 1 to 2 training. Tomas will help you reach your goals in both a healthy and safe manner. He helps guide you to hit your goals and teach you how to keep your healthy lifestyle on track.
12. Alan Murray Fitness
Address: Hollymount Industrial Estate, Knocknaheeney, Cork, T23 A6YY
Contact: 085 872 4639
Website: http://alanmurrayfitness.com/
About: Alan Murray Fitness is a gym in Cork that offers two 1 to 1 personal training packages and 2 buddy personal training packages. Every package is 4 weeks long and includes an assessment, nutrition plan, training programme and weekly check-ins as well as 24/7 support. They offer a range of packages from €197 to €457.
Reviews for Alan Murray Fitness:
All the trainers at Alan Murray fitness are great to deal with and they have a wealth of knoweledge to call on. They are very friendly and easy to approach. Alan himself is very passionate about what he does and provides a very friendly relaxed atmosphere in the gym for whatever pt package you need. Hive them a shout and you won't go wrong – Eoin McS.
This gym is a hidden gem of the northside. Iv been to many throughout the years and this is the first place that I feel actually has an interest in you and your progress. The trainers are 100% who know how to push you to your limits. State of the art equipment and a good vibe from start to finish. You won't be sorry you joined! – Jasmine O'B.
Excellent gym with great staff very friendly atmosphere and great interest shown in you to reach your goals – Robert C.
Best Personal Trainers in Ireland