Are you looking for a Personal Trainer in Cavan? We have created the best list for you to hit your goals and reach new highs by finding personal trainers in Cavan. Personal trainers can help with nutrition, training plans and keeping you on track with your fitness goals. So what are you waiting for contact a personal trainer in Cavan today!
The following is the list:
1. Dutchy's Fitness
Address: Corlurgan Business Park, Ballinagh Rd, Cavan
Contact: 086 080 5552
Website: https://www.dutchysfitness.com/
About: Dutchy's Fitness is a gym based in Cavan. They offer many services including personal training. They have 3 different programmes available such as a 12-week programme to get lean and two different 1 to 1 programme that last 5 weeks. There is a 30-minute programme with 2 sessions a week and a 60 minutes programme with 2 sessions per week.
Reviews for Dutchy's Fitness:
I have been training with Dutchy's for a couple of years, who now plays a "Massive Part" in my New Healthy Lifestyle which has helped me completely transform my body & mind as well as down 2 dress sizes.
Fantastic Facility, Excellent Trainers who all have their own style, variation & intensity who will encourage & leave you buzzing by the end of class.
You also have the "Fabulous Lorraine" who is always educating about the foods, calories, macros, as well as sharing all her healthy recipes & snacks which has been a huge benefit to my transformation, you can ask her anything – she's amazing!!
I would never be where I am today without Dutchy's & the team, but you have to be willing to put in the work with them and be persistent if you want results.
Nothing will WORK unless you DO….. – Michelle McG.
The 6 week transformation program is an excellent starting point for anybody at any fitness level. The trainers are very helpful and make each class enjoyable and manageable and provide advice on any questions you may have. After 6 weeks I wanted to keep coming back as I loved the class structure and the results I could see and feel in myself.
Would definitely recommend! – Natalie L.
A great gym with excellent trainers and a friendly encouraging atmosphere. Great variety of class times and every day is a different workout. Suitable for all fitness levels. Highly recommend Dutchy's Fitness – Jenny D.
2. Fitality
Address: Bracklúin House, Edenticlare, Bailieborough Road, Co. Cavan, A82 YP26
Contact: 086 601 3874
Website: https://www.fitality.ie/
About: Fitality is located in Cavan. They offer 4 different personal training programmes. Some of these programmes include 8-week online personal training, personal training fit focus package, personal training elite package and a 2-week holiday workout that focuses on strength and tone maintenance.
3. Transform Fitness
Address: Cuchullains GAA Club, Rosehill, Mullagh, Co. Cavan
Contact: 086 865 3165
Website: https://www.transformfitness.ie/
About: Transform Fitness is a gym in Cavan. They offer services such as personal training. There is 1 to 1 training and small group training available. They have two 12 week hard programmes including an online version that promise to deliver results. They encourage clients to believe in themselves to get the best results out of their programme.
Reviews for Transform Fitness:
Having just finished the 12 day TFL program with Transform Fitness on Friday I'd have no hesitation in recommending it! The nutrition plan had plenty of options and with a little preparation it's not hard to stick with. The home exercises were tough at times but worth it. I feel and look better and weigh less, what more could you want! Thank you Dave and team for the program and support, oh and their RT24 classes are excellent too! – Ollie B.
Started PT 4 weeks ago. Was very nervous the first day, hadn't exercised regularly in about 5 years since before we started our family. While I ached for days after the 1st session I felt stronger going into the second week. I do 1 PT session per week & stick to the more than doable food plan and I've had great results. I'm starting to see the old me coming back – in my shape, energy and strength. Have trained with Claire and Dave so far & they're great. They'll push you, be warned but you'll be surprised what you achieve. 5 stars from me. PS go easy on me next week! – Kate B.
What can I say that hasn't already been said. This place really is the best in the business. I've only been here 8 weeks starting from complete scratch, not having a clue about anything especially when it came to nutrition and what to eat but I've seen a lot of improvement since starting and I was a disaster at the start lol but it's all thanks to these 3 Dave, Claire and Jason that I've seen change. Their experience is next to none, always there to help you out and without them I'd probably be still at home wondering what the hell to do. The training can be tough, that's what you would expect but it is also really fun which is why I really enjoy training here. It's not all just blood, sweat and tears. You can actually have a lot of fun and a good laugh with these 3 and they make any workout more enjoyable. All I can really say is if anyone is looking for personal trainer then this is the place to go. You won't regret it. I know I didn't and I can't wait to continue and see how far I go. – Nathan S.
4. BJD Health & Fitness
Address: Virginia Rd, Killyfinla, Ballyjamesduff, Co. Cavan, A82 D2K1
Contact: 087 621 3795
Website: https://www.facebook.com/bjdhealthandfitness
About: BJD Health & Fitness is a gym located in Cavan. They offer personal training as 1 of their services. All personal trainers at BJD Health & Fitness are qualified and eager to help you reach your goals.
Reviews for BJD Health & Fitness:
Perfect space to work out, Adam goes out of his way to make you feel comfortable and confident in what your doing and is always there to ask questions too or offer advice. Can't wait to see where it goes from here! Thanks Adam ☺️ – Kerrie G.
I would highly recommend BJD Health & Fitness. I did 6 weeks pt with Adam that got me ready to go out on my own with a fitness plan he provided to suit me. It has given me a boost in confidence and fitness. Adam has created such a comfortable environment and is always there to advise and support. If your a newby to the gym like I was this is the place to be ☺️ – Larah S.
I would highly recommend BJD Health & Fitness, the gym has a Brilliant set up and very Clean! I completed the 28 days at home Challenge and Adam was great help, he personalised my plan with workouts and also great meal plans.
This has really helped me keep on track, would strongly recommend! – Mary M.
5. BC Fitness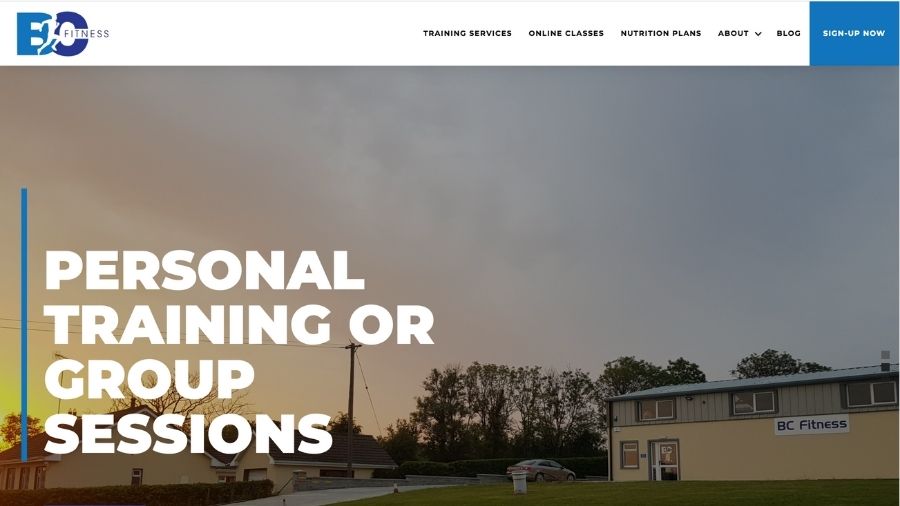 Address: Rassan Rd, Ramonan, Ballyjamesduff, Co. Cavan
Contact: 087 285 4347
Website: https://www.bcfitness.ie/
About: BC Fitness is based in Cavan. Personal training is available at BC Fitness. Brian Coleman set up BC Fitness and is the current personal trainer at the gym. All the classes are adaptable for beginners so don't hesitate to join if you haven't practised in a few years. Membership is not essential as you can pay as you go. The studio is only available for classes and personal appointments it is not available as an open gym.
Reviews for BC Fitness:
Highly recommend BC Fitness! Have been attending classes for a few years now and cannot fault them. There's always a great atmosphere, there's something to suit everyone and the time seems to fly by. Have also attended PT sessions and was very happy with my results. Brian is very professional and has a great knowledge for fitness and nutrition. – Dee C.
I have been doing classes & PT sessions in BC Fitness for close on 8 years now. Both Brian & Ryan are very professional & know their stuff when it comes to fitness, nutrition and mobility. The classes are always enjoyable too.
Congrats on 8 years in business Brian and crew… and many more!! – Helen B.
I first went to Brian with a friend and we did Personal Training when he opened up first.Bc Fitness became like a second home to me, I enjoyed the variety of classes that was on offer and there always was the choice of morning or evening times to suit, and all age groups could take part.I always knew you would get a great workout and the atmosphere was very good too… I miss the place since I moved to clones.., Bc fitness is a great spot, and would recommend it to anyone 👏💪👏🙈 – Jacinta McC.
Best Personal Trainers in Ireland