Are you looking for a yoga class in Galway? We have conducted some research into yoga classes in Galway and have compiled the definitive list for you to get started in Yoga. Maybe you're a beginner who wants to start, then here is a great place to get started
The following is the list:
1. Galway Yoga Centre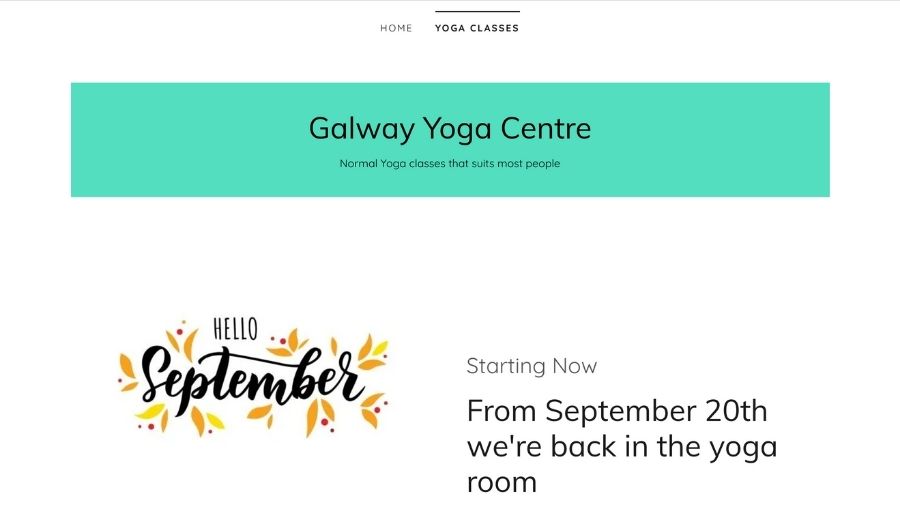 Address: Opposite St Nicholas Church, Churchyard St, Galway
Contact: 086 600 0441
Website: https://galwayyoga.com/
About: Galway Yoga Centre is a yoga studio that offers weekly yoga classes. Classes are 90 minutes each and costs 120 euros for 12 weeks.
2. Hot Yoga Galway
Address: 9, Tuam Road Retail Centre, Tuam Rd, Galway,, Co. Galway
Contact: 087 264 2922
Website: https://hotyoga.ie/
About: Hot Yoga Galway is an award winning studio in Galway. Bikram Yoga classes last 90 minutes and involve a series of 26 different poses. The room will be 40 degrees. Beginners are welcome.
3. An Seomra Yoga
Address: 2 Small Crane, Sea Rd, Square, Galway
Contact: 087 770 4187
Website: https://anseomrayoga.com/
About: An Seomra Yoga is based in Galway. They offer a range of in studio classes with different styles such as Vinyasa and Ashtanga. Classes are available from 6.30am during the weekdays and 10am during weekends.
4. The Yoga Shala
Address: ​The Yoga Shala at Ocean Fitness The Salthill Hotel, The Promenade, Salthill, Co. Galway
Contact: 086 775 5236
Website: https://www.theyogashala.net/
About: The Yoga Shala offers a wide range of yoga classes in Galway. These classes include mens yoga, beginners flow, continuation, gentle yoga and pregnancy yoga. The teachers are qualified and have years of experience.
5. Love Yoga
Address: Sat Nam Centre Ruxton Court, 35 Dominick St Lower, Galway
Contact: 087 995 2637
Website: https://www.loveyoga.eu/
About: Love Yoga offer classes on the beach in Galway. They also offer in studio classes as well as online classes. 1 to 1 sessions, retreats and training courses are also available at Love Yoga.
6. Lisa Berry Yoga
Address: Small Crane Galway, County Galway, Ireland
Contact: 085 145 1752
Website: https://www.lisaberryyoga.com/
About: Lisa Berry Yoga is a studio in Galway that offers yoga classes led by Lisa Berry. Classes are available online and in studio. The main style that is practiced is Vinyasa. Retreats and workshops are also available.
Best Yoga Classes in Ireland